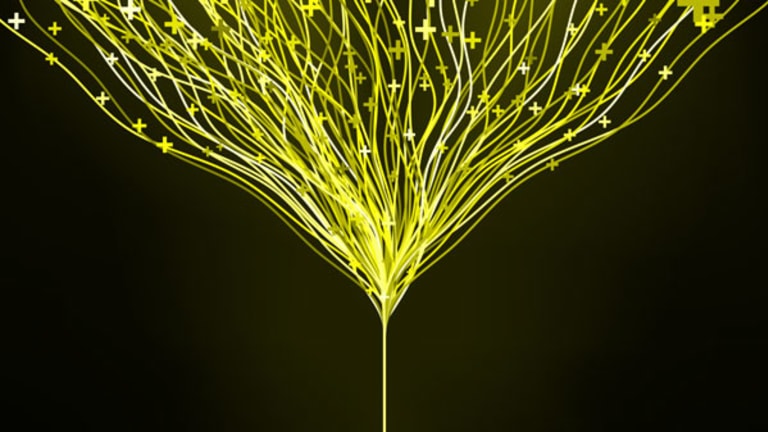 5 Tesla Trading Catalysts: It's the Best Buy ... and Sell
How can the most shorted stock in the alternative energy sector go straight up and rebound from every selloff? That's the story of Tesla Motors.
How can the most shorted stock in the alternative energy sector go straight up and rebound from every selloff? That's the story of Tesla Motors.
NEW YORK (
) --
Tesla Motors
(TSLA) - Get Report
hit another 52-week high on Monday. How can a stock that has more than 50% short interest as a percentage of float sail past all market resistance, from the defection of its top engineers to fears that electric car batteries will burst into flames?
A good place to begin to answer the Tesla "Teflon" question is in Morgan Stanley's view of the electric car company.
Morgan Stanley has a $44 price target on Tesla shares and a sell rating. This would make simple market sense if Tesla was currently above $44, but it isn't. In fact, in racing to another 52-week high on Monday, Tesla shares hit an intraday mark of $36.29. Morgan Stanley has taken the rare position on the sell side of having a price target that signals a buy but a rating that instructs investors to underweight Tesla shares.
Can so many shorts -- 52% of shareholders in the case of Tesla Motors -- be wrong?
While some Wall Street analysts scratch their head at the Morgan Stanley position, Morgan analyst Adam Jonas said it's simple: Morgan doesn't believe in hold ratings and has either an overweight or underweight on all shares. While Morgan likes the Tesla story long-term, given the stock's run-up -- 50% in the past year and 87% since its 2010 IPO -- it is risky relative to other stocks in the Morgan Stanley transportation universe, and even if it still has stock upside it's less upside with more risk than other ideas.
"We get a lot of questions about the $44 target and sell rating. At Morgan Stanley we have one-third to two-third of stocks at underweight at any one time, while many on the sell side reserve sell ratings for stocks about to go bust. We have no equal weights, and when we downgraded with a $44 price target, Tesla had 25% upside whereas the average stock had 50% upside," Jonas explained, adding, "Given the start-up risks we can't look clients in the eye and say 'overweight Tesla.'"
This Morgan Stanley comment brings us to Tesla trading trigger No. 1:
Long-term bullishness for all sorts of alternative energy and alternative transportation stories hasn't resulted in a stock chart that has gone straight up and to the right for too long.
Take a
First Solar
(FSLR) - Get Report
in solar or a
Cree
(CREE) - Get Report
in LED lighting -- the long-term "can't miss" secular growth stories have worked on Wall Street for a good while before these shares have spectacularly crashed and burned.
If you look at the electric car segment specifically, the market is littered with failures, from the recent
production stop for the Chevy Volt due to weak sales, to the existential struggles at electric car makers Fisker and Bright Automotive, to
financial struggles of the lithium ion battery companies like
A123 Systems
(AONE)
, and heavy short action in shares that were bid up by Wall Street based on the growth prospects for the electric car market, like
Polypore
(PPO)
, the most recent electric car-linked stock market
story to crash .
Yet Tesla isn't necessarily like any of these electric car failures, which brings us to Tesla trading trigger No. 2:
It isn't easy to define Tesla within this embattled electric car stock story.
Andrea James, analyst at Dougherty & Co., who continues to rate Tesla a buy and thinks it is a good bet at least until the $40 mark, said that Fisker's stumbles mean less to Tesla than what Mercedes is doing in the electric car market. The Fisker price point is $100,000 versus Tesla's Model S being priced in line with European luxury sedans at just under $50,000.
"You have to look at demand for the vehicles in terms of class and quality of car. There are a lot more cars sold every year that cost $50,000 than $100,000," James said. "Tesla is an investment in Tesla, not the electric car market," the analyst added.
Jonas said along a similar vein that Tesla is focused on making a beautiful car that can compete with the BMW 5 series, or an Audi or Porsche, really any European car in the $50,000 to $60,000 market segment. "Tesla has done an excellent job of trading on its own basis," the Morgan Stanley analyst said.
It also doesn't matter how the Chevy Volt or the lithium ion battery makers fare.
While that all sounds good, there are a few important caveats here. First, quoting the $49,000 base price of the Model S is a little misleading. Various models of the Model S will range in price from $59,000 to $79,000 (with a $7,500 federal tax rebate) and Wunderlich Securities analyst Theodore O'Neill said that early buyers of the Tesla -- if they are like your typical early adopters of luxury cars -- won't be looking for the base model but for the higher-priced, fully loaded Model S (more on this later and what it means about Tesla's potential revenue profile).
Second, Tesla is still waiting for more than half of a $465 million loan from the Department of Energy to complete its Model S production ramp. In 2011, Tesla drew down $204.4 million of the loan. While analysts may say you can't compare Tesla to Fisker, the $86,000 price tag for the fully loaded Model S is closer to the $100,000 Fisker Karma than it is to a Mercedes or BMW sedan, and even more so, the negative Fisker headlines related to the Department of Energy recently pulling its loan commitment for a Fisker plant in Delaware isn't a headline risk that Tesla is steering clear of, at least not yet. In the past few months, the Department of Energy scrapped loan commitments to Fisker and Bright Automotive, whose executives lashed out at the DOE for a politically motivated decision to bail on the company.
Tesla said in its most recent quarterly report earlier this month that almost all of the equipment for the Model S production ramp is now in place in its plant.
Even if it still mostly sounds good on paper, how can more than 50% -- 52% according to the most recent Nasdaq data -- of Tesla shares be held by short bettors? To answer that question let's examine Tesla trading trigger No. 3:
All Tesla shorts are not created equal.
Tesla is a stock in which investors hold many overlapping priorities. There are big institutional holders from the buy side who are thinking about a five- to 10-year horizon and a way to play the electric car market, as well as pure momentum investors that have traded on the news flow and don't care what Tesla is truly worth.
On the short side of the Tesla bet are those in it for a quick profit if the company stumbles in its production ramp of the Model S, and the shorts who are in Tesla for the long haul, meaning that every time there is a negative headline that pressures shares, these shorts yawn and wait for the big payday when Tesla's financial situation begins to deteriorate and the stock is down more than 50%. But they are content to wait years.
Some of the shorts fully expect Tesla to be hitting these new 52-week highs and are averaging up their short position with each new Tesla rally. The short interest will continue to keep this stock volatile because with some long-term holders having put their Tesla shares in a chest and locked it up for the next few years, the 52% short interest may, in trading terms, be even greater a percentage of what you can call a "practical" float.
Given the divergent trading interests in Tesla, what's the next move in shares? To answer this question requires taking a look at the next major milestone for Tesla, and trading trigger No. 4:
For Tesla bettors, the company is on the dark side of the moon right now with its Model S ramp.
For shorts who may be betting on a quick profit in Tesla shares, it could come courtesy of Tesla's guide to an initial production ramp of 5,000 Model S cars from July to the end of the year.
Wunderlich Securities analyst Theodore O'Neill referred to the current Tesla situation as the "dark side of the moon" because of this management goal but the uncertainty surrounding it. If the electric car market has been dogged by one management mistake, it has been almost all production targets turning out to be overly aggressive, in particular initial ramps of new, and novel car models that have often met multiple delays.
Consider this statement in the risk disclosure portion of Tesla's SEC filings: the company states that is has no experience in high production manufacturing of cars. It's an obvious statement but says a lot.
"Wall Street has taken the PowerPoint slide deck from the company for Model S production and loaded it into First Call consensus, and that makes a missed production estimate a real risk," O'Neill said. The 5,000 Model S production figure means that Tesla has to make 5,000 cars in five months, a rate of production for a specialty car that O'Neill describes as nearly impossible based on the industry track record.
If Tesla pulls it off, the 52-week high would be easily understandable. O'Neill said that if Tesla were to sell 4,000 Model S cars at the fully loaded price point of $86,000, it implies revenue of $345 million and a run rate of $1.2 billion in revenue annually.
"Who has gone from zero to $345 million in revenue in six months? Has anyone ever done it, or go from zero to a run rate of $1.2 billion. It doesn't make sense, but maybe they have some secret sauce," O'Neill said, which will allow Tesla to avoid the pitfalls of all the other early efforts in the electric car production market.
In the fourth quarter 2011, Tesla had revenue of $39 million and for the full year 2011, revenue of $204 million, up 75% from the previous year.
Being unable to know whether Tesla has some "secret sauce" is why O'Neill recently described the company as being on the dark side of the moon. O'Neill is visiting Tesla's plant next week and said when he returns he won't be at a hold on shares any longer, though whether he is at a buy or a sell will all depend on whether it looks like the Model S ramp could be reality, and on schedule.
Consider this: Jonas said he thinks Tesla will only reach 2,000 Model S cars in its initial ramp, but that's not the reason why the Morgan Stanley analyst rates shares a sell.
"Those betting significantly on the Tesla short aren't betting on a few thousand unit miss," Jonas said. The Morgan Stanley analyst also said the production miss that he fully expects may not be overly burdensome on Tesla shares if it is successfully explained as a hiccup on the way back up. Jonas values the stock at $44 even assuming it only produces 2,000 Model S cars.
In fact, while a miss of the 5,000 Model S production target may immediately hit Tesla shares, it may not be anything more than one more buy on the dip opportunity for investor, or Tesla trading catalyst No. 5:
The long-term buys and the long-term shorts aren't looking at their watches, implying for every downswing there's an upswing in Tesla shares, and vice versa
There's an old market quip that a short-term investor is looking at his watch with every investment decision while a long-term bettor is looking at his calendar. In the Tesla case, the 5,000 car production target for the Model S is "the watch."
It implies that not all the shorts will cover even if Tesla falls well short of the 5,000 car target, and likewise, for long-term long-only investors on the buy side the short-term production shortfall won't even register.
Just as every move up in Tesla may lead long-term shorts to average up, every turn down in Tesla shares may lead long-only institutions to increase exposure. Buying on weakness is a sign of support for Tesla shares that has been proven on several occasions recently.
When the Chevy Volt battery fire issues were first revealed, Tesla shares dipped by 5% before coming right back up, and moving even higher. When Tesla confirmed reports that two of its top engineers had left the company in late January, shares tanked, falling as low as $22, only to move much higher since.
"A stumble won't be a fundamental change. It won't be, 'Oh, I was wrong.' It would be buy on weakness," James said.
"It could go back to $22 and it all depends on why people own the stock and all of these overlapping investment horizons," Jonas said. "Growth investors say we downgraded the only growth tech stock worth owning, and alternative energy investors say we downgraded the only alternative energy stock worth owning. Either way, Tesla will be the best house on the block until it stops, and it went down to $22 and came right back up. It's a general outlier, and the trading history shows how well the management team is prepared for curve balls. However, every concept stock has to meet the moment of truth on the road to reality, and sometimes it trades better when the concept can't be proven wrong."
Tesla hasn't provided the chance to be proven wrong yet.
Indeed, all of this action in Tesla shares on the way from concept to reality, and the myriad interests from both the long and short side of the equation, suggest that the next major trade in Tesla will be down, and then up.
-- Written by Eric Rosenbaum from New York.
>To contact the writer of this article, click here:
Eric Rosenbaum
.
>To follow the writer on Twitter, go to
.
Follow
TheStreet
on
and become a fan on