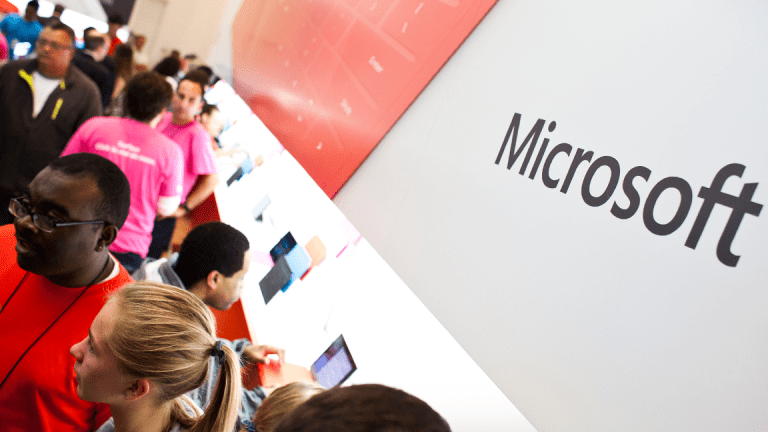 5 Tech Stocks on Wall Street's Radar Right Now
Here are the top tech stocks analysts say it's time to buy. Get out your pen and paper.
Tech is still the bet.
Tech stocks have been knocking it out of the park in 2018, and bringing to the table every slice of the market's gains this year.
Which tech stocks have captured analyst attention on the Street? We used TipRanks' Trending Stocks tool to discover five trending, best-rated stocks from the technology sector in the last 30 days spanning all market caps.
Twilio
Twilio (TWLO) - Get Twilio, Inc. Class A Report  is a San Francisco-based cloud communications platform as a service (PaaS) company, designed to build SMS, Voice & Messaging applications on an API build for worldwide scale. In the last 30 days, the software maker has earned five buys among analysts, and one bull includes one of the best performing analysts on Wall Street.
It's an encouraging change in tides for a company that suffered a sharp loss of business last year from mammoth customer, Uber. After all, the client threw a plot twist Twilio's way when opting to use competitor platforms. In the span of a day, suddenly the stock was sent crashing 26%. Therefore, it was important for Twilio investors to see signs of a turnaround for the software company. Twilio has surged almost 106% this year, and analysts are taking notice.
Top analyst Brian White at Monness chose to seize the valuable bullish opportunity, rating a "Buy" on Twilio's stock with a $66 price target, which suggests 11% in return potential for the stock. This follows what White sees as a market correction covering next-generation software players in the last few weeks, a movement that was ripe for this bull's picking.
Piper Jaffray analyst Alex Zukin likewise sees reason to be confident on Twilio, initiating coverage with an "Overweight" rating and a $70 price target (18% upside potential). The analyst draws attention to the company's new corporate customer-service department-targeted cloud-based contact center platform, Flex. This software maker "may well have a hit on its hands with Flex, a product recently introduced with the goal of disrupting the $10 billion legacy call-center market, which may provide additional upside to 2019 numbers and beyond," cheers Zukin.
Microsoft
Microsoft (MSFT) - Get Microsoft Corporation (MSFT) Report  is a tech giant that has made itself a household name and is showing no signs of stopping its empire's reach anytime soon. The stock has amassed seven buys in the last 30 days and is a favorite among Wall Street analysts, with 16 buys total over the last three months. 
Is the tech king poised for the kind of Netflix (NFLX) - Get Netflix, Inc. (NFLX) Report like triumph down the line in the world of gaming? Morgan Stanley analyst Keith Weiss says yes, finding this valuable tech player is underestimated by the Street especially considering the company could yield substantial earnings gains by 2021 to 2023.
In fact, the analyst bets the company has stellar odds to score a $1 trillion market cap in a year's time. Weiss reiterates an "Overweight" rating on Microsoft's stock with a $130 price target, believing the company boasts 27% in upside potential.
"While continuing to invest and grow the traditional console-based business, the emerging opportunity for Microsoft is building the 'Netflix of Gaming' - a subscription gaming service offering subscribers access to a broad range of gaming content, across any device they choose, for a flat subscription fee," contends Weiss, who sees the company in robust standing when it comes to "the future of gaming."
PTC Inc.
Software stock PTC Inc. (PTC) - Get PTC Inc. Report  is a Massachusetts-based augmented reality platform. The mid-cap company has drawn bullish interest from analysts, racking up six buys over the past 30 days. 
June proved to be a significant month for the tech company. PTC soared to new heights following a whopping $1 billion investment from factory automation equipment maker Rockwell Automation (ROK) - Get Rockwell Automation, Inc. Report . This establishes a key alliance for PTC, with the two companies teaming up to kickstart gains in the smart factory arena.
Watch what Rockwell's CEO told TheStreet's Executive Editor Brian Sozzi about the deal below. 
Evercore ISI analyst Kenneth Talanian is upbeat on the company especially on the heels of its customer conference LiveWorx. The event was flooded with "attendance in excess of 6,100 people from 40 countries as a testament of the level of interest in PTC's technology." The analyst highlights that PTC's "longer-term targets do not include the potential impact from subscription conversions, new partnerships (Microsoft, Rockwell, Ansys), or secular opportunities such as AR or additive manufacturing." Factoring just subscription conversions into the equation and running the numbers, Talanian forecasts the company could realize around $2.6 billion in total revenue by fiscal 2023, even more optimistic than PTC's own fiscal 2023 target of $2.4 billion.
Notably, the analyst reiterates a "Buy" rating on PTC stock with a $110 price target, which implies 14% upside from current levels.
Oracle
Oracle (ORCL) - Get Oracle Corporation Report  is a business software maker that has raised some eyebrows from investors after coming up short of first fiscal quarter revenue expectations that called for around $9.5 billion. That said, the stock's pullback can translate to a strategic time for bulls to invest, and this stock has received nine buys in the last 30 days. 
Barclays analyst Raimo Lenschow commends the company's overall fundamentals, believing share valuation continues to be compelling in the grander scheme. Even though Lenschow expects the company to "remain in the penalty box in the near to mid-term" - particularly with the Street getting adjusted to a new reporting structure - he still bets on gains ahead for the tech player.
Therefore, the analyst maintains an "Overweight" rating on Oracle with a $58 price target, marking 24% in return potential for the stock.
Additionally, Raymond James' Michael Turits, one of the best 100 analysts on the Street reiterates a "Buy" rating on the stock with a $54 price target. Credit Suisse's Brad Zelnick reiterates a "Buy" rating on Oracle with a $60 price target.
Cloudera
Cloudera (CLDR) - Get Cloudera, Inc. Report  is a U.S.-based software maker and the leading provider of Apache Hadoop, as well as Apache Spark-based software, support, and services, and training to customers. The tech player targets business customers, specializing as a modern platform provider for machine learning and cloud-optimized, big data analytics. 
Worthy of note, the company is in a business strategy era of change, and a transformation like this could need more time to impact performance. The company's warning of waning growth in the fiscal second quarter left the Street less than impressed last month. However, the stock has nonetheless has sparked positive sentiment, firing up three buys from analysts in the last 30 days.
Top analyst Michael Turits of Raymond James acknowledges, "We would have liked to have seen more noticeable upside on what we felt was conservative guidance," but on a more confident note "the business still looks about on track relative to lowered expectations post last quarter's bookings miss and the ongoing sales reorganization."
Accordingly, the analyst maintains his "Outperform" rating and $20 target, calling for close to 36% in upside potential.
Stifel's Brad Reback likewise maintains a "Buy" rating on Cloudera with a $19 price target, as he believes, "early signs point to a go-to-market transition that is on track."
TipRanks.com offers exclusive insights for investors by focusing on the moves of experts: Analysts, Insiders, Bloggers, Hedge Fund Managers and more. See what the experts are saying about your stocks now at TipRanks.com. Author: Julie Lamb.