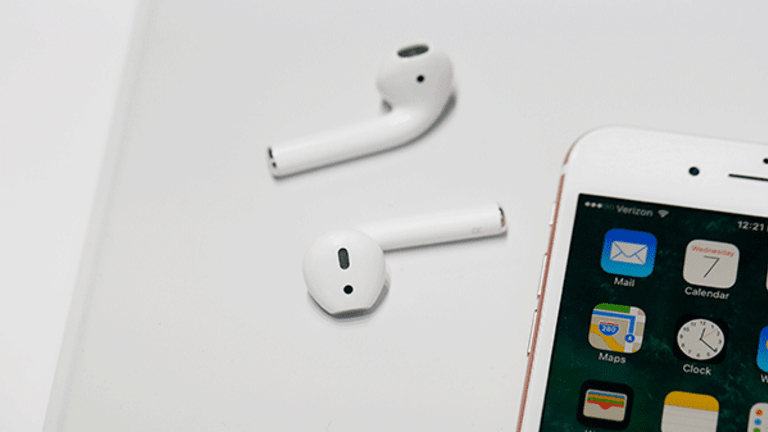 5 Tech Predictions That Didn't Come True in 2016, and What You Can Learn From Them
Wearables, the iPhone 7, virtual reality, cybersecurity spending and Twitter all confounded expert predictions this year. So what should investors take away from all this?
This article originally appeared on Real Money on Dec. 27, 2016.
As a deluge of predictions emerges about tech events and trends we're likely to see in 2017 -- mine can be found here and here -- it never hurts to take a hard look at what many expected to happen in 2016, but didn't. This is valuable both to maintain a sense of humility about how even informed predictions involving a very dynamic part of the global economy can go wrong, and also to perhaps gain some insight on how to avoid making similar errors in the future.
Here are five events/trends that were widely expected either going into 2016 or early in the year that ultimately didn't pan out, plus what investors should take away from the miscalculations.
1. Wearables sales will continue to grow rapidly.

Following a 2015 in which wearables sales are believed to have risen more than 150% -- thanks in large part to the launch of the Apple (AAPL) - Get Report Watch and strong demand for Fitbit (FIT) - Get Report and Xiaomi's fitness trackers -- many considered it a given that sales would shoot higher in 2016, and in doing so create the next big consumer electronics market.
But growth began to slow early in the year and has fallen off a cliff in recent months. Research firm IDC estimates wearables shipments rose just 3.1% annually in the third quarter to 23 million -- child's play relative to the estimated 363 million smartphones that were shipped. Smartwatch shipments are believed to have fallen 52% to a mere 2.7 million, though it does look as if the September launch of the Apple Watch Series 2 has provided a bit of a bounce.
The takeaway: The smartphone is a unique product in terms of its mass adoption and daily usage. Before predicting a new device type will see even remotely comparable uptake, it's worth carefully examining just what percentage of consumers will find its most common applications valuable enough that they'll both buy the device and actively use it in the months and years to come.
2. iPhone 7 sales will be weak.

Early-2016 reports about the iPhone 7's feature set didn't stoke much enthusiasm either among tech journalists or Apple investors. More than anything else, the media's attention was focused on Apple's reported plans (later confirmed) to remove the traditional headphone jack.
Moreover, soft iPhone 6S demand had led iPhone revenue to drop by a double-digit clip over the first eight months of the year, and rumors were already emerging that 2017's iPhone launches would deliver bigger improvements than 2016's. All of that made many analysts comfortable forecasting Apple's total sales would decline in the December quarter in spite of the Phone 7's September launch.
While the iPhone 7 hasn't yielded the kind of massive buying activity that the iPhone 6 did, sales do appear to be good enough to allow Apple to return to positive growth this quarter. The iPhone 7-Plus' dual-lens camera, together with nuts-and-bolts improvements such as better battery life, a faster processor, water resistance, stereo speakers and a doubling of storage capacities, seem to have convinced a substantial number of iPhone 6 owners to upgrade.
The takeaway: Smartphone upgrade cycles still hold relevance, particularly for a company with very high customer satisfaction and loyalty rates. This might be a headwind for Apple next fall, since iPhone 6S sales weren't strong, but it's proving to be a tailwind right now. Also: Sometimes less flashy, utilitarian product changes (e.g., improved battery life, more storage, etc.) can have a bigger effect on consumer buying decisions than a headline-grabbing one, such as the removal of the headphone jack.
Apple is a holding in Jim Cramer's Action Alerts PLUS Charitable Trust Portfolio. Want to be alerted before Cramer buys or sells AAPL? Learn more now.
3. Virtual reality will have a breakout year.

Virtual reality headsets got a lot of attention at the 2016 CES trade show in January. And with Facebook's (FB) - Get ReportOculus Rift and Sony's (SNE) - Get ReportPlayStation VR (formerly Morpheus) headsets having been slated to launch this year, there were hopes that VR, which has captured the imaginations of tech geeks and futurists for decades, would finally go mainstream in 2016.
Those hopes haven't exactly been fulfilled this year, even if there are still reasons to be upbeat about the technology's long-term potential. The Rift began shipping in the spring in very limited quantities, and even after supplies improved, the fact that the headset costs $599 and needs to be paired with a powerful PC limited demand. Sales of the $399 PlayStation VR, which works with PlayStation 4 consoles, appear to be better, but sales estimates for Sony's headset have also fallen considerably.
Elsewhere, there has been some uptake for cheap smartphone-paired VR headsets such as Samsung (SSNLF) /Oculus' Gear VR and Alphabet/Google's (GOOGL) - Get Report Daydream View, but they don't deliver the same kind of user experience as headsets with dedicated displays and access to more horsepower. IDC expects a modest 10.1 million 2016 VR headset shipments; 61 million are expected in 2020, but long-term forecasts like those need to be taken with a grain of salt.
The takeaway: It often takes time to get all the pieces in place for a groundbreaking technology to see major adoption. In the case of VR, the cost of delivering a high-quality VR experience still needs to drop, display resolutions and refresh rates need to improve further, user interfaces need more refinement and the software ecosystems remain quite young. All of this will eventually change, just not overnight.
4. Cybersecurity spending will continue to surge.
2015 was a very strong year for security tech spending, as enterprises responded to major breaches at Sony, Anthem (ANTM) - Get Report and elsewhere by dialing up their investments in hardware, software and services meant to protect against cyberattacks. For a while, all of this did wonders for the stock prices of fast-growing industry players such as Palo Alto Networks (PANW) - Get Report, CyberArk (CYBR) - Get Report, Fortinet (FTNT) - Get Report and Imperva (IMPV) - Get Report.
Spending wasn't exactly weak in 2016, but growth rates did slow noticeably, as enterprises paid more attention to getting the most out of the products and services they'd already bought. Other factors, such as discounting by a hungry Cisco Systems (CSCO) - Get Report and the steady migration of IT dollars to public clouds also acted as headwinds. A November sales miss and soft guidance from Palo Alto -- perhaps the poster child for cybersecurity stocks -- made it official that the party was over.
The takeaway: Don't count on fits of panic buying of tech products and services by businesses to last forever. This holds true not only for cybersecurity, but also for hyped technologies (artificial intelligence? IoT?) that companies suddenly throw money at out of a fear of being left behind. Spending in these areas could still grow over the long run, but when fear motivates short-term buying decisions, there tends to be a hangover along the way. This is as true today as it was in 2000.
5. Jack Dorsey will turn around, or at least stabilize, Twitter.
Going into the year, there were still hopes that Dorsey, who was only formally named Twitter's (TWTR) - Get Report permanent CEO in October 2015, would find a way to boost the microblogging platform's anemic user growth and in doing so, keep revenue growth chugging along at high rates. Instead, user growth has remained soft and Twitter delivered one weak earnings report after another. On average, analysts expect just 4.5% annual sales growth in the fourth quarter, a far cry from the 48% growth posted a year earlier.
Along the way, Twitter witnessed many executive departures and restructurings, and reportedly saw a sale attempt fall apart after the likes of Google, Disney (DIS) - Get Report and Salesforce.com (CRM) - Get Report lost interest. As we head into 2017, questions about whether Twitter can figure out how to appeal to a larger base of consumers and claim a greater portion of social media ad budgets remain very much unanswered.
The takeaway: Be wary of "Steve Jobs syndrome." That is, a belief that the return of a founder to lead a company that he or she started will act as a cure-all for a firm facing major strategic and/or execution challenges. In Twitter's case, the fact that Dorsey is (admittedly as Jobs did for a while) pulling double duty as the CEO of another company, Square (SQ) - Get Report , provides extra cause for wariness.
Facebook, Alphabet and Cisco are holdings in Jim Cramer's Action Alerts PLUS Charitable Trust Portfolio. Want to be alerted before Cramer buys or sells FB, GOOGL or CSCO? Learn more now