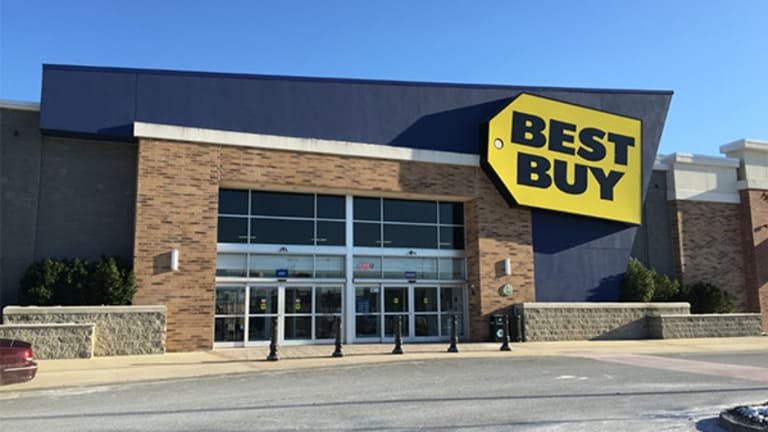 5 Stocks That Are Poised to Deliver Big Gains
These stocks have both short-term gain catalysts and longer-term growth potential.
U.S. markets continue to hover around their high water marks this summer, the big S&P 500 Index closing Friday just a percentage point below its all-time highs.
We're still experiencing a tale of two markets as we round the corner for the final week of August - while the S&P is up a bit over 5% year-to-date, nearly half of the stocks in the big index are actually up 10% or more since the calendar flipped to January. Simply owning more of the stocks that are working in this environment and fewer of the ones that aren't could hold the keys to substantial outperformance this year.
To lock onto which stocks you'll want to own in the month ahead, we're turning to a fresh set of Rocket Stocks to buy for gains this week.
For the uninitiated, Rocket Stocks are our list of companies with short-term gain catalysts and longer-term growth potential. To find them, I run a weekly quantitative screen that seeks out stocks with a combination of analyst upgrades and positive earnings surprises to identify rising analyst expectations, a bullish signal for stocks in any market. After all, where analysts' expectations are increasing, institutional cash often follows. In the last 364 weeks, our weekly list of five plays has outperformed the S&P 500's record-breaking run by 79.6%.
Without further ado, here's a look at this week's Rocket Stocks.
Facebook
Facebook Inc. (FB) Stock Price | FindTheCompany
Leading things off is social networking giant Facebook (FB) - Get Facebook, Inc. Class A Report . At a glance, it's not hard to see that Facebook has been a leader in 2016. Since the calendar flipped to January, this big stock has rallied nearly 20% higher, leaving the rest of the broad market in its dust. And that outperformance looks likely to keep up as Facebook pushes up on all-time highs.
Facebook is the most popular Web site on the Internet. In total, Facebook boast 1.6 billion monthly active users worldwide, an utterly massive user base that creates equally big growth opportunities for Facebook's revenue model. The firm has been increasing its monetization efforts lately, and improvements in the firm's ecosystem of apps is helping to drive user engagement. By extension, that's boosting the number of ads Facebook can serve.
Ad revenues made up more than 90% of Facebook's total sales last year, but it's where those sales dollars came from that tells investors quite a bit about this company's growth potential. For instance, while U.S. users only make up about 15% of traffic, they generate nearly half of Facebook's ad sales. If the firm can ramp up its monetization in other markets to even a fraction of what it sees here at home, then the growth potential is immense.
Put simply, Facebook has Wall Street convinced that its best days are ahead of it -- and for good reason.
Facebook is a holding in Jim Cramer's Action Alerts PLUS charitable portfolio. On Friday, Cramer and Research Director Jack Mohr wrote that they:
wanted to provide subscribers with a view of how we make sense of an important event such as the Olympics, and how we learn with an investment perspective in mind. We think the Games truly gave a peek into the captivating capabilities of Facebook, and to a broader extent, the ongoing evolution of the media landscape, with Facebook emerging as a dominant force. We can be assured that Facebook's ability to engage users does not go unnoticed by its true customers, the advertisers.
Illinois Tool Works
Illinois Tool Works Inc. (ITW) Stock Price | FindTheCompany
Illinois Tool Works (ITW) - Get Illinois Tool Works Inc. (ITW) Report  is another large-cap that's been crushing the market averages from a performance standpoint in 2016. Year-to-date, this $43 billion industrial conglomerate has seen its share price climb 30% higher on a total returns basis. And ITW could have even further to move before the end of the year.
Even if you've never heard of Illinois Tool Works, chances are you've heard of its brands, or at least encountered them. The firm owns a large collection of big industrial brands, alongside some consumer exposure. The firm's marques include Sub-Zero and Wolf appliances, Rain-X and Zip-Pak.
ITW has been slimming down in recent years. While the firm had approximately 800 individual divisions just a few years ago, it's down to 90 of its most profitable units today. That paring down of its least attractive segments has taken a toll on ITW's top line, but the longer-term tradeoff has come from margins, which have been tracking higher in the long-run.
The fact that management is willing to endure some short-term pain in exchange for long-term profitability is a rarity on Wall Street today -- and it's indicative of the types of decisions that they'll continue to make for shareholders. Historically, ITW has been known for its willingness to let individual business managers run their units as they see fit. And while there has been a push toward centralization in recent quarters to minimize duplication of roles like HR and accounting, the corporate culture hasn't changed at ITW.
Halliburton 
Halliburton Company (HAL) Stock Price | FindTheCompany
This year's rebound in commodity prices has been a very good thing at Halliburton (HAL) - Get Halliburton Company (HAL) Report . Like most of its energy sector peers, Halliburton got shellacked in the second half of 2014 and all of 2015. But shares have been rebounding hard this year, up more than 31% from the start of January through today. And as oil prices start rallying off of their correction lows this summer, the longer-term trend higher looks very much intact for energy prices.
Halliburton is one of the biggest oilfield services stocks in the world. The firm's main areas of expertise include deep-water exploration and development as well as wringing maximum dollars out of mature oilfields. The big picture with Halliburton and its peers is pretty straightforward: As energy prices rebound and more projects become economically viable, Halliburton is well-positioned to grab new business.
But there's another side to oilfield economics that many investors don't get. As long as oil companies can generate positive cash flows out of an existing well, they'll keep on pumping crude out of the ground. And low-cost oil extraction is Halliburton's specialty, making the firm arguably even more valuable to oil companies while oil remains relatively cheap.
While the firm's big merger plans with Baker Hughes (BHI)  fell through earlier this year, Wall Street greeted that M&A failure with applause. The timing on the acquisition was almost comically bad considering it happened near oil's peak in 2014, and the fact that it's not happening means that Halliburton shareholders are likely better off despite the benefits that would have come with the merger.
Meanwhile, with rising analyst sentiment in shares of Halliburton this week, we're betting that the upward trend in shares continues as we head into September. 
Constellation Brands
Constellation Brands Inc. (STZ) Stock Price | FindTheCompany
The beverage business is booming -- that's the message that Constellation Brands (STZ) - Get Constellation Brands, Inc. Class A Report  has been relaying to investors in 2016. This alcoholic beverage stock has been enjoying a strong year bolstered by outstanding exposure to some of the most attractive corners of the beverage market. And as alcoholic beverage sales continue to tick higher, this collection of wine, spirits, and beer brands is one of the most notable winners.
Constellation is one of the biggest alcoholic beverage companies in the world. Its labels include well-known names ranging from Arbor Mist and Robert Mondavi wine to Corona beer, Svedka vodka and Cook's champagne. The firm's billion-dollar acquisition of craft brewer Ballast Point last year makes Constellation one of the best ways to grab onto the huge growth of the craft brewing business through a publicly-traded stock. It also shifts more than two-thirds of Constellation's earnings to the U.S. beer market, one of the most attractive segments of the booze business right now.
Just to be clear, Constellation Brands isn't cheap right now. All of this stock's fundamental successes have pushed shares to trade for a premium, not that that's incited investors to pump the brakes. Buyers remain definitively in control of shares this summer. And with rising analyst sentiment in shares of Constellation this week, we're adding this stock to our Rocket Stocks list for another week. 
Best Buy
Best Buy Company Inc. (BBY) Stock Price | FindTheCompany
Finally, we've got Best Buy (BBY) - Get Best Buy Co., Inc. Report  making our Rocket Stocks list this week. While Best Buy hasn't gotten much love from Wall Street analysts this year, it's certainly gotten some love from investors. Shares are up 30% since the beginning of 2016, outpacing most of its bigger, better-liked retail peers. Not that it should come as much of a surprise. Back in March, I called Best Buy one of the "crappy stocks" that could give you a big payday in 2016. And this stock has been no stranger to our Rocket Stocks list this year. Sure enough, Best Buy is living up to that outlook.
Best Buy is the last remaining pure play in the big box electronics store business. The firm has 1,631 brick-and-mortar stores spread across the country, giving it a reach that few competitors can match. Contrary to popular belief, that big store footprint isn't a liability - in fact, it's probably Best Buy's biggest competitive advantage. Best Buy is finally leveraging that store infrastructure for innovative distribution offerings like ship-from-store. And while big e-commerce players such as Amazon.com (AMZN) - Get Amazon.com, Inc. Report  build out their own distribution infrastructure, Best Buy's footprint starts to look a whole lot less capital-intense.
Big efforts to trim costs have been successful to date, with the "Renew Blue" plan slashing more than a billion dollars from Best Buy's annual cost structure -- and counting. Maybe most significant of all is the fact that Best Buy has been putting up some pretty impressive performance numbers, out-growing its more popular online-only peers on the web. Despite the recent rally in Best Buy, shares still trade for a bargain-priced 13-times earnings. That low valuation could help extend this stock's price momentum this fall.
This article is commentary by an independent contributor. At the time of publication, the author held TK positions in the stocks mentioned.