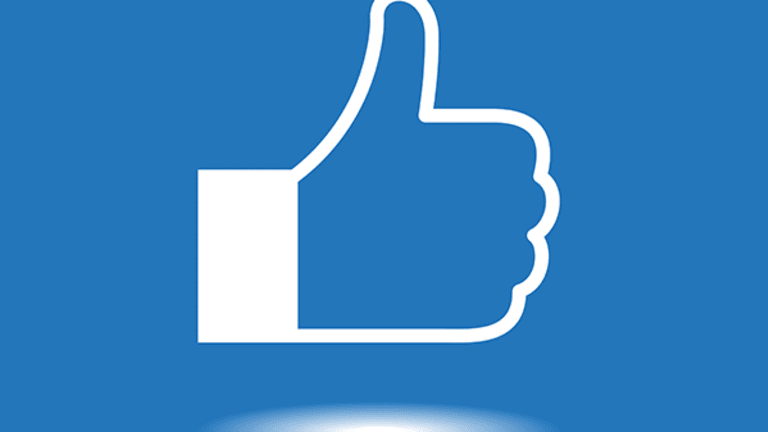 5 Rocket Stocks to Buy for a Santa Claus Rally: Facebook, Nike and More
These stocks are showing off short-term gain catalysts and longer-term growth potential.
Only six shopping days until Christmas, information that strikes fear in the hearts of consumers everywhere. But it should make investors feel all warm and fuzzy. That's because we're on the verge of another "Santa Claus rally," the seasonal year-end pop in stocks that comes during the shortened week between Christmas and New Year's.
In reality, while that's the traditional definition of a Santa Claus rally, it actually misses part of the upside. That's because over the last 20 decades, expanding the definition of Santa Claus rally to include the week before Christmas actually increases the performance of the phenomenon, with only 4 years in the last two decades negative over that stretch negative (and even then only barely).
On average, that stretch between now and year-end has added almost 1% to the S&P 500's performance over the last 20 years. That's some pretty material performance in such a short span - but owning Rocket Stocks could actually help you supercharge Saint Nick's contribution to your portfolio this year...
To take advantage of the bullish bias in the stock market this week, we're turning to a fresh set of Rocket Stocks to buy this week.
In case you're not familiar, Rocket Stocks are our list of companies with short-term gain catalysts and longer-term growth potential. To find them, I run a weekly quantitative screen that seeks out stocks with a combination of analyst upgrades and positive earnings surprises to identify rising analyst expectations, a bullish signal for stocks in any market. After all, where analysts' expectations are increasing, institutional cash often follows. In the last 378 weeks, our weekly list of five plays has outperformed the S&P 500's record-breaking run by 78.87%.
So, without further ado, here's a look at this week's Rocket Stocks.
Facebook
Leading off our list is social media giant Facebook (FB) - Get Meta Platforms Inc. Report, a holding in Jim Cramer's charitable portfolio, Action Alerts PLUS. Facebook has been a strong performer in 2016, rallying more than 14.5% since the calendar flipped to January, but that bullish momentum has waned a bit in recent months as Facebook's stock price corrected about 10% from its highs at the end of October. Now, shares are pointing higher again.
Facebook is the most-visited website on the internet, thanks to more than a 1.6 billion monthly active users worldwide. That enormous userbase translates into lots of eyes that Facebook can monetize with advertising. Because the social platform is built around knowing users' interests and friend networks, Facebook owns a deeply valuable database of user stats that it can use to sell more targeted ads at higher rates.
Today, about half of Facebook's ad dollars come from the U.S., despite the fact that U.S. users only make up around 15% of Facebook's web traffic. That discrepancy creates a big growth opportunity for Facebook. If the firm can get its overseas operations to contribute similar revenue per user to Facebook's core U.S. demographic, upside abounds.
That's particularly true in the mobile space, a demographic where most of the user growth is, but that's notoriously challenging for ad-based revenue models to monetize. Facebook's mobile growth has averaged more than 40% annually over the last five years, and the firm has demonstrated its ability to grow mobile ad revenues, leaving plenty of clear runway for shares to increase in 2017.
Nike 
2016 has been a pretty tough year to be a Nike (NKE) - Get Nike Inc. Reportshareholder. Since the start of the year, Nike has lost almost 20% of its market value, underperforming the rest of the S&P 500 by a big margin. But don't count Nike out just yet. Since bottoming at the start of November, this athletic apparel giant has been looking "bottomy," forming a series of higher lows that point to more upside ahead.
Nike owns one of the most iconic brands in the apparel business -- the firm's "Swoosh" logo automatically hikes the price of any item it's printed on. Nike's distribution is immense, with a network of more than 50,000 retail accounts, plus about 850 company-owned stores. Nike's own sales portals made up almost a quarter of total revenue last year, a selling mix that's helped to drive net margins that consistently sit in the double-digits.
While North America still makes up more than 45% of revenue, emerging markets added up to another 22% of sales in 2016, providing the firm with access to important growth opportunities as growing middle class populations in countries like India and China spend more money on low-cost status symbols like branded apparel.
Because of its sheer size and brand power, Nike has pricing power and leverage over its biggest customers. Major apparel retailers can't afford not to stock Nike's offerings, and Nike generally makes up a huge piece of athletic apparel retailers' overall revenues. With rising analyst sentiment in shares of Nike this week, we're betting on shares.
TJX

Shopping season means high times for off-price retail chain TJX (TJX) - Get TJX Companies Inc. (The) Report. This discount shopping company has been a strong performer in the last couple of years, benefitting as consumers have remained cost-conscious. TJX should continue to fill a big chunk of U.S.-consumers' holiday shopping lists this winter.
TJX is one of the biggest off-price retailers in the world, selling bargain-priced brand-name merchandise through big-box store chains like T.J. Maxx, Marshall's, Sierra Trading Post and HomeGoods. The firm operates approximately 3,600 stores worldwide, although the U.S. and Canada still contribute 86% of TJX's overall revenue.
TJX Companies is a holding in Jim Cramer'sAction Alerts PLUS Charitable Trust Portfolio. Want to be alerted before Cramer buys or sells TJX? Learn more now.
TJX's business model is what sets it apart from conventional full-price retailers. The firm buys massive unsold inventory from the full-price peers, helping them clear their warehouses, while giving consumer the chance to pick up desirable brands on the cheap. In the middle of that transaction, TJX collects a markup.
That inventory liquidation role gives TJX a symbiotic relationship with other stores that translates into a deep economic moat. Financially, TJX is in excellent shape. The firm currently carries almost $600 million net cash on its balance sheet, a big risk reducer as investors continue to be anxious about economic uncertainty in 2017. The lack of balance sheet leverage in this stock should help shareholders sleep at night.
eBay 
As a standalone company, eBay (EBAY) - Get eBay Inc. Reportis having a strong year. Since June, eBay's stock price has rallied almost 30% higher, beating the rest of the S&P three-to-one over that period. And there's reason to believe that eBay's positive price performance will continue as the firm gears up for its own holiday sales spike.
eBay is among the largest online marketplaces in the world, accounting for approximately 5% of all e-commerce transactions last year. As a marketplace, eBay doesn't actually sell products to consumers - instead, it's the platform that pairs off buyers and sellers. Size is everything in the marketplace business, and eBay's 162 million active buyers and 800 million live listings create a virtuous cycle where buyers flock to eBay because of its huge number of listings, and sellers use the site because it's where the buyers are.
While other marketplaces have focused exclusively on the business-to-consumer (B2C) segment of the market, eBay is involved nearly any transaction that involves businesses or consumers selling items - because of that, it owns the consumer-to-consumer niche. Likewise, eBay's start as an auction site has cemented the firm's ownership of that niche as well.
While the firm has made fixed-price listings a more important part of its model, it's still the go-to marketplace for online auction listings, a distinction that gives it an important piece of the markets for bigger-ticket consumer-sold items. With rising analyst sentiment in eBay this week, we're betting on shares.
Essex Property Trust
Last up on our list of pre-Christmas Rocket Stocks is the Essex Property Trust (ESS) - Get Essex Property Trust Inc. Report. This $15 billion real estate investment trust is admittedly a somewhat unexpected addition to our list of Rocket Stocks considering the Fed's decision to hike interest rates this month. As a real estate investment trust, or REIT, Essex is a major dividend stock; that makes interest rate hikes a bad thing for its market value. Despite the headwind, though, Essex has been holding up well from a price standpoint, and it's making our Rocket Stocks cut.'
Essex Property Trust is a residential REIT that owns more than 59,240 units spread across 243 properties. Because it's a residential REIT, Essex has some differences versus a conventional commercial REIT. For instance, housing landlords don't lease units on the long-term triple-net bases that are common in the industry. Instead, the firm's units are generally leased on an annual basis in locales that tend to have tenant-friendly housing laws. Despite that, demographics make Essex's portfolio particularly attractive in the expensive West Coast geographies where the firm operates.
Most of Essex's properties are located on the West Coast -- 84% of the portfolio is split between Northern and Southern California, with the balance in Seattle. That positioning in some of the country's strongest professional jobs markets and priciest real estate should keep demand for its units high, especially in demand-heavy cities where homebuyers are getting priced out of the market. Shares of ESS are up more than 10% since the end of October, which means that even as rates weigh on other REITs, the buyers are in control of the price action in Essex Property Trust.
At the time of publication, author had no positions in the stocks mentioned.