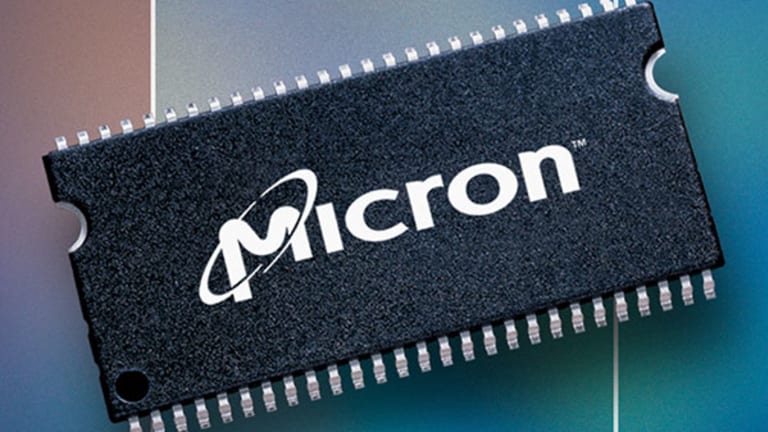 5 Rocket Stocks for Year-End Gains -- Micron, Intuitive Surgical and More
These stocks are showing off short-term gain catalysts and longer-term growth potential.
These stocks are showing off short-term gain catalysts and longer-term growth potential.
It may have seemed almost impossible just a few months ago, but 2016 is going out with a bang for stock market investors.
Year-to-date, the S&P 500 index has climbed 13.3% higher on a total returns basis, putting the big average on track for its sixth double-digit finish since 2008. That's all the more remarkable when you consider the fact that the S&P's price was just 2% higher than it started the year back in the first week of November. In short, that means that you could have sat out on all but the final two months of this year's price action and still have captured 80% of 2016's price returns.
That's a pretty sharp move towards bullish momentum - and the good news is that it's not over yet.
To take advantage of the bullish bias in the stock market this week, we're turning to a fresh set of Rocket Stocks to buy this week.
In case you're not familiar, Rocket Stocks is our list of companies with short-term gain catalysts and longer-term growth potential. To find them, I run a weekly quantitative screen that seeks out stocks with a combination of analyst upgrades and positive earnings surprises to identify rising analyst expectations, a bullish signal for stocks in any market. After all, where analysts' expectations are increasing, institutional cash often follows. In the last 379 weeks, our weekly list of five plays has outperformed the S&P 500's record-breaking run by 78.93%.
So, without further ado, here's a look at this week's Rocket Stocks.
Micron Technology
Up first on our list of Rocket Stocks is $24.5 billion computer storage stock Micron Technology (MU) - Get Report. Micron has been a phenomenal performer this year, rallying more than 64% since the calendar flipped to January. It's a great example of persistent outperformance in this market; as we head into 2017, Micron is likely to continue to lead the rest of the tech sector, thanks at least in part to a classic technical breakout signal that triggered last week.
Micron is a major supplier of memory and storage used by computers and mobile devices. The firm has long been a major manufacturer of DRAM, which made up about 58% of revenues in the most recent year. But it's been increasing its focus on NAND flash storage, which has been quickly taking the place of conventional hard disk drives in higher-end computers and in mobile devices. As both of Micron's primary products have seen price recovery in 2016, investors are getting excited about what 2017 could mean for profitability.
Financially, Micron is in good shape. The firm carries $4.3 billion in cash and investments on its balance sheet, enough to offset nearly half of its $9.6 billion debt load. Micron's innovation, including its partnership with Intel (INTC) - Get Report to develop technologies like 3D NAND storage, gives it a measurable advantage over other manufacturers. Meanwhile, a rising tide should continue to lift all ships in the storage and memory business in the intermediate-term.
Intuitive Surgical
Intuitive Surgical (ISRG) - Get Reportis another stock that's enjoyed some market-beating momentum in 2016: since this past January, Intuitive has climbed 18% higher. Intuitive makes robotic surgical systems for hospitals that want to be able to perform less-invasive surgeries than would be possible if done by a surgeon's hand. The firm's da Vinci system is currently deployed in more than 3,600 hospitals around the globe -- and that huge installed base comes with some big benefits.
To some extent, Intuitive enjoys a razor and blade model. In other words, the firm sells surgical systems, and then books recurring revenues by selling the surgical tools used by the devices. Service contracts are another source of recurring revenue for Intuitive - hospitals see those contracts as a way to protect a big investment.
A lack of direct competition gives Intuitive Surgical an enviable position in the minimally invasive surgery market. First-mover status has facilitated this stock's big installed base, which in turn has meant that surgeons are likely to have invested time and resources into training on the da Vinci system. That makes switching costs high for ISRG's customers. With rising analyst sentiment in shares of ISRG, we're betting on this Rocket Stock this week.
Paychex
Stronger employment numbers bode well for outsourced payroll stock Paychex (PAYX) - Get Report - but that's not the fuel that's been propelling this stock higher in the last couple of months. That's interest rates...
Paychex provides payroll services for more than 590,000 customers, with a focus on small and medium-sized businesses. The firm helps those smaller firms deal with the maze of tax and compliance issues involved in getting their employees paid, collecting profits in the process. Paychex has been expanding its menu of offering to include other outsourced HR functions, such as 401(k) administration and worker's comp insurance. Rising employment numbers have been providing a persistent tailwind for Paychex in recent years.
But, as I mentioned a moment ago, higher interest rates are the most direct driver that should be on investors' radar this winter. With the Fed hiking rates for the second time in as many years this month, Paychex stands to see significant revenues from float interest, the interest money it earns on massive payroll accounts between the time that employers deposit funds and employees cash their checks. Moderate interest rate increases in the next several years could translate into material increases in that income, especially if middle incomes rise over that stretch.
Quest Diagnostics
Quest Diagnostics (DGX) - Get Reportis another company that's experiencing secular tailwinds right now. Quest is one of the largest medical testing companies in the country, with a network of more than 2,000 locations from coast to coast. Put simply, if you've taken a blood test or a drug screening in the last few years, there's a pretty good chance it was at one of Quest's facilities.
As the U.S. population ages, demographics are pushing demand for medical services, including tests. That's a tailwind that should continue to propel Quest Diagnostics in the next decade - and while the firm was a net winner from the Affordable Care Act, its growth in the older segment of the population, including those on Medicare, means that the potential market loss from Trump administration efforts to dismantle Obamacare are mitigated.
At the same time, the addition of more complex products such as genetic and pathological tests have helped to drive margins higher. Smart acquisitions of smaller niche testing firms could help Quest boost its advanced testing profitability in the coming quarters. While Quest's huge geographic footprint gives it an edge in the commoditized medical tests it offers, those more advanced tests give it a competitive advantage on a completely different level. We're betting on shares this week...
Ubiquiti Networks
Last on our final list of Rocket Stocks for 2016 is mid-cap technology stock Ubiquiti Networks (UBNT) . Ubiquiti has been a stellar performer this year, climbing more than 80% higher since the start of the calendar year - and there's reason to believe that shares have even more momentum left in them this year...
Ubiquiti makes enterprise wireless equipment for businesses and institutions, as well as backhaul wireless equipment for wireless internet service providers. While that space is certainly rife with competition, the firm's unique selling proposition has historically been the fact that it sells high quality wireless infrastructure equipment at disruptive pricing. By not employing costly marketing and support staff, and instead letting customers resolve problems directly with engineers and other customers on an online support site, UBNT is able to compete with much larger firms like Cisco Systems (CSCO) - Get Reporton price.
Ubiquiti is taking that act on the road, expanding its product offerings to include lines like its sunMAX solar panel solution, and a newly-launched consumer-focused division that caters to home users rather than professionals. The firm's culture of bootstrapping new tech at low costs and testing it in the marketplace should create some more disruptive opportunities in 2017.
At the time of publication, author had no positions in the stocks mentioned.