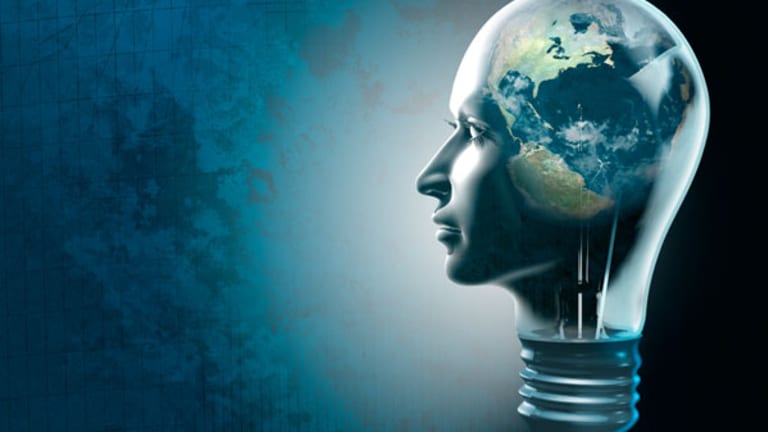 5 Reasons First Solar Shouldn't Worry About GE
The entrance of GE into the solar market is seen as a threat to First Solar, but may be a bigger threat to smaller solar companies.
NEW YORK (
) -- Shares of solar industry bellwether
First Solar
(FSLR) - Get Report
have taken a much bigger hit in recent trading than solar sector peers. Was it the announcement made last Thursday by
General Electric
(GE) - Get Report
that it is making a big push in First Solar's backyard of thin film solar modules?
>>Move Over First Solar: GE Ups Ante in Thin Film
At first blush, the GE "competitive threat" argument seems logical, but First Solar shares began a big decline early last week, a decline that was simply extended by the GE announcement on Thursday, and the biggest part of the First Solar decline, in fact, came before Thursday.
The solar sector as a whole came into trading on Monday down 3% in the past week, yet First Solar shares had declined by 9%. First Solar shares were down another 2% on Monday, in line with the decline in some notable solar stocks on Monday, including
JA Solar
(JASO)
and
LDK Solar
(LDK)
. A few of First Solar's direct competitors among the vertically integrated Chinese module makers were leading declines on Monday, with
Yingli Green Energy
(YGE)
and
Jinko Solar
(JKS) - Get Report
both down by 4.5%, and with
Trina Solar
(TSL)
selling off by 2.5%.
The solar sector has underperformed the broad equities market in the past week, and one trading reason could be that money is coming off the table ahead of the decision from Italy on changes to its solar incentive policy. Italy is expected to announce changes this week, and while there have been arguments that the Italian announcement will lead to a relief rally in solar, some short-term minded investors may be booking some profits ahead of the change and based on the uncertainty.
In the case of First Solar specifically, it trades at a significant premium to the rest of the solar sector, therefore, its recent outsized decline could simply be a function of its premium relative to other solar stocks. Additionally, First Solar recently "broke out" of a trading range that its shares had remained within for a year-and-a-half, reaching as high as $175 as the price of oil spiked.
>>Should Solar Stocks Trade on Rising Oil Prices?
Before First Solar shares spiked to $175, a share price ceiling between $140 and $150 had been typical for First Solar. On Monday, First Solar shares were trading at $145, after having begun trading last Monday at $163. Yet the 200-day moving average for First Solar shares is $144.
As part of the budget debate in Congress, there have been concerns about a key Department of Energy loan guarantee program being de-funded, and it has implications for solar projects broadly, and potentially for First Solar's Agua Caliente project specifically, a risk factor recently highlighted in a Piper Jaffray research note. The budget deal agreed to by the White House and Congress over the weekend didn't disclose specific line items and the fate of the DOE programs could be revealed this week ahead of a vote.
>>Solar CEOs to Congress: Don't ax our Loans
Yet the GE solar salvo was the marquee news item last week, and as such, it merits more attention after the initial headlines highlighting the competitive threat to First Solar. One reader wrote in to
TheStreet
to express frustration at the coverage of the GE solar push, arguing that it's a major vote of confidence in solar, and that the threat to First Solar has been overstated. It's a fair point for debate, and was echoed in a research report from Kaufman Brothers, as well as comments made by several analysts.
Jeff Bencik, analyst at Kaufman Brothers, wrote on Friday that First Solar's "proven technology, execution, ability and scale drives its market-leading position," and that the competitive threat from GE is overstated. The Kaufman Brothers analyst added that First Solar "has a tendency to fluctuate significantly on macro news which could provide an opportunity to enter the stock at more attractive levels," and he noted that FSLR shares have traded between $140 and $170 in recent months. Does this mean the recent pullback in shares is an attractive opportunity (Kaufman has a $165 price target) or does it mean First Solar is back to the "old" high end of its trading range?
In any event, in light of the recent decline in First Solar shares and the GE headlines, here are five reasons to view the GE solar news as a glass half-full event for First Solar.
Reason #1: GE Is a Deep-Pocketed Conglomerate Jumping on the Solar Bandwagon
The GE announcement wasn't the industrial conglomerate's first public statement of support for solar. GE first invested in PrimeStar (the thin film acquisition it completed last week) in 2008, and GE also has a venture with Showa Shell Sekiyu's Solar Frontier in the CIGS thin film space.
Yet GE was making some bold predictions about the potential growth of the solar market in its recent announcement, estimating that the solar market will grow by 75 gigawatts in the next five years.
"It can be read as validation of the bull case for total industry demand," said Hapoalim Securities analyst Aaron Chew. "GE is not spending this much
the company said its investment in solar will equal $600 million unless it really has faith in where the market can go and where costs can go," the analyst said, adding, "the big guys have done their research and decided to come in."
Reason #2: GE's Move Is Validating the Cadmium Telluride Technology Specifically
For a green energy technology, the cadmium telluride thin film technology most widely used by First Solar has never been able to completely get away from the headlines harping on the toxic nature of the chemical and the potential environmental repercussions. The European Union last year provided a five-year exemption from pollutant rules for cadmium telluride, which was a major relief to First Solar. The GE decision to plow ahead into the cadmium telluride thin film market can be read as another sign that the negative headlines about the technology aren't enough to dissuade the major power brokers from pushing ahead.
As Jeff Bencik, Kaufman Brothers analyst, wrote, "The technology over the years has faced much scrutiny and may have been a plausible point of concern until this point. While we question GE's ability to rapidly ramp production, we believe another player using the same technology will have positive implications for FSLR. Not only does it validate CdTe but it could allow FSLR to capture more business from customers that were hesitant to purchase the CdTe modules out of environmental concerns...GE has a long history of electricity generation but also, a history of potentially negative financial impacts from manufacturing toxic materials. We do not think GE would enter into production of a new product without doing significant due diligence to verify the safety of the product."
Additionally, many solar market experts have been assuming that the CIGS thin film companies would be the real threat to First Solar -- and from this perspective, GE's move is a market validation of cadmium telluride as well, especially since it also has a venture in CIGS with Showa, to which solar market watchers may now suspect GE is devoting less, rather than more, focus.
Reason #3: This Isn't the First Competitive Threat to First Solar
Speaking of CIGS, when Abound Solar received a $400 million loan guarantee from the Department of Energy, it was also viewed as a potential long term threat to First Solar. However, a note from Credit Suisse elaborating on that headline could apply to the GE headline.
"Note that FSLR has already established a proven manufacturing base with large capacities and low cost -- to that extent, competitors like Abound and Solyndra will have to prove cost competitiveness in order to emerge as a more significant threat in the long run."
While the efficiency noted by GE for its thin film technology, at 12.8%, could offer a significant cost-per-watt advantage over First Solar, First Solar is the proven cost leader in terms of scaled commercial operations. GE still has to prove it can scale at a cost advantage, and by the time it does (2013 to 2014) First Solar could be producing more efficient thin film modules as well.
Kaufman Brothers analyst Jeff Bencik noted, "GE reported panel efficiency of 12.8% for the solar module it submitted to the National Renewable Energy Lab (NREL). Historically, production efficiency levels are significantly lower than limited production runs, and, as such, GE is likely to have difficulty achieving similar efficiency levels when it ramps to full production."
Reason #4: It's the Second-Tier Solar Players Who Should Watch Out
In solar, the competition isn't necessarily thin film versus thin film; it's cadmium telluride thin film versus CIGS versus crystalline silicon. From this perspective, it's the second-tier players in the solar sector who should be looking over their shoulder as GE prepares a major push into solar, says Hapoalim Securities analyst Aaron Chew.
"It doesn't mean the smaller players are doomed, but it impacts them more than tier-1 players and more than First Solar," the analyst concludes.
"Large industrial and electronics conglomerate supply is headed into the solar market and that will make it harder for the tier-two players," Chew says, adding, "Supply and demand is what matters here and thin film competitors are in the end competing with all solar sources, electricity sources and competing against nat gas."
Reason #5: The Short-term/Long-term Disconnect in Solar
Solar industry trends may take years to play out, but solar stocks just as often trade on short-term risks and day-to-day headlines. The short-term, volatile nature of solar investments might seem to explain why First Solar shares have declined after the GE news, but it wouldn't explain why First Solar shares were down even more last week before the GE announcement.
The long-term nature of the GE plans in the thin film sector also argue against any stock-specific impact for First Solar.
In addition to the cost issues that GE may face down the road, Kaufman Brothers analyst Bencik noted GE has not announced the site nor exact time frame for the 400MW plant construction. "In contrast, FSLR's U.S. combined production capacity is expected to increase to 500MW+ with its existing Ohio production plant and the recently announced 250MW+ Arizona plant. Construction on the latter will commence in 2Q11. Second, FSLR's existing worldwide capacity is difficult to compete with at this point and it's also a moving target," but suggests an aggressive ramp schedule, in the opinion of the Kaufman analyst, adding "FSLR has a proven track record of ramping production."
Hapoalim's Chew said that one day, if GE is able to successfully scale its 12.8% efficiency thin film technology on a cost competitive basis, it could put pressure on First Solar's historically high gross margins. However, the Hapoalim analyst thinks that given the short-term nature of many investors in the solar sector and how quickly the technology and pricing evolves, the GE announcement is best described as a "non-event in a short-term sector" for First Solar.
"This facility isn't even built and won't be at full capacity presumably until 2014," Chew noted.
-- Written by Eric Rosenbaum from New York.
RELATED STORIES:
>>Move Over First Solar: GE Ups Ante in Thin Film
>>3 Solar Stock Trading Triggers
>>Solar CEOs to Congress: Don't ax our Loans
>To contact the writer of this article, click here:
Eric Rosenbaum
.
>To follow the writer on Twitter, go to
.
>To submit a news tip, send an email to:
.