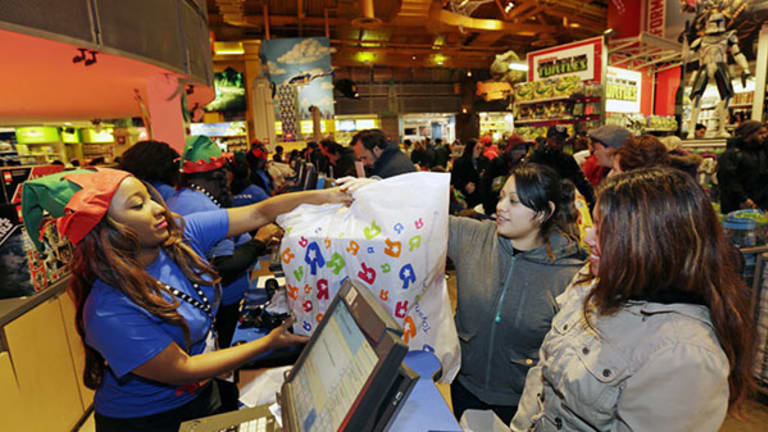 5 of the Most Ridiculous Things People Have Tried to Return During the Holidays
A Christmas tree after Dec. 25? A winter jacket from another retailer? Customers have tried to return almost everything you can imagine.
Updated from Nov. 29 to include latest fraud statistics from National Retail Federation.
Returns are no fun for retailers to handle, especially during the chaotic holiday season when gift-buyers try to skirt return policies.
According to the National Retail Federation's (NRF) latest return fraud survey, retailers estimate that 3.5% of their holiday returns this year will be fraudulent, up slightly from the estimated 3% reported last year. Return fraud over the holidays is expected to cost retailers $2.2 billion, up from about $1.9 billion last year.
For the year, retailers surveyed estimated that returns will reach $260.5 billion, or 8% of total retail sales, with $9.1 billion of retailers' annual returns expected to be fraudulent, or 3.5% of the industry's total returns.
Fraudulent returns occur frequently over the holidays, says the NRF, due to the high volume of returns and the use of part-time, less-experienced workers. To prevent fraudulent returns, retailers require such things as that customers present identification along with the receipt. In the case of fast-fashion retailer Forever 21, merchandise returned to any of its stores in the U.S. is only eligible for exchange or store credit, not cash.
Despite the safeguards put in place to protect retailers' bottom lines, some people still try to push the envelope with their returns during the holidays, dropping an array of excuses to tired retail workers. TheStreet hit a mall in Long Island, NY and worked its network of retail contacts to come up with five examples of the most outrageous returns people have tried to make amidst the holiday season rush.


1. Home Depot (HD) - Get Home Depot, Inc. Report
Item trying to be returned: Fresh Christmas tree -- after Christmas
Excuse for return: Tree was not as fragrant as they thought, therefore it was not as advertised.
Perhaps the lack of fragrance got to this customer's head. Nevertheless, he or she have may have found a hole in Home Depot's return policy.
According to the official policy, "returns within 90 days of purchase and with a valid sales receipt will be exchanged, refunded in cash, credited to your account or refunded via The Home Depot store credit."
Under the exceptions section of the policy, it's unclear if Christmas trees can be returned."Perennials, trees and shrubs have a one-year guarantee -- live goods purchased online including houseplants, perennials, trees, holiday trees, wreaths and garlands, that are received damaged or dead, please contact Online Customer Support at 1-800-430-3376 within 3 days of delivery and we will promptly ship a replacement at no charge; exceptions to this policy include cut flowers and floral arrangements."
While technically "cut," a Christmas tree is not a flower nor a floral arrangement. Money back, please!


2. Macy's (M) - Get Macy's Inc Report
Item trying to be returned: Worn female seasonal underwear
Excuse for return: Elastic was too tight.
This is an example of what is known in retail as "wardrobing," or wearing an item once and then trying to return it. Macy's and other department stores tend to sell cute female undies with reindeer or snowman on them, and in this case, one customer tried to return one -- after it had already been worn. 
Despite this being a low-class move, Macy's does not explicitly ban the return of worn items. According to its return policy, "bring your receipt with the item(s) to be returned and a full refund will be given in the original form of payment." Items without a receipt receive store credit in the form of a "Happy Returns" gift card for the item's lowest selling price within the last 180 days. In this case, though, the cashier did not take back the worn underwear. 
People, don't do this -- think about the greater good. 


3. Sears (SHLD)
Item trying to be returned: Christmas teddy bear -- after Christmas 
Excuse for return: Wasn't soft enough.
Too bad, says Sears in this instance. According to Sears' return policy, "Christmas season items cannot be returned after December 25 -- Christmas items purchased after December 25 are final sales and cannot be returned."
Might want to snuggle up with that furry friend anyway.


4. J.C. Penney (JCP) - Get J. C. Penney Company, Inc. Report
Item trying to be returned: A winter jacket -- not purchased from J.C. Penney
Excuse for return: Didn't fit
The jackets J.C. Penney sells are often different brands than the ones found at Macy's, Nordstrom (JWN) - Get Nordstrom, Inc. Report and specialty retail stores. That will be detected immediately if a cashier scans the barcode on the item's ticket. If there are no tickets, the cashier is a walk away from checking the jacket section to see if the brand is something the store sells.
No return policy review needed here, but just in case here's J.C. Penney's policy. "With a receipt, items purchased at J.C. Penney are eligible for exchange or refund of the purchase price on the original method of payment...Without a receipt, items purchased at J.C. Penney are eligible for exchange or refund at the item's lowest selling price within the last 45 days issued in the form of a merchandise return voucher." Some exceptions apply. 


5. Bath & Body Works (division of L Brands)
Item trying to be returned: Half-used peppermint Christmas-themed candle
Excuse for return: Smell wasn't strong enough
A peppermint candle is great to evoke the spirit of Christmas around the house. But, once the holidays are over, it's time to move on. Not for one person, however, who attempted to return a half used peppermint candle the weekend after Christmas.
Another low class maneuver, but one that is technically allowed by Bath & Body Works which seems very inclined to keep customers happy. According to the official return policy, "at Bath & Body Works, we have a 100% satisfaction guarantee -- if at any time you're not completely satisfied with the quality of our products, you may return them to any of our Bath & Body Works stores." In this case, the salesperson cheerfully accepted the return.
Haven't used that Bath & Body Works holiday themed candle from 2005 yet? Now may be the time to bring it back to get store credit.