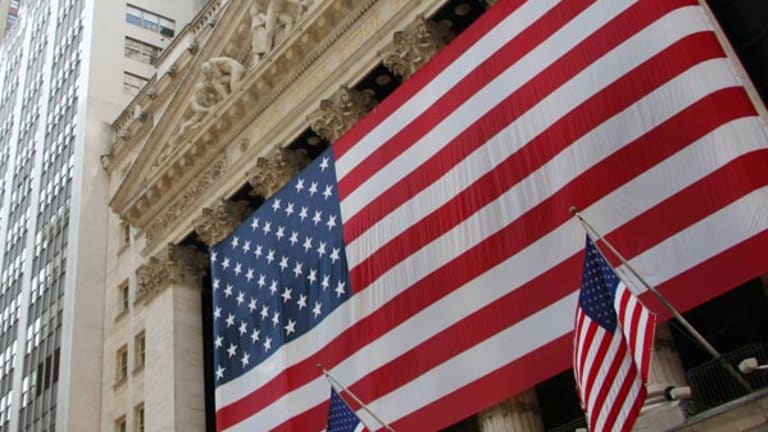 Publish date:
5 Occupy Wall Street Leaders (Update 1)
A Yale professor and a former Deutsche Bank derivatives trader are among the organizers of the Occupy Wall Street movement.
A Yale professor and a former Deutsche Bank derivatives trader are among the organizers of the Occupy Wall Street movement.
Story updated with leader photos
NEW YORK (TheStreet) -- Ask anyone at Occupy Wall Street and they will tell you there are no leaders. Clearly, though, some people in the movement are more influential, have made more of a commitment and are more visible than others. TheStreet spent some time in Zuccotti Park, as well as some additional research, and did its best to identify a few of them.
Pete Dutro, Finance
Dutro says there is a core of about six people in the group. The 36-year-old Brooklyn resident used to run a tattoo parlor and a software development company and is now studying business technology management and finance at New York University.
However, Dutro says, he "just kind of felt compelled to do it because the woman that started this group, Victoria, she begged and pleaded people for help, cuz nobody wanted to join it, and I knew I had a skill set that would have been useful and best probably applied in this area, so I kinda did it out of moral obligation -- of what would be best for the group, not so much, like what I want to do personally."
He says the group has raised $483,000 so far, most of it from online donations. He concedes that after an initial growth spurt, "things are kind of leveling off" in terms of the amount of money they are taking in.
Dutro says he got involved in Occupy Wall Street because he was diagnosed with cancer but couldn't afford health insurance. Though he believes he has recovered, he still has no health insurance, so he isn't entirely sure he has a clean bill of health.
"I've seen the quality of life in this country decline since I was a kid," he says.
Vlad Teichberg, Online Streaming Media
Teichberg, 39, is responsible for streaming the Occupy Wall Street movement live on the Internet, according to various press mentions, including a "Talk of the Town"
in the Oct. 31 edition of
The New Yorker
magazine. Teichberg, a Russian immigrant who came to the U.S. at 10 years old, was a derivatives trader at
Deutsche Bank
(DB) - Get Report
and a big believer in globalization, until shortly after the Sept. 11 World Trade Center attacks.
"The politicization of it -- using it to start wars, and the Patriot Act and everything -- it was obvious we were headed down the wrong path," he told the magazine.
Teichberg went to Madrid in February "to put cameras into the hands of protesters there," according to
The New Yorker
. Since having "poured his savings into the revolution," Teichberg is now out of money, having married his wife Nikki seven weeks ago at Burning Man. They are expecting their first child June 17.
Bill Dobbs, Press Officer
A regular at the Occupy Wall Street press table, Dobbs has worked to encourage his fellow protesters to avoid antagonizing the press, even when it comes to Fox News. He tells them that they are certainly under no obligation to be interviewed but getting in the face of a
Fox News
cameraman is more likely to lead to negative coverage, he says.
A veteran protester, Dobbs says that at a protest he attended a few years ago in Washington, D.C., the time people felt least safe was between 1 a.m. and 5 a.m., when all the TV trucks rolled away. Dobbs says there are many aspects of the protest, such as the microphone check, or the animal spirits working group, that he finds completely stupid and completely inspiring at the same time.
David Graeber, Philosopher King
Though he was involved with the Occupy Wall Street movement from the beginning, 50-year-old Yale University anthropologist
David Graeber
isn't
.
Still, Graeber "has been one of the group's most articulate voices, able to frame the movement's welter of hopes and grievances within a deeper critique of the historical moment,"
Bloomberg
writes of him.
While Graeber is still at Yale, the university didn't renew his contract for the 2012-13 academic year. In a Sept. 10 interview with Charlie Rose, Graeber said Yale never gave him an explanation for why they were not renewing his contract, though he said his students believe it was because of his support for a graduate student who wanted to start a union.
Graeber is "a veteran of many of the major left-wing demonstrations of the past decade,"
Bloomberg
writes.
Justin Wedes, Organizer
Wedes, a 24-year-old teacher and musician, performed at Carnegie Hall when he was just 16, according to his resume. Identified both by Fox News and Democracy Now as an early organizer of the Occupy Wall Street protests, Wedes also claims responsibility for sending out a
saying that
General Electric
(GE) - Get Report
would "repay its entire $3.2 billion tax refund to the U.S. Treasury on April 18." The hoax initially fooled
The Associated Press
-- Written by Dan Freed in New York
.
Disclosure: TheStreet's editorial policy prohibits staff editors, reporters and analysts from holding positions in any individual stocks.