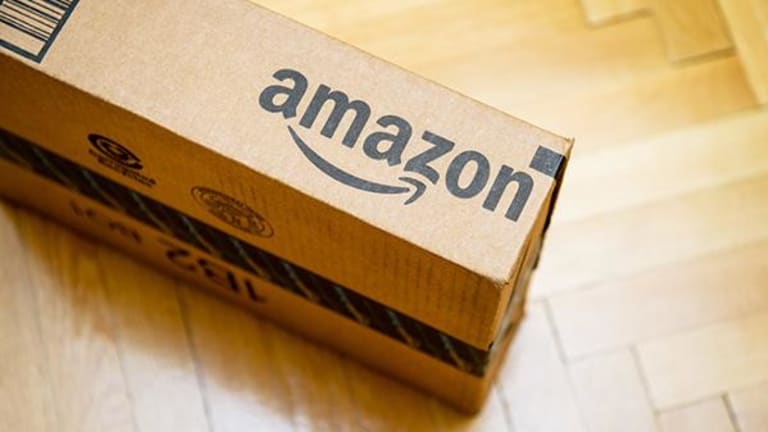 5 Mega-Cap Breakouts to Buy Following the Fed's Rate Hike
Large-cap stocks are on pace for massive gains at the start of December, and these five breakouts could be about to lead the pack.
Large-cap stocks are on pace for massive gains at the start of December, and these five breakouts could be about to lead the pack.
Big stocks are moving this month - and with the Fed's decision for a rate hike this December officially in the books, one of the last remaining sources of uncertainty for market participants has finally come to a conclusion.
There weren't any surprises in yesterday's decision to raise interest rates - futures markets were pricing in a rate hike with near-100% certainty. But the Fed did surprise market watchers by suggesting that they could keep the rate hikes coming more quickly than previously expected in 2017.
The good news is that while Wednesday's trading session finished off on a volatile note, the latest news doesn't look like it'll derail the trend in stocks that investors have been enjoying for the last month and change.
Like most other indices, the Dow Jones Industrial Average, a collection of the market's biggest names, has been on fire in December. Halfway through the month, the Dow is up 3.5%, with 29 out of the 30 components in the average up since the calendar flipped from November. That 3.5% gain might not sound like a windfall, so just to put that into perspective, the Dow's recent rampage would translate into a 145% annualized gain if it kept up for a full year.
Yes, the mega-cap stocks are in rally mode right now.
And to take full advantage of that bullish bent in the big-caps, we're turning to the charts for a technical look at five big stocks that are breaking out.
First, a quick note on the technical toolbox we're using here: Technical analysis is a study of the market itself. Since the market is ultimately the only mechanism that determines a stock's price, technical analysis is a valuable tool even in the roughest of trading conditions. Technical charts are used every day by proprietary trading floors, Wall Street's biggest financial firms, and individual investors to get an edge on the market. And research shows that skilled technical traders can bank gains as much as 90% of the time.
Every week, I take an in-depth look at big names that are telling important technical stories. Here's this week's look at five big stocks to trade.
Nvidia 
Up first on our list is chipmaker Nvidia (NVDA) - Get Report. Nvidia has been a phenomenal performer in 2016. In fact, with a 192% price return since the start of the calendar year, Nvidia tips the scales as the best-performing stock in the NASDAQ 100. Don't worry if you've missed that huge rally in Nvidia - shares look primed for another leg higher this month.
Nvidia was one of the most actively-traded stocks on the market Wednesday, attention fueled in large part by the breakout move that's happening in shares this week.
Nvidia has spent the last month forming a textbook example of an ascending triangle pattern, a bullish continuation trade that's formed by horizontal resistance up above shares at $95, and uptrending support to the downside. Basically, as shares of Nvidia have pinballed in between those two technically important price levels, this stock has been getting squeezed closer and closer to a breakout through that $95 price ceiling. And that breakout finally happened in earnest yesterday.
In other words, despite the enormity of the price move Nvidia has shown investors already in 2016, now looks like a pretty good opportunity to be a buyer from a risk/reward standpoint. If you decide to pull the trigger on NVDA here, it makes sense to park a protective stop at the 50-day moving average. If the 50-day gets violated, then Nvidia's uptrend is over and you don't want to own it anymore.
Amazon.com
We're seeing a similar price setup right now in shares of $372 billion e-commerce behemoth Amazon.com (AMZN) - Get Report. Like Nvidia, Amazon is showing off an ascending triangle pattern, save for two small differences: the breakout in Amazon hasn't happened yet, and the price pattern isn't exactly textbook.
Typically, the ascending triangle is a continuation pattern, that leads to more upside. In other words, it's not usually preceded by a correction, like we saw from Amazon's highs at the start of October through today. But even though the price action isn't textbook, it's tradable. Amazon becomes a buy if shares can crack $788 resistance. Here's why.
The $788 resistance level is a price where there has been an excess of supply of shares. In other words, it's a spot where sellers have been more eager to step in and take gains than buyers have been to buy. That's what makes a breakout above $788 so significant -- the move means that buyers are finally strong enough to absorb all of the excess supply above that price level. With that barrier to upside out of the way, shares are free to move higher. Wait for the $788 level to get taken out before you take this trade.
Unilever 
The last few months haven't exactly been a great run for shares of consumer staples giant Unilever  (UL) - Get Report. Since peaking in September, Unilever has lost more than 17% of its market value at the same time the S&P 500 has handed investors 3.4% gains. But long-suffering shareholders could finally be in store for a reprieve. Unilever looks "bottomy" this winter.
Unilever has spent the last couple of months forming a rounding bottom, a bullish reversal pattern that looks just like it sounds. The rounding bottom indicates a gradual shift in control from sellers to buyers, and it triggers a buy when shares break out above the resistance line that acts like a ceiling for shares over the course of the pattern. In Unilever's case that breakout level to watch is resistance at $41.
Price momentum, measured by 14-day RSI at the top of UL's chart, adds some extra evidence that buying pressure is building right now. That's because our momentum gauge has been in an uptrend over the course of this price pattern, a bullish divergence that's a leading indicator of a change in Unilever's trend. Once shares crack that $41 line in the sand, buying shares becomes a high-probability trade.
Merck
You don't need any special skills or a litany of price patterns in your head to figure out what's happening in Merck's (MRK) - Get Reportchart right now. Since the start of 2016, this $170 billion pharmaceutical stock has been bouncing its way higher in an uptrending channel, a price setup that's about as simple as it gets. More importantly, Merck is still a "buy the dips stock" this week.
Merck's uptrend is formed by a pair of parallel trendlines that have identified the high-probability range for this stock to remain stuck within -- and it's managed to corral about 99% of Merck's price action over the course of the uptrend. Every test of the bottom of the channel has provided a low-risk, high-reward buying opportunity in Merck. So, as shares bounce off of that same support level for a sixth time in December, it makes sense to buy the bounce.
Waiting for that bounce is important for two key reasons: It's the spot where shares have the most room to move up before they hit resistance, and it's the spot where the risk is the least (because shares have the least room to move lower before the channel breaks, invalidating the upside trade). Remember, all trend lines do eventually break, but by actually waiting for the bounce to happen first, you're ensuring Merck can actually still catch a bid along that line before you put your money on shares.
Anheuser-Busch InBev
Last on our list of big-cap breakout trades is another potential trend reversal. Breweing giant Anheuser-Busch InBev (BUD) - Get Report has been selling off since this fall, shedding more than 21% of its market value from its September highs through Wednesday's close. But buyers could finally be coming back into this stock in December. Here's how to trade it.
AB InBev has spent the last month forming a pretty textbook example of an inverse head and shoulders pattern, a price setup that signals exhaustion among sellers. The pattern is formed by two swing lows that bottom out at approximately the same level (the shoulders), separated by a lower low (the head). The buy signal gets triggered on a move through AB InBev's neckline at the $105 level.
This is another stock where momentum is providing some extra evidence for an end to the downtrend. Our momentum gauge has been making higher lows on each of the three major bottoms in the inverse head and shoulders setup, an indication that buying pressure has been building behind the scenes. Once BUD can close materially above $105, it makes sense to join the buyers.
At the time of publication, author had no positions in the stocks mentioned.