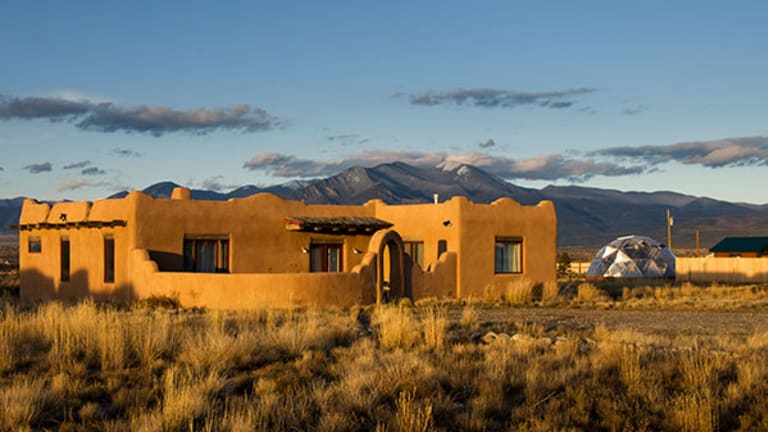 5 Luxury Cabins to Help Ring in Spring Travel
With ski season winding down and temperatures heating up, there are deals to be had on swank vacation spots in the weeks before Memorial Day weekend.
With ski season winding down and temperatures heating up, there are deals to be had on swank vacation spots in the weeks before Memorial Day weekend.
Spring is here, ski season is winding down and travelers can now start thinking about renting cabins without the ski-bum premium.
With gas prices climbing to an average of $2 a gallon for the first time this year -- still more than 40 cents below what they were at this time last year, according to AAA -- there are going to be more folks on the road when the weather gets warm and, likely, more demand for favorite vacation spots. The folks at TripAdvisor found that 78% of U.S. travelers plan to spend as much on travel as they did in 2016, which is fairly significant considering that TripAdvisor's core survey group of regular travelers spent $8,600 heading to their vacation spots of choice last year.
Of those surveyed, 34% are taking longer trips. Of all of those vacation, Baby Boomers and retirees will be spending the most by far: Their average travel budget is $10,600. That's twice as much as Millennials ($5,300) plan to spend, but both of those groups are far outspending global counterparts who are shelling out $8,700 and $2,900, respectively, on this year's trips.
However, in the spring and early summer, it's the best opportunity to take a stab at cabins that are booked up for much of the ski season and typically nowhere near waterfront destinations during the hot summer months. In the down time between Spring Break and Memorial Day weekend, they're also widely available. With some of the more luxurious accommodations in mind, we enlisted the aid of the folks at TripAdvisor Vacation Rentals and found five properties that provide lovely, luxurious getaways for the spring low season:
Location:
Taos, New Mexico
Cost:
From $399 per night
On three private acres in the mountain with a sweeping view of Taos and San Antonio Mountain, this is no party house.
Designed for those looking for a whole lot of peace, this 4,600 square foot home takes in the sun from all sides through picture windows and French doors that open onto a a covered patio and Japanese-style gardens. In the center of all of it is, an atrium with 400 square feet of glass panels over an indoor sand garden.
There are plenty of toys to play with, including a professional kitchen with breakfast bar, stone fireplace, converted garage game room (with a ping-pong and pool table), sauna, hot tub and meditation rooms. The three bedrooms all have access to the gardens, which can be nice for either finding your center or just winding down from a day on the slopes with you and up to seven of your closest friends.

Location:
Pigeon Forge, Tenn.
Cost:
From $463 per night
We love featuring Pigeon Forge not only because it's home to Dolly Parton's Dollywood amusement park, but because it's within striking distance of Smoky Mountains National Park, the Gatlinburg Space Needle, the Ober Gatlinburg amusement park, the Hollywood Star Cars Museum and various Ripley's Believe-It-Or-Not attractions.
Meanwhile, this seven-bedroom, seven-and-a-half bathroom lodge in the middle of Sherwood Forest features sprawling views of the Smokies from its decks (and hot tub) and its stacked stone fireplace surrounded by windows. There are two master bedrooms with televisions, a jacuzzi tub and a game room with a pool table and foosball all on the first floor, but there's more awaiting after you take an elevator down to the lower two levels.
Five more bedrooms -- including two with private baths -- another fireplace and a home theater with reclining theater chairs all sit below and provide a whole lot for the price of admission. If that cost seems steep, just remember than it can cover up to 28 people.

Location:
Telluride, Colo.
Cost:
From $2,799 per night
Even with 12 people staying here, that cost can seem a bit... aspirational compared to other properties on this list.
However, this six-bedroom, seven bathroom estate in one of Colorado's biggest ski destinations spares no expense. There's a ski room with its own lockers, as well as an outdoor living space with a kitchen television, bar and a dining area for the al fresco meals that the property's owners seem absolutely infatuated with.
How else can you occupy yourself? Soak in the 12-person hot tub under the stars, catch a movie in the theatre room, gawk at the custom mahogany woodwork, warm yourself by the fireplace, play foosball or ping-pong by the bar or make your way into town. You're just two blocks from Main Street, less than a half-mile to the Town Park tennis court, and less than five blocks from the ski gondola. The heated floors and claw-foot tubs are just showing off -- there's very little about this place that isn't built to please.

Location:
Vancouver Island, B.C.
Cost:
From $826 per night
Yes, it's international travel, but it's international travel to the nation directly to our north. Be less lazy about it.
This six-bedroom, six-bathroom estate on eight acres sleeps 18 and took 15 years to complete. As vacation rentals go, it's slightly ridiculous. Inspired by Frank Lloyd Wright houses, each of this home's bedrooms is decked out in arts and crafts decor, a deck, and an air-jetted tub (which we're pretty sure wasn't one of Frank's signature features). A staircase from the indoor garden leads to a 1,000 square foot master suite clad in Japanese cherry wood and fitted with a jetted overflow tub and large glass steam shower for two, with steamer and rain shower head. The bedroom has its own all-glass gazebo with views of the Saanich Inlet, as well as a deck overlooking the swimming pool, hot tub, waterfall and decks below.
The great room and the dining room each have giant fireplace and can hold 50 or more guests. The fully-equipped kitchen comes with the option for in-house chef services, while the deep-water dock accommodate just about any sized of boat or seaplane. Bananas, grapes, olives, cherries, and peaches all somehow manage grow on the property's gardens. Just a half-hour from downtown Victoria, this is no Spring Break slopeside flophouse: It's the estate that the person who founded the company that has the flophouse's owner's employer in its portfolio stays in when other homes around the globe are having their annual cleanings.

Location:
New South Wales, Australia
Cost:
From $437 per night
Oh, this house is fun, but it's fun within reason.
Located minutes from the surfing at Tallow Beach between the Cape Byron Lighthouse and Broken Head, this sprawling vacation estate is a walk from the local market, bakery and pub. You aren't going to want to abandon this house and its in-ground slat-water pool, outdoor lounge areas (including an outdoor pool table and bar, but you're going to have to.
This five-bedroom, two-bathroom beachfront dream can sleep ten and seems built for parties, but that's an absolute no-go. They'll stock all the organic bath and shower products you want, let you cook on the grill and let you soak in the jetted tub, but the owners of this property seem to have been burned before. Even though the house sleeps ten, the owners cap the number of adults at eight. There is a "strict no-party policy" that reserves the right to evict you and tack on fees if they receive complaints from the noisy neighbor hotline.
Granted, the "no schoolies" policy leads us to believe that this applies more to the high-school seniors cutting loose at the end of exams in November and December than it does to visitors from the U.S. heading down in Australia's late fall and early winter, but just try to behave yourselves anyway?
This article is commentary by an independent contributor. At the time of publication, the author held no positions in the stocks mentioned.