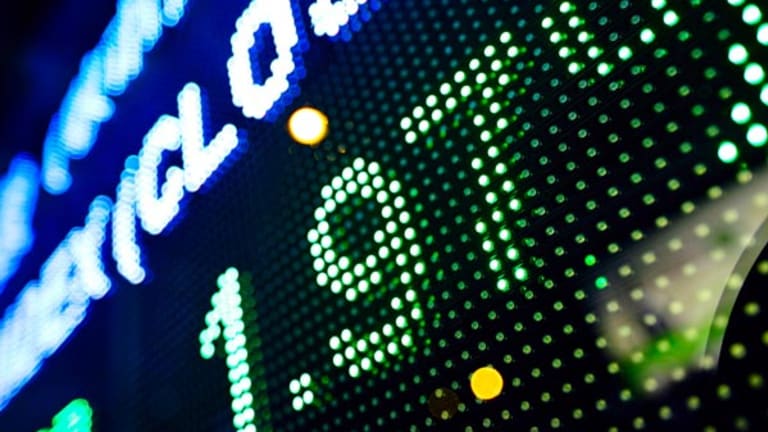 5 Investment Ideas from Wall Street: Jan. 25
Prepaid wireless is looking good and the Kindle Fire may finally pay off for Amazon.
NEW YORK (
) -- Today's investment ideas come from JP Morgan's recently published report on best near-term strategies. In it, the firm picks U.S. stocks for the first quarter. Here's the rationale behind five names in the basket:
1) Prepaid Wireless Looking Good
We've
written about telecom companies in this daily series before. Analysts say the sector will probably continue underperforming the broader market. But there's one telecom stock that may give investors decent returns in the next three months:
MetroPCS
(PCS)
.
JP Morgan is targeting the nation's fifth-largest cellphone company, which currently trades at $8.52 a share, at $8.93. "After recent underperformance, we think that expectations for higher capital and opex spending should now be built into Street models going forward," writes the firm.
The fourth quarter is usually one of the strongest for prepaid wireless companies, as business ramps up around the holidays then again in the February and March tax season.
The company said it added net about 197,000 subscribers in the fourth quarter, slightly below analyst expectations, and will release a full report in February.
JP Morgan expects a "seasonal ramp" in business for the first quarter. "We look for churn and adds at PCS to be better than our 3.8% and 300k estimates but average revenue per user (ARPU) could be dragged down somewhat by family plans." For those who don't speak telco lingo, the churn rate is the percentage of subscribers in a given time frame that stops using the company's services and hence an indication of how healthy a telecom company's outlook is.
JP Morgan also explores a scenario in which MetroPCS might get bought out. An acquisition has long been speculated as the telecom players struggle to transition to a 4G strategy. The AT&T and T-Mobile mega merger was the crown example how fierce competition is between the largest players in the industry.
An acquirer would be most interested in MetroPCS's spectrum holdings, as opposed to its customer base. Based on the estimate that the spectrum is worth $2.6 billion, JP Morgan says that the company's implied value should come in north of $6 a share. "This value not only suggests downside protection for PCS, but also ignores the value of its existing network, subscriber base and net operating loss (NOL), all of which could be of some value to a potential acquirer," adds the firm.
2) A Bottom for Amazon?
The Kindle Fire has yet to fully pay off for
Amazon.com
(AMZN) - Get Report
. After shares of the company dropped 6% over the course of 2011, JP Morgan writes that there's a near term buying opportunity.
"We believe concerns around margin declines and sustainability of revenue growth have primarily driven the stock lower," says the firm. "However, the eCommerce industry in general had a strong fourth quarter -- comScore reported about 15% year over year growth -- and we think Amazon likely took share."
Areas that have driven up costs for the company include shipping losses, fulfillment centers and technology spending. The company has opened almost 70 fulfillment centers in the last two years.
Could a turnaround now be on the horizon? Sales of the Kindle Fire may ramp up in the next few months and technology costs related to the product should start to ease, says JP Morgan. The company's strategy should yield greater top-line benefits toward mid-2012. "We expect first quarter sales guidance to be strong and think the outlook for margins could show signs of sequential stabilization," writes the firm.
At the same time, some analysts say that Amazon may decrease orders for its tablet device in the first quarter after a slowing of sales this holiday and in anticipation of the possible release of
Apple's
third generation iPad. Speculation is swirling that Apple may unveil its new tablet in February for a launch in March. Another iPad, of course, could open a new can of worms for Amazon.
JP Morgan currently has a $194.45 price target on Amazon stock, currently trading near $187 per share.
Next>
3) Restocking Trend Favors Texas Instruments
This semiconductor behemoth is JP Morgan's top pick in the sector on a three-month basis.
Texas Instruments
(TXN) - Get Report
reported better-than-expected fourth-quarter results Monday, as the chip maker eyed an improved IT spending climate. "Revenue in the fourth quarter was higher than expected across all our major product lines, reinforcing our belief that we're at the bottom of this downturn," explained Rich Templeton, the Texas Instruments CEO, in a statement.
"The company has a high dividend yield, secularly increasing margins and is well positioned to deliver earnings growth in 2012 in a tough environment driven by higher utilization rates, mix and the National acquisition," writes JP Morgan.
Another upside to Texas Instruments is that it has a dividend yield of 2.3%, which JP Morgan notes beats the average yield of 2% from companies on the S&P index.
Oppenheimer, also a buyer of the company's stock, echoes the bullish sentiment. "Management was confident in
the company's ability to capitalize on the coming demand inflection," it writes. "With unparalleled product breadth and scale, TXN remains uniquely positioned to benefit from the first half 2012 inventory re-stock in our view."
The stock is up 14% so far this year. JP Morgan targets shares at $33.82 while Oppenheimer's price target is higher at $40.
Next>
4) Pick Macy's Over Kohl's and J.C. Penney
JP Morgan is long on
Macy's
(M) - Get Report
, which it targets at $35.82 a share. The firm notes that the retailer is "pulling away from the pack" outperforming its peers
Kohl's
(KSS) - Get Report
and
J.C. Penney
(JCP) - Get Report
in same-store sales by the widest margin in over a decade the past holiday season.
"We point to the recent bifurcation being driven by Macy's playing its own game promotionally," write the firm's analysts. "While the promotional environment continues to heat up - we believe Macy's can and will continue to win through focusing on its own strategy (brands, price, quality trio) and through internal initiatives (My Macy's Omni-Channel and Magic Selling)."
Macy's recently raised its earnings outlook for the fourth quarter and 2011 after a strong holiday season and announced that it would double its quarterly dividend to 20 cents a share. The store said it expects earnings of $1.55 to $1.60 per share for the quarter, slightly lower than the consensus forecast for $1.62 per share.
One point of caution some technical analysts have raised is that the stock may have seen what Wall Street calls a "bearish candle pattern." Shares traded between $35.34 and $35.75 on Monday, a range within the prior session's high and low, suggesting that the stock may see a change in direction. Because the stock has had a bullish run, gaining 8.7% year-to-date, the candle pattern may indicate an upcoming pullback.
Next>
5) Get Specific on Software
Add
Quest Software
( QSFT) onto your list software stocks with growth. Yesterday,
we wrote that analysts advise looking out for companies positioned in virtualization, SaaS and business intelligence when it comes to picking stocks in the software sector, which is expected to struggle in the first half of 2012.
JP Morgan analysts say that weakness in software will come from pressure from Europe, the U.S. government and financial services, together which make up almost half of global IT spending. The firm's conclusion is that investors should look for deep value names."
As for Quest Software, JP Morgan says that this is a company whose "cash flow will remain relatively stable even in a difficult macro environment and may increase slightly."
The company plays on many platforms, including database tools, windows management, virtualization management. JP Morgan adds that "the company has recently increased its distribution capacity, which should start to benefit sales."
-- Written by Chao Deng in New York.
>To contact the writer of this article, click here:
Chao Deng
.
>To follow the writer on Twitter, go to:
@chao_deng
>To submit a news tip, send an email to:
.