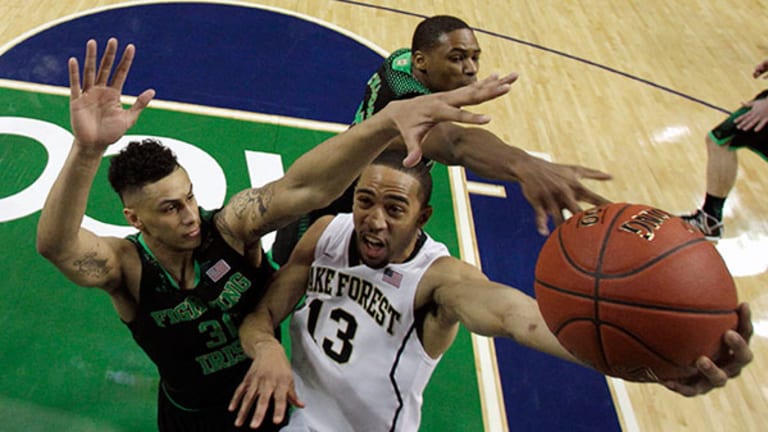 5 Industries That Go All-In On March Madness Spending
The NCAA men's basketball tournament gives everyone from insurers to wing joints a shot at a young demographic in financial flux.
March Madness ads may not reach Super Bowl levels, but there's enough to sway entire industries into throwing big money at the Big Dance.
In 2014, the NCAA men's tournament brought in $1.13 billion in advertising revenue for broadcast partners CBS and Turner Sports, according to Kantar Media. It was second only to the $1.23 billion that advertisers spent that year on the National Football League playoffs and the Super Bowl. It also went a long way toward justifying the $10 billion those broadcasters spent for the rights to broadcast the tournament through 2024. By comparison Fox, CBS and NBC are paying a combined $28 million to air NFL games, the playoffs and rotating Super Bowls through 2022.
Meanwhile, from 2005 through 2014, the NCAA Men's Division I College Basketball Tournament generated $7.5 billion of network advertising sales from more than 279 different marketers, according to Kantar Media. The average rate for a 30-second advertisement during the National Championship game has increased by more than 50% during the past decade and reached $1.5 million in 2014. That isn't close to the $4.5 million that NFL broadcasters charged for Super Bowl ads around the same time, it's still better than what sponsors pay for ads during college football's championship ($716 million), baseball's All-Star Game ($585 million), the NBA Finals ($517 million) and the World Series ($425,000). Even the Oscars, which bring in $1.8 million per ad for Disney's ABC, have never topped $110 million in ad revenue.
The 89 parent companies that aired ads during the 2014 March Madness games far outnumber the 39 that showed up for the Super Bowl that year. Those ads run through a 67-game NCAA tournament in which each game on last year's bracket averaged 11.3 million viewers. That's a combined audience of 757.1 million -- or at least that many opportunities for a viewer to see an ad.
Though the Final Four and Championship Game don't pull in the more than 100 million viewers and $345 million in ad spending that the Super Bowl did in 2015, their ads are roughly a third of the price and hit more focused markets. Besides, with the NCAA making $195.5 million in ad dollars in three games last year, the roughly $65.5 million it demands per game beats the $48 million that baseball charged per game during a five-game World Series last year. It's also already greater than the $186.3 million the Super Bowl earned in 2008.
Also, putting an entire tournament into an extremely confined timeframe builds fan anticipation and a television following that the pros just can't manage during more than a month of playoffs. Those are 68 teams and 68 fan bases emotionally invested in the game during each round. Combine that with a college basketball viewing audience that among 18- to 35-year-olds who've either just graduated or are finishing up payments on student loans, and you have a young, ideal demographic for sponsors that doesn't diminish from year to year. That said, the following five industries are spending huge amounts to make sure they've captured that demographic's attention for weeks on end:
5. Insurance
Amount spent in 2014: $94.2 million
Percent of total: 8.3%
Key players: Allstate, Northwestern Mutual, State Farm
The tournament ads tend to take a more practical approach than those aired during the NFL playoffs and Super Bowl, if only because there are so many more days and games involved.
Allstate and Northwestern Mutual are official NCAA partners for one big reason: college grads are typically just setting up their lives after graduation. They're shifting off of their parents' auto insurance, they're going to have to start worrying about apartment insurance (and older alums will be mulling home insurance) and they're prime candidates for life insurance. Companies get few chances to address this demographic as a group, but March Madness presents an ideal opportunity.

4. Financial Services
Amount spent in 2014: $105 million
Percent of total: 9.3%
Key players Capital One, Quicken, TD Ameritrade
We'd like to say that, like insurance, financial services are just trying to get college kids to consider their financial future early. However, that leaves out the somewhat more pressing reason to run a whole bunch of financial services ads during March and early April: tax season.
While it would be great to get students and young professionals thinking about saving and investing, just getting everybody to file their returns on time is a bit more pressing. By the time the tournament ends, there will be just two weeks until the filing deadline. Financial services firms know this, and know that a lot of fans are going to need a hand. It's why Capital One alone dumped $41.2 million into the tournament as an official sponsor in 2014 and bolstered its ad purchase by plastering its name all over arenas and television sets.

3. Restaurants
Amount spent in 2014: $107 million
Percent of total: 9.4%
Key players Buffalo Wild Wings, Burger King, Taco Bell
We never understood why more restaurants chains that base their business around huge TVs, ubiquitous sports broadcasts, appetizer tapas and pitchers of beer don't spend more on sports advertising.
Buffalo Wild Wings, one of the few casual dining chains in the U.S. growing with any sort of consistency, locked down a spot as an official NCAA partner and does its best to remind suburban viewers that a Big Dance blowout is only as far as the nearest strip mall parking lot. Meanwhile, Burger King and Taco Bell -- two of the last fast-food chains not to be shamed into trading chicken fries and crunchwraps for grilled chicken pitas and salad cups -- know that college students and post-collegians make up a whole lot of their late-night business. That demographic still has something resembling a healthy metabolism and isn't counting carbs or asking Oprah how it can eat bread every day, and it orders big.

2. Telecom
Amount spent in 2014: $107 million
Percent of total: 11.3%
Key players AT&T, Dish Network, Sprint
With AT&T purchasing Dish Network last year, this category is condensing a bit. That said, telecom companies need everybody they can to sign up for their wireless service just so they can get all self righteous when one of them airs a commercial featuring balls on slides.
We get it: the smartphone is basically at its saturation point, and there's more to be gained by luring wireless customers from another service than to try to coax a manufacturer into offering a mobile product exclusively. That's fine, but it's interesting to watch AT&T throw a whopping $61.9 million at this endeavor with Verizon nowhere to be found. It's AT&T's one shot at exclusivity, and it's tough to blame the company for taking it -- or to blame Sprint for trying to play spoiler.

1. Automotive
Amount spent in 2014: $216.9 million
Percent of total: 19.1%
Key players General Motors, Infiniti, Mercedes-Benz
How big is that number? Keep in mind that the automotive category is huge for the Super Bowl as well, but nine automakers threw $113.4 million at the Big Game in 2014 and didn't break $100 million again.
Meanwhile, the $83.2 million General Motors spent on the 2014 tournament alone was more than it spent on the Super Bowl from 2009 through 2015 ($86.8 million). GM's Buick is an official NCAA sponsor, but the fact that all that auto spending skews so heavily toward luxury brands indicates that it isn't just the universities angling for big-fish alumni donations around this time of year.
x