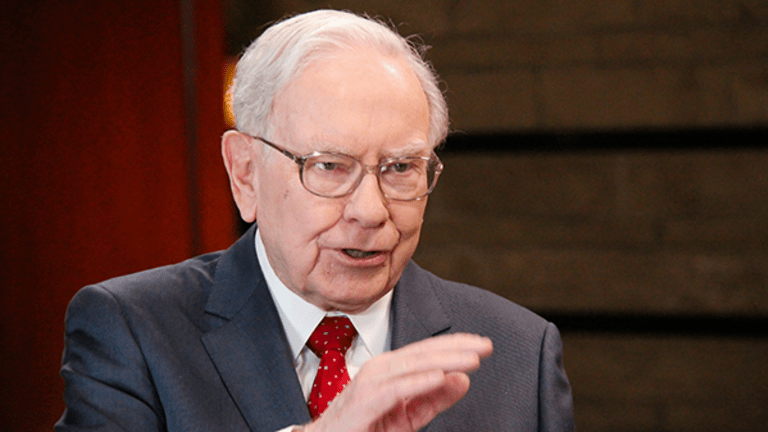 5 Huge Tech Stocks Warren Buffett's Berkshire Hathaway Also Missed
Three of them have had bigger runs than Amazon over the past five years.
Berkshire Hathaway (BRK.A) , (BRK.B)   CEO and billionaire Warren Buffett is famous for being wary of investing in tech stocks, but admitted that he made a mistake by not buying shares of Alphabet  (GOOGL)  (previously Google) and Amazon (AMZN) .
His admission came during his holding company's annual shareholder meeting on Saturday. The renowned investor said that he was "too dumb" to realize that Amazon would expand successfully, and he thought its shares seemed expensive. "I did not think (CEO Jeff Bezos) could succeed on the scale he has," he said. 
The Oracle of Omaha reiterated some of these thoughts on Monday in an interview on CNBC, saying he cost people "a lot of money" at Berkshire. "If I was forced to buy (Google-parent Alphabet) or short it, I'd buy it; same way with Amazon," he said. "But it's a little hard when you look at something at 'X' and it sells at 10X to buy it."
In addition, Buffett said that he shouldn't have cut Berkshire's investment in IBM (IBM) by a third recently, but admitted that mistakes are part of the game. "(My partner Charlie Munger and I) miss a lot of things, and we'll keep doing it," he said. 
Buffett famously said he doesn't like investing in tech stocks because he doesn't always understand how they make money. However, Berkshire did nearly double its stake in Apple (AAPL) from 59 million shares at the end of 2016 to 133 million shares worth around $17 billion earlier this year. "The degree to which people's lives center around the product his huge," Buffett said of Apple's iPhone.
Alphabet and Apple are holdings in Jim Cramer's Action Alerts PLUS Charitable Trust Portfolio. Want to be alerted before Cramer buys or sells GOOGL or AAPL? Learn more now.
But don't feel too bad for the billionaire. His holding company has a $96.5 billion cash pile that's mostly located in the U.S. to work with, according to Berkshire's 2017 first quarter report that came out on Friday. 
To see what other tech stocks have huge had run ups that Buffett and Munger missed, TheStreet looked at the top performing tech stocks in the S&P 500 over the past five years. The first three companies have actually had a greater price increase over the past five years than Amazon, whose shares gained an impressive 318.37%. 
1. Netflix
Netflix (NFLX) has run up an incredible 1,393.77% in the past five years to $155.64. The company has been capitalizing on its original content strategy, adding 29 original shows and movies to its streaming site just this month with plans to produce a total of 1,000 hours of original programming this year. The company estimated it will spend $6 billion on content in 2017. 
2. Nvidia
Nvidia (NVDA)  came in second place with a 792.26% increase in the past five years to $103.27 as it rides the wave of success chipmakers have had as demand increases and chip prices increase. In 2016 alone the company boasted gains of nearly 300%, leading some investors to wonder if it will be able to deliver another impressive performance in 2017. In an interview on Monday morning, TheStreet's Jim Cramer said to be cautious when investing in Nvidia. "I think Nvidia is a great company but the stock is elevated versus its comparisons," he explained. 
3. Micron Technology
Micron Technology (MU) is another chipmaker that has been benefiting from the positive chip environment, posting gains of 327% in the past five years, just above Amazon's 318.37% gain. While it has risen 26% year-to-date, the stock is down slightly in Monday afternoon trading after Goldman Sachs downgraded the stock to "neutral" from "buy" on a valuation call. In addition, the company named SanDisk (SNDK) co-founder and former CEO Sanjay Mehrotra as its new CEO and president, effective today, May 8. 
4. Adobe Systems
Software company and cloud leader Adobe Systems (ADBE)  has gained $101.89 per share or 313.31% in the past five years to its current price of $134.80. Adobe has become "the pure play on adoption of the cloud," said Cramer of the company's successful transition to a cloud company. The company made a an important acquisition in December when it bought video ad tech firm TubeMogul for $540 million, allowing it to provide clients with both marketing software and a platform for making ad purchases.
5. Broadcom 
Broadcom (AVGO)  is another stock that's up on the chip industry's boom cycle. In the past five years, shares of Broadcom have gained 253.31% to $224.92. Broadcom CEO Hock Tan claimed that the Samsung Galaxy S8 smartphone would help the company's results in the second quarter, which is important since it's usually a slower period for its other big client Apple (AAPL) . Some investors have been rotating into Broadcom from Nvidia (number two on this list) as shares of Nvidia have had trouble gaining momentum recently.