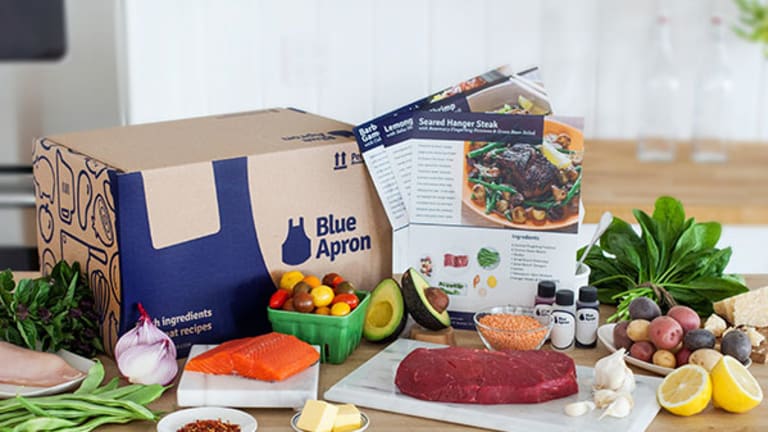 5 Hot Tech Companies That Could Go Public in 2017
Technology firms have been reluctant to enter the public markets of late, but CB Insights has identified a list of top prospects for next year.
Editor's note: This article was originally published by The Deal, a sister publication of TheStreet that offers sophisticated insight and analysis on all types of deals, from inception to integration. Click here for a free trial.
While the IPO market for technology companies has been slow the last two years, it isn't for lack of prospects.
The current pipeline of tech IPO candidates includes 369 companies, according to CB Insights. The IPO class of 2017 will be much smaller than that, of course, but the tech data analytics firm suggests that the market will pick up this year.
The list of prospects includes tech groups with high name recognition such as Snapchat, Uber, AirBnB and Buzzfeed. However, CB Insights suggests the most likely candidates to test the market next year include Qualtrics, Blue Apron, Zuora, Okta and Pluralsight.
"We weighed factors like maturity of the company, fundraising history, valuation," said CB Insights analyst Matt Wong. "We look at news mentions, do they have a CFO in place, [other] things like that that would indicate potentially an offering as soon as next year." The firm also relies on Mosaic, an algorithm that draws from a wide range of data, including news sentiment, customer wins, hiring, funding, sector performance and financial strength.
An imbalance between public and private valuations held back tech IPOs in 2016, but it wasn't the only factor.
"We saw a significant dialing back of valuations early this year when tech stocks were pretty hammered and a lot of companies decided not to test the market," Wong said.
After the tech pullback, the news cycle likely helped keep IPOs in check. "We saw Brexit, we saw the pre-election jitters and the post-election uncertainty about policy coming out of the administration," Wong said. "There have been a lot of macro factors at play."
IPO buzz arose about Qualtrics after the company named Microsoft (MSFT) - Get Report executive Zig Serafin as Chief Operating Officer this fall. The company, which collects and analyzes data from customers, employees and other sources for corporations, has raised $150 million from investors including Accel Partners, Insight Venture Partners and Sequoia Capital.
As Blue Apron's revenues rose towards the $1 billion mark earlier this year, talk about an offering has picked up. The New York-based company, which provides recipes and the ingredients to consumers on a subscription basis, has tapped investors such as Bessemer Venture Partners, First Round Capital and Stripes Group for $193 million.
Software firm Zuora, which has raised more than $240 million from investors including Benchmark,Shasta Ventures, Redpoint Ventures, Greylock Partners, Index Ventures, downplayed the notion of an IPO. "Right now we are focused on our customers' success and building a world-class software company," a spokesman said.
Okta, which reportedly hired Goldman to explore an offering earlier this year, has raised about $230 million from investors including Greylock Partners, Andreessen Horowitz and Khosla Ventures. The company develops software to manage user identities and secure networks. Okta declined to comment.
Finally, enterprise technology education platform Pluralsight has raised nearly $240 million from companies such as Felicis Ventures, GSV Advisors, Iconiq Capital and Insight Venture Partners.
Some of the funding that has allowed startups to remain private has been drying up, as unconventional investors such as mutual funds and hedge funds have curtailed their VC-style investments. Notably, mutual fund managers such as T. Rowe Price and Fidelity Investments have written down their investments in companies such as Uber and Dropbox.
As with last year's IPO of Square  (SQ) - Get Reportat a price below the company's private-market value, investors may have to rethink valuation as they consider ways to exit their investments.
"We may see some companies go public for lower valuations," Wong said.