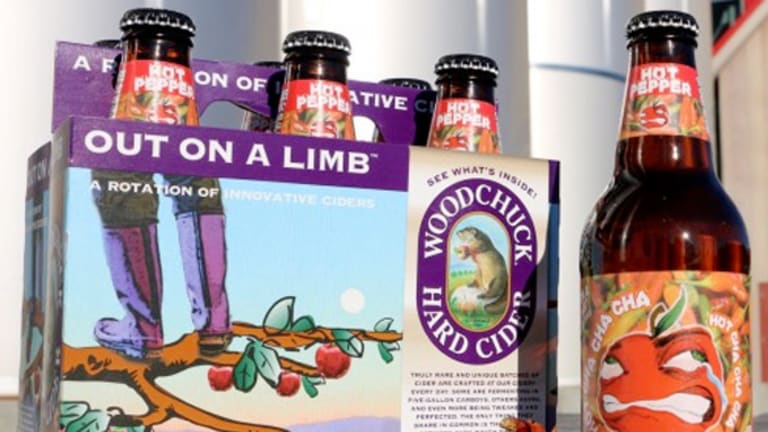 5 Hard Ciders Seeking A Place At Your Holiday Table
Hard cider is taking an ever-increasing share of the beer market, but is so closely related to wine that it could be your Christmas or New Year's bubbly.
Hard cider has worked its way into the mainstream, so why isn't it at your Christmas dinner?
We know: there was a time when nobody drank hard cider and the only cider you could find was the one way down on a bar's beer list if the joint wanted to sell something that "wasn't for beer people." As recently as 2009, cider was a $35 million market in the U.S. consisting mostly of limited markets in the Northeast, Northwest and Great Lakes. By comparison, Pabst-owned flavored malt beverage Not Your Father's Root beer sold $75 million worth of alcoholic root beer through the first 11 months of this year alone.
The cider market has since grown to more than ten times its 2009 size. Last year, it exploded into a $366 million industry, according to market research firm IRI. That's up from $172 million a year before and, at 75.4% growth, is way ahead of the 18% growth of the craft beer segment through June of last year and the 1.9% downturn in overall beer sales just a year earlier. With IRI's research excluding sales at liquor stores discount stores such as Walmart, even that growth figure may be modest. Granted, it's still only 1.2% of the overall beer market, but with that overall market shrinking, there's a lot of reason to focus on success stories.
With a whole lot of cider being introduced with the low alcohol content of beer, but a sweeter or drier flavor for those put off by hop bitterness or grain fullness, cider has elbowed itself a nice little niche in the beer market without losing its character. Hard cider makers press apples for their juice, add yeast and then let the mixture ferment in a process similar to winemaking. The yeast chows down on the sugars in the juice and produces a concoction with 6% or more alcohol by volume. That's similar to craft beer and, like beer, can have its alcohol levels reduced to a more drinkable brew below 4% ABV -- low-alcohol ciderkin takes pomace (pressed apple pulp), rehydrates it and presses it again to knock down alcohol content -- or a more wine-like cider close to 12% ABV.
It also helps that cider's following doesn't have a particular face or gender. About half of cider's consumer base is made up of women, compared with about 28% for beer, according to Nielsen. Though Baby Boomers and World War II-era beer drinkers are 41% to 69% less likely to pick a cider than the average drinker, Generation X is 1% more likely to choose a cider, while drinking age Millennials are more than twice as likely to go with a cider. While women have no problem picking up cider, they're 38% to 46% less likely to pick up domestic, imported or craft beers than their male counterparts.
As a result, cider makers can command a fairly high premium if they have a product that drinkers like. As IRI points out, cider sells for an average of $34 a case. That's a impressive jump from the $29-a-case paid for imported beers, but just below the $35 spent on the average case of craft beer.
Last year, the list of the top-selling ciders read like a who's who of the beer world. Boston Beer Company, makers of the Samuel Adams brand of beers, have a 57% share of the cider market after only entering it nationwide in 2012. Anheuser-Busch InBev, meanwhile, scored a 10.2% share after only one year of selling its Johnny Appleseed cider alongside its Michelob Light Cider and Stella Cidre -- all before buying Michigan's Virtue Cider this year. Molson Coors and SABMiller joint venture MillerCoors, meanwhile, used the $40 million purchase of Minneapolis-based Crispin Cider and its Fox Barrel in 2012 and the introduction of Smith & Forge ciders last year to take an 8% share of the market. That's made all the more incredible when you consider that Irish cider giant C&C only has about 13% of the market despite owning long-tenured U.S. cider brands including Hornsby's, Magners and Woodchuck. Throw in Heineken's 4.2% stake of the market courtesy of its Strongbow brand, and just five breweries account for more than 92% of all hard cider sold in the U.S.
So which hard ciders deserve a place beside that no-alcohol Martinelli's on the holiday table? We humbly offer up a few suggestions:

Wildcide
Aururm Cider Company
San Jose, Calif.
Alcohol by volume: 6.2%
Why this cider when California is so full of them? Why not Sebastopol's Ace, and its 2% of the overall cider market? Why not Sonoma cider or one of the other wine-country cideries?
Because Gordon Biersch founder Dan Gordon hit it out of the park with the first offering from his new Aurum Cider Company. Classically trained in Munich as a beer brewer, Gordon has spent nearly 27 years at that craft, but decided this year to shift some of his attention to cider. He blended Fuji apples for aroma and sweetness, Granny Smith apples for tartness and natural acidity, Red Delicious apples for body and Golden Delicious apples for aroma and natural sweetness and just let them ferment naturally with a little help from brewer's year. The result is an accessible, entry-level cider that hits all the right notes without treading on unfamiliar ground. It's a first-step cider much in the same way that a light lager or pilsner is a first step beer: It requires a deft hand to make, but it's broad enough to be enjoyed by even most resistant drinkers at the dinner table.

Spur & Vine
Square Mile Cider Company
Portland, Ore.
Alcohol by volume: 6.7%
When your region of the country produces the majority of both the nation's hops and apples, it's hard to blame a cider maker for wanting to combine the two.
For the last couple of years, the folks at Reverend Nat's Hard Cider in Portland, Ore., have held a festival dedicated solely to hop ciders. Local cider makers including Nat's, Cider Riot, Wandering Aengus, 2 Towns and Tieton all produce them, and dozens more cider houses across the country have taken a crack at them.
However, since its launch back in 2013, Craft Brew Alliance-owned Square Mile has made Spur & Vine especially ubiquitous. Using Red Delicious, Yellow Delicious and Jonagold apples supplied by a cidery in Eastern Oregon on the border of Washington, Square Mile makes a semi-sweet, mostly tart cider that pushes more toward the latter direction with help from some Galaxy hops. Instead of imbuing the cider with citrusy, grapefruit hop bitterness, it lends it some complexity that swirls a slight bit of peach into the mix. The result is tart, but not bitter and complicated, but not complex. In the Pacific Northwest, where neither cider nor hop cider are exactly rarities, Spur & Vine is about as invitingly mainstream as the style gets.

Woodchuck Hard Cider Hot Cha Cha Cha
Vermont Hard Cider
Middlebury, Vt.
Alcohol by volume: 5.5%
It used to be that Woodchuck could simply exist and corner the majority of the cider market. That all changed in 2012, when two huge events shook Woodchuck to its core.
C&C, the owner of the Magners and Bulmers brands, bought Vermont Hard Cider and its Woodchuck brand for $305 million in 2012, which gave it 60% of the U.S. cider market on top of the 20% it held after buying Hornsby's in 2011. Getting its start at the Joseph Cerniglia Winery in Cavendish, Vt., in 1991, Woodchuck had seen enough good times and bad to seem like a stable investment.
But that was before beer took an interest in cider. The same year Woodchuck was bought by C&C, Boston Beer Company introduced the Angry Orchard brand to the nation and quickly overwhelmed the C&C brands that U.S. drinkers new either as '90s craft holdovers or the saccharine-sweet ciders of their youth. The rebranded, clear-bottled Hornsby's saw sales plummet 40.1% as it was mistaken for a malt beverage. Woodchuck, meanwhile, struggled to refocus on its craft and saw sales plummet 13% in 2014.
As new chief executive Dan Rowell told us last year, a $34 million cider house expansion and the inclusion of new varieties have him feeling optimistic about the future. The winter installment of his Out on a Limb series, Hot Cha Cha Cha, takes a bittersweet apple base and infuses it with batch hard cider and infuses bird's eye chili peppers. Much as spicy food will bring out the hop character in an IPA, the peppers complement and bring those bittersweet cider apples to the front and create a flavorful, fiery cider that finally makes cider a fine pairing for a plate of nachos or spicy wings. More importantly, it represents a willingness to take chances that just didn't exist when Woodchuck was just "the cider" on bar menus.

Dark and Dry
Spire Mountain Cider Company
Olympia, Wash.
Alcohol by volume: 5%
Yes, it's a second Pacific Northwest brand, but it's been making hard cider since 1985 and has a production-cider lineage that few folks outside of the wine industry can claim.
After being purchased by Olympia's Fish Brewing Company in 2004, it also became one of the first brewery-owned ciders to hit the market. While cider and beer live harmoniously in pubs in the U.K. and Ireland, that hasn't always been the case here. Dark and Dry helped change that by rounding out apple tartness with some molasses and brown sugar that gives this a bit of flavor reminiscent of an amber or a brown ale.
This is why, despite being a relatively small presence nationally and shrinking 12% last year even in its home base in the Pacific Northwest, Spire still holds 1.3% of a growing cider industry, similar to Fox Barrel or imported favorite Samuel Smith. Dark and Dry was good enough to earn Spire gold at the 2009 Great American Beer Festival and it's still good enough to lure beer lovers over to the cider side in one of the most heavily saturated beer-and-cider regions in the country.

Lapinette Cidre Brut
Virtue Cider
Fennville, Mich.
Alcohol by volume: 6.2%
This was supposed to be virtue founder Greg Hall's life after Anheuser-Busch InBev. After serving as brewmaster for Chicago's Goose Island and seeing it sold to A-B for $38.8 million in 2011, he headed over to Michigan and began work on the farm and cidery steeped in the use of heirloom apples, wild yeast and barrel aging.
Its Lapinette Cidre Brut is basically the embodiment of this approach. Using a blend of tart apples fermented with French Saison yeast and aged nine months in oak wine barrels, this fizzy bubbler reminded us more of a Saison DuPont or a particularly tart (if underpowered) Champagne. It's going to make a lovely addition to the Anheuser-Busch InBev portfolio after Hall sold the cash-strapped cider house to them (or to "Goose Island") earlier this year.
This article is commentary by an independent contributor. At the time of publication, the author held no positions in the stocks mentioned.