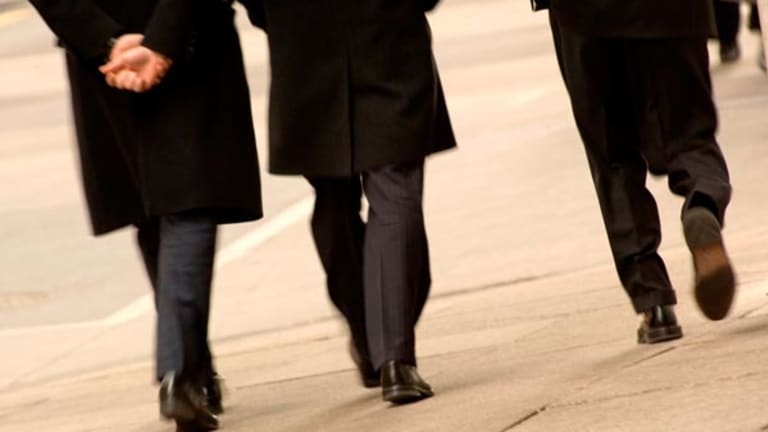 5 Escape Plans for When Your Frequent-Flier Miles Are Going Down
What to do when the promises of your frequent-flier miles are at risk at American and other troubled airlines.
By Michael Germanovsky of Credit-land.com
NEW YORK (TheStreet) -- What do you do if your frequent-flier miles are grounded when an airline has to cancel flights and curb employee rolls just to stay airborne?
American Airlines
customers may be soon on the receiving end of such a lesson, and their experience will be a good case study on what all frequent-flier consumers should expect if it happens to them.
American announced this month that it is laying off up to 4,400 employees and cutting back on flights heading into the busy holiday season. The airline had already filed for bankruptcy protection late last year and followed that up with plans to cut back on employee rolls to save money on high labor costs. This could be a nightmare for those who like to collect and redeem AAdvantage miles.
Already, American flight cancellations are well above industry averages, with about 2.1% of all global flights grounded, compared with 0.4% for the rest of the industry, according to the website FlightAware.com.
That has American Airlines frequent-flier customers -- all 66 million of them -- wondering if the company will go under and asking what would happen if it does. It's a fair question, and one any frequent flier should get answers to if they find themselves in the same situation.
Here are five measures to take if your flier miles are in similar jeopardy:
Know the difference between Chapter 11 and Chapter 7:
American is under Chapter 11 protection, meaning it is allowed to continue operating, and AAdvantage customers won't see any change in service or rewards from their frequent-flier miles. But if an airliner falls from Chapter 11 to actual liquidation under Chapter 7, expect big changes. In that scenario, frequent-flier customers would likely see their programs sold off to another big airline company to be rolled into the new airline's frequent-flier program with little change in service and their miles intact.
Go "all in":
If you're still feeling antsy about your accumulated miles in the face of a liquidation, go ahead and use them up. By redeeming your fight miles you're guaranteed to gain the maximum amount of benefits of your program, and can start from scratch with another airline -- presumably one with a more solid financial foundation.
Opt for the "honor role":
If you're in a "move on" mood over your miles, there are rare but sure ways to go ahead and transfer them to a more secure program. For example, there is a
Hilton HHonors
"points" program in which you can easily trade miles from selected partner airlines for points toward hotel stays as well as airline travel. The downside is that just few airlines participate in Hilton Honors. (American and many other airlines have a strict policy that you cannot transfer earned points balance elsewhere.) You can use your earned points to book travel with any airline that is a member of an alliance, though, so if you were planning to book an award ticket with American but fear flight delays or cancellations you can use AAdvantage miles to book with any of Americans' "oneworld" alliance partners. (You likely won't get a decent mile-to-mile exchange, though, losing some value in the points-based "exchange rate.")
Trade points while you still have them:
Companies such as
allows consumers to trade miles with other travel consumers. Expect to pay a fee; don't expect a pure one-for-one transfer; and be watchful of minimum balance requirements (AAdvantage customers, for example, have to have 25,000 points to trade.) But major carriers such as
Delta
(DAL) - Get Delta Air Lines, Inc. Report
,
United
(UAL) - Get United Airlines Holdings, Inc. Report
,
Virgin Airlines
, American and many others participate.
Turn to "plan ahead" seats:
In a post-bankruptcy airline market, expect more frequent fliers to opt for this program, in which frequent fliers hitched to troubled airlines can buy seats with no restrictions (called "anytime" seats) on partner airlines. (Expect to pay double the price in terms of points you would for regular partner flights.)
By and large, most frequent-flier miles emerge from a bankruptcy situation intact and unscathed.
But if potentially troublesome frequent-flier miles are keeping you up at night, consider one of these protection strategies and make the most of your points - bankruptcy or not.
Michael Germanovsky is an expert in personal finance with in-depth knowledge of credit cards, charge cards, and pre-paid cards. He began his writing career at the Novoye Russkoye Slovo, a partner of the New York Times International Weekly; and later authored a personal finance column at The Epoch Times. In 2011, Germanovsky created the Student Credit Card Education Initiative, designed to promote financial literacy and smart credit card use by young people. He is editor-in-chief at Credit-Land.com.