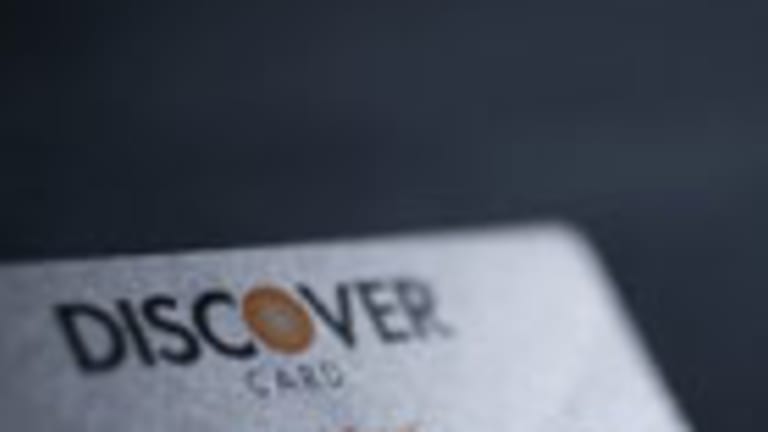 5 Defensive Financial Stocks From KBW
Bank stocks have outperformed the broad market so far this year, and employment growth in the U.S. may not be strong enough to support a continued rally.
NEW YORK (
) -- Bank stocks have been pretty hot but investors might want to consider building defensive positions, since U.S. employment growth may not be enough to push the financial sector higher over the short term.
The
KBW Bank Index
(I:BKX)
was up 12% year-to-date through Friday's close at 57.52, outperforming the
S&P 500
(SPX.X)
, which was up 9% through Friday's close at 1,560.70. During 2012, the
KBW Bank Index
rose 30%, while the S&P 500 was up 13%.
"Financial stock performance has been closely tied to the bond market, with the correlation between the long bond yield and the top 40 financial stocks greater than 0.6 year-to-date," KBW analyst Frederick Cannon said in a report Sunday. The market yield on
was 2.01% on Friday, increasing from 1.78% at the end of last year.
There have been some very encouraging economic reports lately, underscoring the continued recovery of the housing market, and improving employment growth numbers. The Labor Department on March 8 said the U.S. economy added 236,000 nonfarm jobs in February and the unemployment rate improved to 7.7% from 7.9% the previous month.
In another encouraging sign for employment growth, the
Federal Reserve
on Friday said the U.S. industrial capacity utilization rate rose to 79.6% in February, the highest level since March 2008. The February reading rose from 79.2% in January.
The prospect of industrial capacity utilization moving to levels not seen since before the worst of the credit crisis is a very positive development, as rising demand may finally push some skittish employers to increase their hiring. This is incredibly important to banks and their investors, who need a significant widening of the yield curve to propel profits, since so much of banks' earnings improvement over the past two years has come from the release of loan loss reserves, as credit quality has improved.
Most banks continue to see their net interest margins narrow, because the Federal Reserve has kept the short-term federal funds rate in a range of zero to 0.25% since late 2008, and the central bank continues to make monthly purchases of $85 billion in long-term securities, in an effort to hold long-term rates down.
In its statements this year, the Federal Open Market Committee has said the "highly accommodative" monetary policy is likely to continue at least until the unemployment rate improves to 6.5%. Members of the committee have hinted the Fed still might not turn off the money spigot when that threshold is reached.
The bond market has been looking ahead, as we have seen with the rise in the yield on the 10-Year Treasury Bonds. But according to Cannon, "we would likely need to experience a more robust job market in the U.S., with employment stats encouraging the Federal Reserve to begin reversing its very accommodative position," in order for the yield curve to widen further.
"Looking underneath the positive data suggests that all is not healing in the job market," Cannon said, pointing out that the size of the labor force has been declining, as some people give up looking for work. According to KBW's research using Labor Department statistics, the labor force participation rate has fallen from over 66% in 2007 to less than 64% in 2012 and so far in 2013.
"At some point, an improved job market should increase participation, putting upward pressure on the unemployment level and delaying its reaching the benchmark 6.5% level," he said.
If the unemployment rate temporarily creeps back up, or if the rate of improvement slows, the Fed will feel a whole lot less pressure to let rates rise, meaning the banks will be waiting longer for a more normalized yield curve.
"For investors in financial stocks who are concerned that the job market is unlikely to spur near-term Fed action, a defensive posture is in order," Cannon wrote, adding that "defensive investors may want to choose stocks with low correlation to the 10-year bond yield, low betas and limited price appreciation year to date."
Five credit card lenders and associated processors would fit that bill, according to KBW:
Shares of Capital One Financial (COF) - Get Report closed at $55.19 Friday, declining 5% this year, with investors concerned over a relatively weak fourth quarter and subdued 2013 outlook, with declining credit card loan balances. But the stocks trades for 8.2 times the consensus 2014 earnings estimate of $6.71 among analysts polled by Thomson Reuters. That is by far the cheapest forward P/E for any of the 24 components of the KBW Bank Index. The company on Thursday announced it would raise its quarterly dividend to 30 cents a share from 5 cents.
American Express (AXP) - Get Report closed at $66.09 Friday, returning 15% year-to-date. The shares trade for 12.4 times the consensus 2014 EPS estimate of $5.33. The relatively high P/E multiple in the current market environment reflects a very strong earnings track record. The company reported a 2012 return on average equity of 23.1%, declining from 27.7% in 2011, as its release of loan loss reserves declined. The company on Friday raised its quarterly dividend to 23 cents a share from 20 cents, and announced Federal Reserve approval for up to $4.2 billion in share buybacks through the first quarter of 2014.
Shares of Discover Financial (DFS) - Get Report closed at $44.14 Friday, returning 15% this year. The shares trade for 9.4 times the consensus fiscal 2014 EPS estimate of $4.69. The company's return on average assets was 3.23% in fiscal 2012, and its return on average tangible common equity was 26.8%, according to Thomson Reuters Bank Insight. The company on Friday said it would raise its quarterly dividend to 20 cents a share from 14 cents, and also announced a $2.4 billion share buyback program.
Visa (V) - Get Report closed at $158.55 Friday, returning 5% year-to-date, and trading for 18.7 times the consensus fiscal 2014 EPS estimate of $8.51. KBW analyst Sanjay Sakhrani rates Visa "outperform," with a price target of $186.00. After the company announced its fiscal first quarter results, Sakhrani on Feb. 7 said in a report that "volumes came in better than our expectations for the quarter," and were "trending positively" for the fiscal second quarter. Visa in February announced a new $1.75 billion share buyback program, increasing its stock repurchase authorization to nearly $3 billion.
Shares of Mastercard (MA) - Get Report closed at $519.37, returning 6% year-to-date. The shares trade for 17.2 times the consensus 2014 EPS estimate of $30.22. Juneja also rates Mastercard "outperform," with a price target of $623.00. Chris McWilton, Mastercard's president for North American markets said at a conference last week that U.S. processing volumes were up 4% year-over-year in February, slowing from a 6% increase the previous month, with delayed income tax refunds being a factor in the slowing growth rate. Sakhrani on Wednesday said Mastercard's growth numbers "generally showed a deceleration in volumes and transactions, similar to other industry indicators."
-- Written by Philip van Doorn in Jupiter, Fla.
>Contact by
.
Philip W. van Doorn is a member of TheStreet's banking and finance team, commenting on industry and regulatory trends. He previously served as the senior analyst for TheStreet.com Ratings, responsible for assigning financial strength ratings to banks and savings and loan institutions. Mr. van Doorn previously served as a loan operations officer at Riverside National Bank in Fort Pierce, Fla., and as a credit analyst at the Federal Home Loan Bank of New York, where he monitored banks in New York, New Jersey and Puerto Rico. Mr. van Doorn has additional experience in the mutual fund and computer software industries. He holds a bachelor of science in business administration from Long Island University.