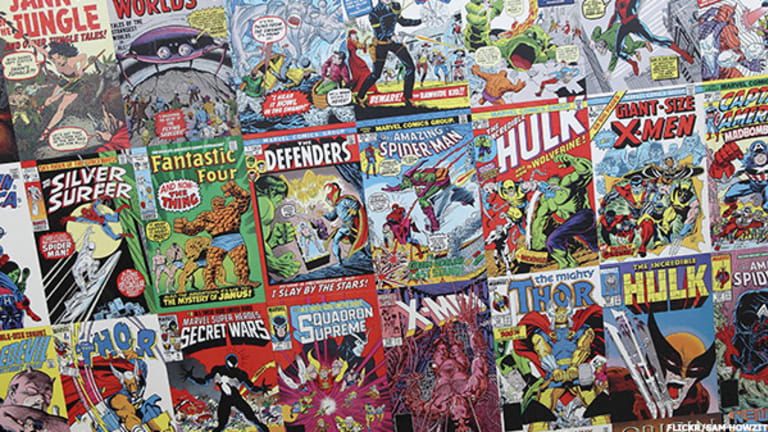 5 Comic Books Outperforming Gold And the S&P
When Hollywood comes calling for specific superheroes, comic collectors see an incredible return on their savvy investment.
Editors' pick: Originally published August 18.
Every time a comic book movie makes hundreds of million of dollars, a comic-book owner's collection gets a little more valuable.
Warner Brothers' take on DC Comics' "Suicide Squad" made more than $200 million in its first two weeks of U.S. release despite absolutely putrid reviews. That's on top of the more than $330 million Warner made on the equally miserably reviewed "Batman v. Superman: Dawn of Justice" earlier this year. Yet that's only good enough to rank them third and fourth, respectively, among comic-book movies released this year, with Disney and Marvel's "Captain America: Civil War" ($407 million) and Fox and Marvel's R-rated "Deadpool" ($363 million) coming out ahead in the U.S.
With Disney and Marvel's "Doctor Strange" yet to come in November and both the DC and Marvel universe movies plotted out until at least 2020, established comic properties are going to continue to be steady moneymakers for Warner, Fox and Disney. But will they produce dividends for comic book collectors as well.
The answer is yes, as long as you know what you're looking for. As Marvel and DC bring more characters including Doctor Strange, Captain Marvel, Wonder Woman and Black Panther into the mix, the comics in which they made their first appearances and the books that featured key storylines from their films tend to appreciate in value.
The folks at finance site GoCompare checked in with comic book expert Duncan McAlpine of the U.K.-based Comic Book Price Guide to assess the value of more than 100 comic book titles. Among them, 80 fared better from the beginning of the economic downturn in 2008 to the start of 2016 than the S&P 500. The S&P managed a 39.1% return, while the highest-ranking comic book saw its value skyrocket by 26,567%.
Just to give you some idea of just how well the price of comics can fare under the right circumstances, GoCompare looked at the five top-performing comics from among McAlpine's recommendations and saw significant gains against not only the S&P, but the price of gold as well. Tomorrow's blockbuster film is today's low-cost investment in an acid-free envelope with a backing board:
This article is commentary by an independent contributor. At the time of publication, the author held no positions in the stocks mentioned.