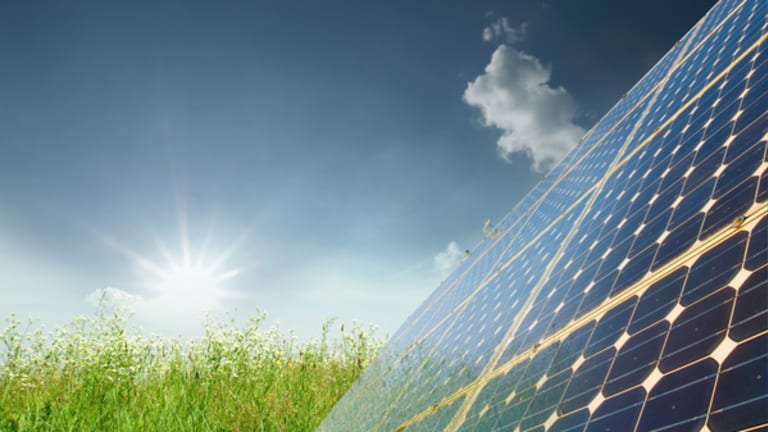 5 Catalysts for Chesapeake Energy in 2012
Chesapeake Energy is a controversial energy stock, and that suggests it could be undervalued.
Chesapeake Energy is a controversial energy stock, and that suggests it could be undervalued.
(
Chesapeake Energy story updated for company commentary on nat gas hedges, land acquisitions)
NEW YORK (
) --
Chesapeake Energy
(CHK) - Get Report
rallied on Tuesday after completing its $2.3 billion Utica shale deal with
Total
(TOT) - Get Report
, but the surge was telegraphed to a degree because the deal was originally announced two months ago.
Now investors are asking: Will the pop in Chesapeake shares last in 2012?
The energy sector started the year in
rally mode, with the sector up 3% on Tuesday, and Chesapeake shares outperformed with a gain of nearly 6% to $23.60.
A $2 billion deal from
Devon Energy
(DVN) - Get Report
also helped buoy the group, as did a $4-plus rally in crude and the market's broad gain of nearly 2%.
Chesapeake shares lost 15% in 2011 and were trading at a 52-week low to start the year, so in some respects the stock had nowhere to go but up.
Analysts are forever debating the company's true value. Is it trading at half of its net asset value or is it impossible to hang a valuation on Chesapeake because of the web of accounting that shrouds its many joint ventures and affiliated companies?
Chesapeake CEO Aubrey McClendon said in a recent interview that its joint ventures are no different than those of other energy companies, but few analysts -- even those who are bullish on the stock -- agree.
Is Chesapeake well placed at the $22 52-week low at which is began trading in 2012, or is it headed back to at least its 52-week high of $35 in 2012? Here are 5 catalysts for Chesapeake Energy in 2012 that could help answer that question:
1. Utica well results
The deal with Total isn't the biggest ticket item for investors concerning the Utica shale. Last year, Chesapeake announced that it valued its Utica assets between $15 billion and $20 billion. It was an eyebrow-raising valuation among skeptics of the company -- even those who do not doubt its ability to close JVs -- because the company had only released results from a total of 4 wells in the Utica. In March, the Ohio Department of Natural Resources is scheduled to release comprehensive Utica well results.
Whether the information comes out from the state of Ohio, or exploration and production companies try to head off the state and publish ahead of the March annual report date -- Devon is expected to release well results sooner -- there is going to be a lot more information about Utica wells than there has been to this point.
Approximately 140 wells are permitted in the Utica -- 83 of which are horizontal wells. Chesapeake has 90 drilling permits in the Utica. The upcoming data won't just provide a better handle on production possible in the Utica, but specifically the liquids growth potential.
More oil than previously estimated for the liquids potential in the Utica, in addition to the amount of natural gas liquids, would be a boon to many acreage holders, including Chesapeake.
2. The balance sheet and debt reduction
This issue is never far from Chesapeake, and management has a history of disappointing investors by saying one thing and doing another. In most cases, the saying has been about "reducing debt and buying less acreage," while the doing has been continuing to buy more properties and a debt load that moves up and down, usually up.
Last year, the company debuted its 25/25 plan: 25% production growth by the end of 2012 and 25% debt reduction. Chesapeake got off to a good start on the debt reduction, taking debt down from more than $12 billion to $9 billion in the first quarter last year, but it didn't last. Chesapeake's net debt was at $11.7 billion as of Sept. 30.
CEO Aubrey McClendon said in a recent interview that the lull in the debt reduction in the third quarter shouldn't have been a surprise to any investor since the company "telegraphed" it pretty well. Several analysts disagreed, saying it was one more reason for skeptics to believe Chesapeake's cash needs are more severe than it's letting on.
Chesapeake did just raise approximately $2 billion in cash across its Total deal in the Utica, a previous preferred share offering for Utica assets, and a sale of midstream assets to an affiliated company. The problem with Chesapeake, though, is that in the past it's been as prone to go out and spend that money on a land grab as it has been to pay down debt. Chesapeake did say late last year that there was one more shale oil play it was going after, though its commentary was vague.
"They are sort of like Mel Gibson in
Braveheart
, in that scene where he is instructing his warriors to wait until the precise right moment to charge and saying 'hold, hold, hold,'" quipped Sterne Agee analyst Tim Rezvan. "They need to get to $9 billion and change in debt and show they are committed to holding debt down."
In defending his land-grab strategy last November, McClendon said, "When we said that we've thought that the big plays were over, I always said I thought there was one more, and that was the Utica. I knew about that one. These other little things that we're working on -- ask any company what's left in the Williston? What's left in the Anadarko? What's left in the Permian? What's left in the Marcellus? What's left in the Utica? There's really just not much out there, and that's why we were in a hurry."
The Sterne Agee analyst says the debt reduction effort is the biggest catalyst for the stock, but really because Chesapeake is too big a company to have any single catalyst: "This is really all about regaining trust of investors."
When asked on the last earnings conference call about the "new oil play" and what it implied about future spending, McClendon responded by saying, "We don't have 500,000 in hand. We're headed that way. We have multiple hundreds of thousands, but that's kind of our goal. The acreage is really inexpensive. So it's not part of -- a significant part of our leasehold spend for the quarter or for the year. And I really don't want to say more than that. We'll be drilling in this area in the early part of 2012, and we'll see how we go. But I do confirm that it is a oil- and liquids-based play in the U.S."
McClendon also said last November, "Our debts will float up and down, and it just floated up last quarter because of the -- we didn't close a big deal in the third quarter, plus we spent some money on leasehold. The fourth quarter will be the reverse of that."
Investors and Wall Street will certainly be looking for Chesapeake to make good on that promise.
3. Frac Tech IPO
Chesapeake has previously said that its affiliated Chesapeake Oilfield Services, including its one-third stake in Frac Tech, could be worth a total of $7 billion to $10 billion in 2012. Frac Tech filed for an IPO last year, but the IPO has been delayed.
Last year, Singapore's sovereign wealth fund bought a stake in the company, a deal that put Chesapeake's stake at 30%.
The Wall Street Journal
and
Reuters
reported last month that potential Chinese and Saudi bidders, among other foreign energy interests, could buy into Frac Tech ahead of an IPO in 2012.
The
WSJ
reported that Chesapeake's stake in the company could be bought for $2 billion, but CEO McClendon said in November the stake could be worth $3 billion. (There are plenty more
energy deals that could happen in 2012 worth keeping on your radar.)
Will the Frac Tech IPO happen in 2012, or will private buyers take the place of a public offering?
The recent action in pressure pumping service companies, led by the
steep decline in shares of
Halliburton
(HAL) - Get Report
has raised questions about the market appetite for this IPO, at least at the value that Chesapeake had told investors to expect. The pressure pumping market is now roiled by the usual fears that North American land drilling will "roll over" in 2012 and take pricing power away from the service companies.
To be fair, it's a fear that's been in the market for at least two years and hasn't been borne out yet, and the foreign buyers of shale-related plays that could buy out Chesapeake are less concerned about short-term sentiment. However, the Frac Tech IPO might have to come later than previously anticipated, and be dependent on some recovery in the pressure pumping stocks in the first half of 2012.
When asked in November about weakness in pricing for oil services, and specifically, weakness relative to peers, McClendon told analysts, "We set pricing based on what we pay others in each basin, and so it's a model that matches what we view as a market price. And we, of course, have great clarity into what we pay others because we plan to and typically don't use any more than two-thirds of our own services in any one basin. So we are a significant customer of many other services companies everywhere that we operate. ...We also have a new management team who's focused solely on this business and improving the overall margin and return to investors here. So I'd say you'll see that come up over time...And remember...to date, a lot of our COS
Chesapeake Oilfield Services revenue comes from drilling and from trucking areas, which don't traditionally have the highest margins in the service industry."
Pressure on the pricing power of the pressure pumping service companies remains a key issue. On Wednesday,
Goodrich Petroleum
(GDP) - Get Report
released its 2012 guidance and it forecast a $2.5 million per well expected reduction in cost. With only $500,000 of that reduction due to improved drilling technology, there is a significant implied reduction going on related to contract pricing with service companies, said Dan Guffey, Stifel analyst. Goodrich officials specifically cited pressure pumping as one of the key tailwinds for its cost reduction in 2012, though they did not provide a per dollar figure.
4. Natural gas prices
Natural gas is trading at $3 and it's so far been a light winter in what is usually the heaviest demand time of the year. Unlike its oil hedges, Chesapeake is now exposed to the spot pricing market in natural gas having sold all of its gas hedges. Its $6 billion operating cash flow assumption for 2012 includes roughly $500 million for natural gas sold at an average price of $4.50, according to Rezvan. With natural gas at $3, and to the extent it stays at that level, Chesapeake's operating cash flow assumptions could be off by a significant amount.
For a company with an already stressed balance sheet and the need to fund massive land drilling operations, a cash shortfall is the last thing it needs, and the lack of natural gas hedges in 2012 could be a headwind for the company.
Chesapeake can raise cash in many ways, so this isn't a "mission critical" issue. On the other hand, no analyst on Wall Street has a $3 natural gas price assumption in its Chesapeake model, and that could come back to haunt the stock.
"We thought our $4.20 natural gas price assumption for 2012 was bearish and now we are well above spot price," noted Rezvan. The spot price for Henry Hub natural gas was $2.99 on Tuesday afternoon.
In defending the sale of the natural gas hedges during the company's last conference call, McClendon said, "I think we made it pretty clear that we feel like the bottoms are in, in the natural gas markets. We also took advantage of some days when there was worldwide financial chaos. And oil price is way down, and gas price is way down that we didn't think were justified by supply-demand fundamentals. So we went ahead and cashed out a good bit of them and then will look to the opportunity to put them back on. We've done this on several occasions in the last five years and, typically, we've been pretty successful at being able to put it back on. Maybe you noticed, we've made $8.1 billion on our hedges since 2006. So we don't always get it right, but we've got a pretty good track record there."
If natural gas were to rally to $5 in 2012, then it becomes a tailwind, but few market experts seem willing to make that bet on natural gas in 2012. The prevailing view continues to be that spot natural gas prices remain a dog, and even lower than the bottom called by Chesapeake last November.
5. Mississippian shale joint venture
SandRidge Energy
(SD) - Get Report
announced last week a $1 billion joint venture with
Repsol
in the Mississippian shale. Chesapeake Energy plans to complete a JV in the same shale play in the first half of 2012. It also has acreage considered to be in a better location within the Mississippian.
SandRidge didn't break out in its Repsol announcement the value it received for acreage in the better parts of the shale play, versus acreage in what is considered the second tier Mississippian "extension." For this reason, the value Chesapeake can get for its Mississippian acreage could be a catalyst.
SandRidge received a price per acre of $2,400. In its first Mississippian JV, SandRidge had received a price of $4,400 per acre.
McClendon said on the last earnings conference call of places where JVs might be coming, "I guess significant-enough leasehold positions in areas where we haven't already accelerated our drilling and would like to have a partner. And I believe I identified those as the -- potentially the Mississippi Lime, the Williston Basin, and then also we have a third play where we're accumulating acreage. It's on the oil side."
Sterne Agee's Rezvan, even given the risks to assumptions and the "best laid plans" of Chesapeake CEO Aubrey McClendon in 2012, there is a baseline case for the stock being undervalued relative to assets that sends it back to its $35 52-week high by the end of 2012.
For other analysts, as the company transitions from the land grab to the asset development phase -- CEO McClendon has said 2012 will mark the end of the land grab phase -- the issue could be how long it takes before the transition is proved successful and rewarded by the market.
For analyst Phil Weiss of Argus Research -- a bear on the stock who is notably the only analyst covering Chesapeake that's not listed on the company's investor relations' page -- the story hasn't changed.
Weiss wrote in a damning note at the end of November, "We believe that CHK's near-term cash needs are growing and that its spending levels are unsustainable and ill-advisably elevated ... We have long maintained that CHK holds one of the industry's best collections of acreage, with significant positions in most of the premier unconventional shale plays in the U.S. Despite this view, we think it best to avoid the shares."
-- Written by Eric Rosenbaum in New York.
>To contact the writer of this article, click here:
Eric Rosenbaum
.
>To follow the writer on Twitter, go to
.
Follow
TheStreet
on
and become a fan on
To submit a news tip, send an email to:
.