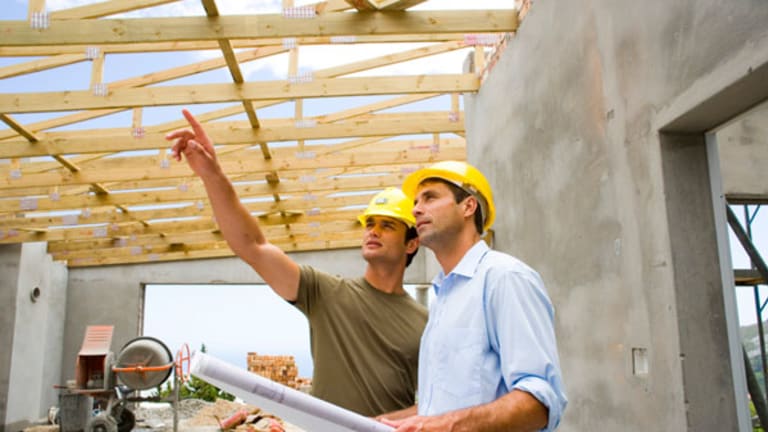 5 Buy-Rated Materials Companies
<I>TheStreet Ratings</I> has strong 'buy' recommendations on these five materials sector names.
<I>TheStreet Ratings</I> has strong 'buy' recommendations on these five materials sector names.
NEW YORK (
) -- Despite the jitters this week in commodities markets, including a report from
Goldman Sachs
(GS) - Get Report
suggesting that
commodities prices will take a breather
, many analysts believe that macroeconomic trends will keep the materials sector strong.
"Materials are an early indicator of economic cycles, pointing the way to strength in other sectors, such as manufactured goods," said Kevin Baker, senior analyst from
TheStreet Ratings
.
With many signs pointing to an improving international economy - despite the endless headlines focusing on regional conflicts and natural disasters - the market has pointed the way forward for the materials sector, which includes the metals and mining, chemicals, construction materials, and paper and forest products industries.
According to the U.S. Department of Commerce's February report on manufacturing and trade inventories and sales, inventories are historically low in relation to sales volume, indicating pent-up demand for materials as businesses restock their shelves.
Year-over-year, there were declines of over 1% in inventories for motor vehicle and parts dealers, as well as for furniture, home furnishings, electrical and appliance stores. Taking away seasonal adjustments, the inventory decline for the furniture, home furnishings, electrical and appliance group was a whopping 5.8%.
Regarding Goldman's report on the overheated commodities trade, Sean Broderick, natural resources analysts for Weiss Research and uncommonwisdomdaily.com, told
TheStreet
that "Goldman always talks the book and they probably had short positions, reaping the benefits as the sheep followed their recommendations to move out of commodities."
Despite the inevitable setbacks, Broderick said "there is big bull market in commodities in-place, that I think could run for another five to ten years."
TheStreet's
stock ratings model has assigned buy ratings of A-minus or higher to five names in the Materials sector. The model produces a composite rating that incorporates a stock's performance and volatility, incorporating technical and fundamental analysis.
Here are our five materials sector picks:
5. Hawkins, Inc.
Shares of
Hawkins, Inc.
(HWKN) - Get Report
of Minneapolis closed at $39.90 Tuesday, down 9% year-to-date.
The company distributes bulk chemicals and blends. Its industrial segment distributes various chemicals and manufactures bleach and agricultural products mainly for customers in Wisconsin, Minnesota, Iowa, and North and South Dakota, while distributing food-grade products nationally. The water treatment segment provides chemicals, and equipment via delivery routes, serving customers in Midwestern states, as well as in Montana and Wyoming.
CEO John Hawkins passed away on March 11, and Patrick Hawkins - an 18-year employee of the company - was named as the new CEO.
On January 14, Hawkins acquired Vertex Chemical -- a manufacturer of sodium hypochlorite -- for $25.5 million.
For the fiscal third quarter ended December 31, Hawkins reported net income of $4.3 million, or 41 cents a share, declining from $5.6 million, or 54 cents a share a year earlier. Despite a 16.5% increase in sales year-over-year to $70.6 million in the fiscal third quarter, profit declined because of a rise in raw material costs.
4. UFP Technologies
Share of
UFP Technologies
(UFPT) - Get Report
closed at $17.31 Tuesday, returning 42% year-to-date.
TheStreet Ratings on Tuesday upgraded the shares to an A-minus from a B.
The company designs and manufactures molded and fabricated foam packages, vacuum-formed plastics and molded fiber, as well as other products, marketing to customers in multiple sectors, including medical, scientific, automotive, aerospace, defense and consumer customers.
Net income in 2010 was $9.2 million, or $1.37 a share, increasing from $5.9 million, or 94 cents a share, in 2009. Net sales increased 22% during 2010, to $120.8 million.
John Curti of Sinclair Research rates UFP Technologies a buy, with a 12-month price target of $22.50, and estimates the company will earn $1.55 a share in 2011 and $1.72 a share n 2012. The analyst said in an April 1 report that the company's "fundamentals remain solid and its operating model remains leveraged to an economic recovery," adding that "With an industry ripe for consolidation UFPT has numerous acquisition opportunities and the financial resources ($24.4 million in cash, a $15 million credit line, and $10 million/year of free cash flow) to complete them."
3. IAMGOLD Corp.
Shares of
IAMGOLD Corp.
(IAG) - Get Report
of Toronto closed at $21.93 Tuesday, returning 23% year-to-date.
The company has interests in various mining operations and exploration projects in North America, South America and Africa.
IAMGOLD earned $279.8 million, or 75 cents a share in 2010, increasing from $114.1 million, or 32 cents a share in 2009. Revenues for 2010 were up 28% year-over-year, to $1.2 billion. The consensus among analysts polled by Thomson Reuters is for the company to earn $1.37 a share in 2011 and $1.27 in 2012.
In March, Bank of America Merrill Lynch analyst Michael Jalonen reiterated his buy rating on the company, with a $25 price target, saying that "the development of the Westwood mine and proposed expansions at Essakane, Rosebel, and Sadiola are forecast to have a positive impact on IAMGOLD's production profile."
Sean Broderick said that IAMGOLD's shares were "hitting overhead resistance at around $23.50 but the trend is up," adding that with "increasing production and good projects" the shares could eventually go to $30. "It has had a good run, but could see sideways over the short-term," he said, adding that "long term, it's a good pick."
Out of 13 sell-side analysts covering IAMGOLD, 10 rate the shares a buy, while three have neutral ratings.
2. The Valspar Corp.
Shares of
The Valspar Corp.
(VAL) - Get Report
of Minneapolis closed at $33.81, down 1% year-to-date. Based on a quarterly payout of 18 cents, the shares have a dividend yield of 2.13%.
The company manufactures coatings, paints and related products. The Coatings segment provides coatings for metal, wood and plastic primarily to manufacturers worldwide. The Paints segment provides paint products under its own brand and private label brands through wholesale and retail distributors in the U.S. and Canada.
For the fiscal first quarter ended January 28, Valspar reported net income of $33.4 million, or 34 cents a share, down slightly from $33.9 million, or 34 cents a share, a year earlier. Net sales for the first fiscal quarter were $842.4 million, increasing 25% year-over-year. The consensus estimates are for the company to earn $2.57 a share in fiscal 2011 and $2.89 a share in fiscal 2012.
On April 5, Dmitry Silversteyn of Longbow Research reiterated his neutral rating on Valspar, saying the company's "gross margins are likely to remain down," because of an increase in raw material costs, and that the shares "may be range-bound in the short- to mid-term until raw material price pressures are alleviated and gross margins begin to comp positively on a year/year basis.
Out of 12 analysts covering Valspar, three rate the shares a buy, eight have neutral ratings and one analyst recommends selling the shares.
1. Balchem Corp.
Among Materials sector names, the only stock rated an A by
TheStreet Ratings
is
Balchem Corp.
(BCPC) - Get Report
, of New Hampton, N.Y.
Balchem's shares closed at $36.02 Tuesday, returning 7% year-to-date.
The company manufactures and distributes ingredients and products for the food, nutritional, feed, pharmaceutical and medical sterilization industries.
The company earned $33.3 million, or $1.12 a share in 2010, increasing from $26.8 million, or 93 cents a share, in 2009. Net sales for 2010 were $255.1 million, increasing 16% from a year earlier. The consensus among analysts is for the company to earn $1.28 a share in 2011 and $1.53 a share in 2012.
The three sell-side analysts covering the company are evenly split between buy, hold and sell ratings. Timothy Ramey of D.A. Davidson reiterated his "underperform" or sell rating on the shares in February, even while saying that Balchem had reported an "outstanding" fourth quarter.
The analyst listed several risks to the company's business, including its "value added" business of "receiving bulk
ethylene oxide via railcars and repackaging the gas in double-wall stainless steel containers." The containers are "designed to release their contents in a controlled way in the case of a fire or an explosion," and Ramey said that "any such event would have a negative impact on Balchem's ARC Specialty Products segment."
Ramey also said that
Honeywell International
(HON) - Get Report
could easily become a competitor for Balchem's ethylene oxide business, since a Honeywell "owns the EPA registration to repackage EO."
Other threats to Balchem listed by Ramey include "the risk of technology obsolescence in value-added ingredients" in the company's Animal Nutrition and Health segment, with "larger and more sophisticated competition," including
Archer Daniels Midland
(ADM) - Get Report
.
--
Written by Philip van Doorn in Jupiter, Fla.
To contact the writer, click here:
.
To follow the writer on Twitter, go to
http://twitter.com/PhilipvanDoorn
.
To submit a news tip, send an email to:
.
Philip W. van Doorn is a member of TheStreet's banking and finance team, commenting on industry and regulatory trends. He previously served as the senior analyst for TheStreet.com Ratings, responsible for assigning financial strength ratings to banks and savings and loan institutions. Mr. van Doorn previously served as a loan operations officer at Riverside National Bank in Fort Pierce, Fla., and as a credit analyst at the Federal Home Loan Bank of New York, where he monitored banks in New York, New Jersey and Puerto Rico. Mr. van Doorn has additional experience in the mutual fund and computer software industries. He holds a bachelor of science in business administration from Long Island University.