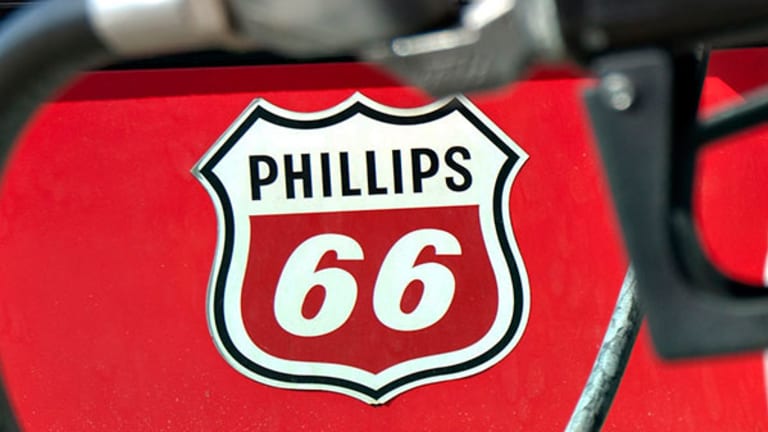 5 Blue-Chip Breakout Trades to Ring in the New Year
While most investors fixate on Dow 20,000, breakouts are already happening in the individual stocks.
While most investors fixate on Dow 20,000, breakouts are already happening in the individual stocks.
The Dow Jones Industrial Average has been keeping investors in suspense this week as the big index hovers within 1% of hitting the elusive 20,000 level.
But while most market participants focus on the back and forth in the averages, they're missing a more important story that's shaping up as we head into the final couple trading sessions of 2016. The stock market averages come with, by definition, pretty average performance. Meanwhile, leaders are emerging in this market. As the stock market flirts with new all-time highs, some of the biggest names within the market indices are actually breaking out.
Put simply, these are the stocks you want to own as the calendar flips to 2017.
So to find the stock with the biggest upside potential this week, we're turning to the charts for a technical look at five big stocks that are teetering on the edge of breakout territory.
First, a quick note on the technical toolbox we're using here: Technical analysis is a study of the market itself. Since the market is ultimately the only mechanism that determines a stock's price, technical analysis is a valuable tool even in the roughest of trading conditions. Technical charts are used every day by proprietary trading floors, Wall Street's biggest financial firms, and individual investors to get an edge on the market. Research shows that skilled technical traders can bank gains as much as 90% of the time.
Every week, I take an in-depth look at big names that are telling important technical stories. Here's this week's look at five big stocks to trade.
Phillips 66
Up first on our list of breakout trades is $45 billion midstream energy stock Phillips 66 (PSX) - Get Report. At a glance, Phillips 66 might be mistaken for a pretty mediocre performer in 2016 -- year to date, shares are only up 6.5%. But that stat misses a much more directional move in Phillips 66 more recently; since the start of August, this stock has rallied nearly 20% on a price basis.
And shares could be heading even higher from here thanks to a classic continuation setup that's showing itself in shares.
Phillips 66 is currently forming an ascending triangle pattern, a bullish continuation pattern that's formed by horizontal resistance up above shares at $88, and uptrending support to the downside. As PSX bounces in between those two technically meaningful price levels, shares have been getting squeezed closer and closer to a breakout through their $88 price ceiling. When that breakout happens, it's time to buy.
Relative strength, which measures PSX's price performance versus the broad market, has been in an uptrend of its own since Phillips' upside kicked off at the end of the summer, an indication that shares are still beating the rest of the S&P 500, even now. As long as that uptrend at the bottom of Phillips 66's chart stays intact, expect this energy stock to keep on outperforming into 2017.
Amgen
We're seeing the exact same setup in shares of $110 billion biotech stock Amgen (AMGN) - Get Report, albeit with a bit of a twist. Typically, the ascending triangle is a continuation setup, but in Amgen's case, it's showing up down at the bottom of a decline that's handed back about 16% of this stock's market value peak-to-trough. Even though Amgen's price setup isn't textbook, it's still tradable right now -- shares become a buy above $150.
What makes that $150 price tag so important for Amgen? It all boils down to supply and demand for shares. Since bottoming in November, the $150 resistance level has been a price where there has been an excess of supply of shares. In other words, it's a spot where sellers have been more eager to step in and take gains than buyers have been to buy. That's what makes a breakout above $150 so significant - the move means that buyers are finally strong enough to absorb all of the excess supply above that price level. And with that barrier to upside out of the way, shares are free to move higher.
Because this stock has been underperforming the rest of the pharma industry in recent months, shares are likely to make up for lost time with some outsized returns once the $150 level gets exceeded. Don't be early on this trade -- wait for Amgen to actually close above that $150 line in the sand before you pull the trigger on it.
Medtronic
Another health-care sector trade that's nearing breakout territory this week is $89 billion medical device maker Medtronic (MDT) - Get Report. Like Amgen, Medtronic has been under pressure since the summer, shedding around 20% of its market value in the last five months. That's the bad news. The good news is that Medtronic is finally looking "bottomy" for investors this winter.
Medtronic has spent the last month forming a textbook example of a double bottom pattern, a bullish reversal setup that looks just like it sounds. The double bottom is formed by a pair of swing lows that bottom out at approximately the same price level - the buy comes on a push through the peak that separates those twin troughs. For Medtronic, that breakout level to watch is resistance up at $74.
Price momentum, measured by 14-day RSI up at the top of Medtronic's chart, is providing traders with a little hint that buying pressure is building here. Our momentum gauge made a pair of higher lows on shares' price lows, a bullish divergence that typically comes before a positive reversal. Like with the other trades on our list today, it's critical to be reactionary with Medtronic - it doesn't become a high-probability buy until shares are able to sustain a push through $74.
Walmart 
Meanwhile, things are looking pretty straightforward in shares of $213 billion retail behemoth Wal-Mart Stores Inc. (WMT) - Get Report. Walmart has been pressing higher for most of 2016, and that uptrend is alive and well this winter. More importantly, this week, Walmart is showing investors its fourth buyable dip since May.
Walmart's uptrend is formed by a pair of parallel trendlines that have identified the high-probability range for this stock to remain stuck within. Every test of the bottom of the channel has provided a low-risk, high-reward buying opportunity in Walmart. So, as this stock bounces off of that same support level for a fourth time in December, it makes sense to buy the next bounce.
Actually waiting for that bounce is important for two key reasons: It's the spot where shares have the most room to move up before they hit resistance, and it's the spot where the risk is the least (because shares have the least room to move lower before the channel breaks, invalidating the upside trade). Remember, all trend lines do eventually break, but by actually waiting for the bounce to happen first, you're ensuring Walwart can actually still catch a bid along that line before you put your money on shares.
Adobe Systems
Last on our list of big-cap breakout trades for 2017 is $52 billion software giant Adobe Systems (ADBE) - Get Report. Adobe looks "bottomy" this winter, which might sound like a strange thing to say about a stock that's rallied 10% year-to-date. In fact, despite the big up-move, Adobe is showing off a classic technical reversal pattern called an inverse head and shoulders. The reversal setup points to more upside ahead, and an end to the brief correction we've seen since shares retreated from $110 back in late October.
Adobe's inverse head and shoulders pattern signals exhaustion among sellers. The pattern is formed by two swing lows that bottom out at approximately the same level (the shoulders), separated by a lower low (the head). The buy signal gets triggered on a move through Adobe's neckline at the $107 level.
Once shares cross $107, good risk management dictates parking a protective stop on the other side of the right shoulder, which bottomed down at $103.50. If that line in the sand gets crossed, then Adobe's breakout signal has been invalidated, and you don't want to own it anymore. Barring that, ADBE is pointing to more upside ahead.
At the time of publication, the author had no positions in the stocks mentioned.