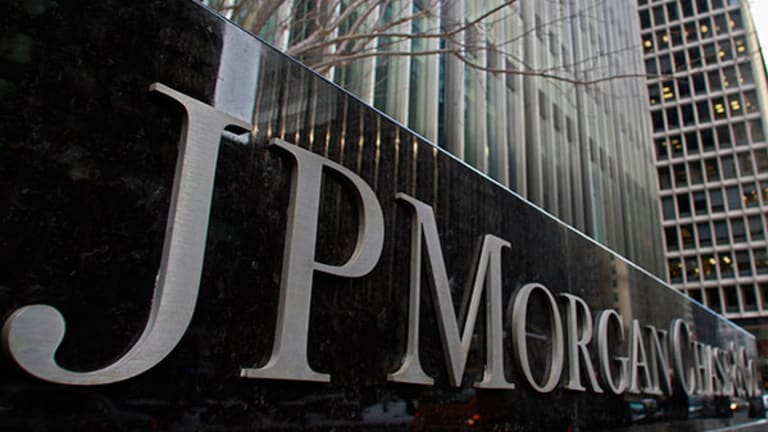 5 Big Stocks to Buy for Breakout Gains
Here's a technical look at how to trade some of the biggest stocks on Wall Street.
Yesterday took an ugly turn in the afternoon hours, as the big market indices went from dragging along sideways to plunging in the final hour or two of the trading session.
By the time the closing bell rang, the S&P 500 had shed about 52 basis points, and the Nasdaq Composite was down 81 basis points. While neither of those is an earth-shattering drop, they happened quickly enough to spook market participants.
But while the turn in the markets did send most stocks lower yesterday, there's another stat that you should be focusing more attention on if you want to make money this year: 106.
That's how many S&P components actually ended higher during Wednesday's session. Put simply, some stocks are still working in this environment. To figure out which ones you should own, we're turning to the charts for a technical look at five big-name stocks that are pushing against the edge of breakout territory…
First, a quick note on the technical toolbox we're using here: Technical analysis is a study of the market itself. Since the market is ultimately the only mechanism that determines a stock's price, technical analysis is a valuable tool even in the roughest of trading conditions. Technical charts are used every day by proprietary trading floors, Wall Street's biggest financial firms, and individual investors to get an edge on the market. And research shows that skilled technical traders can bank gains as much as 90% of the time.
Every week, I take an in-depth look at big names that are telling important technical stories. Here's this week's look at five big stocks to trade.
United Parcel Service
Leading things off is $96 billion package delivery giant United Parcel Service (UPS) . UPS has enjoyed some strong performance in 2016. Since the calendar flipped to January, this stock has seen its share price rally almost 14% higher. But don't worry if you've missed that upside. Shares could be about to kick off another leg higher from here.
UPS is currently forming a textbook example of an ascending triangle pattern, a bullish continuation setup that's formed by horizontal resistance up above shares at $111, and uptrending support to the downside. Basically, as shares of UPS bounce in between that pair of price lines, shares have been getting squeezed closer and closer to a breakout through their $111 price ceiling. When that breakout happens, we've got our buy signal.
Relative strength, which measures UPS' performance vs. the rest of the broad market, is looking bullish here. Our relative strength line has been forming an uptrend since January, indicating that UPS is still beating the rest of the market right now. Once $11 gets taken out, it's time to buy.
JPMorgan Chase
The exact same price pattern is shaping up in shares of JPMorgan Chase (JPM)  right now -- albeit on a much shorter timeframe. JPMorgan's ascending triangle only started forming at the beginning of August, but shares are already bumping up against the top of that formation this week. For JPMorgan, the key breakout level to watch is resistance at $66.50.
What's so special about the $66.50 level? It all comes down to buyers and sellers. Price patterns, such as this ascending triangle setup in JPMorgan Chase, are a good quick way to identify what's going on in the price action, but they're not the actual thing that makes the stock tradable. Instead, the "why" comes down to basic supply and demand for JPM's shares themselves.
The $66.50 resistance level is a price where there has been an excess of supply of shares; in other words, it's a spot where sellers have been more eager to step in and take gains than buyers have been to buy. That's what makes a breakout above $66.50 so significant. The move means that buyers are finally strong enough to absorb all of the excess supply above that price level. Once JPMorgan manages to definitively move above $66.50, we've got a signal that buyers are back in control of things.
Westlake Chemical 
Meanwhile, things haven't been looking quite so strong for shares of Westlake Chemical (WLK)  in 2016. Year-to-date, this $7 billion chemical company has seen its share price backslide almost 7%, trailing the S&P 500's performance by a big margin. But zoom out on Westlake's chart, and things start to look a whole lot better. Long-term, WLK looks "bottomy"; here's how to trade it.
Westlake Chemical is currently forming a double bottom pattern, a bullish reversal setup that looks just like it sounds. The double bottom is formed by a pair of swing lows that bottom out at approximately the same price level. The buy signal comes on a push through resistance up at $52, the price ceiling that separates that pair of price troughs in Westlake from February and late June.
Price momentum is another important indicator to watch in Westlake Chemical. 14-day RSI, our momentum gauge in this stock, made higher lows on each of the major price bottoms that identify the pattern in play here. That's a bullish divergence that signals that buyers are building strength here. Once $52 gets taken out, it's time to buy.
Simon Property Group
It doesn't take a whole lot of trading expertise to figure out what's been happening in shares of Simon Property Group (SPG)  in 2016. Instead, the price action on this $67 billion REIT's chart is about as basic and straightforward as it gets. SPG has been bouncing its way 18% higher in a well-defined uptrend, and as shares touch their price floor for the fourth time, it makes sense to buy the next leg higher.
Simon Property Group's uptrend is formed by a pair of parallel trend lines that have contained most of this stock's price action during 2016. So far, every test of the bottom of SPG's price channel has provided investors with a low-risk, high-reward opportunity to build a position in this stock. And that means it makes sense to buy the next bounce higher from here.
Actually waiting for the next bounce is important for two key reasons: It's the spot where shares have the most room to move up before they hit resistance, and it's the spot where the risk is the least (because shares have the least room to move lower before the channel breaks, invalidating the upside trade). Remember, all trend lines do eventually break, but by actually waiting for a bounce to happen first, you're ensuring Simon Property Group can actually still catch a bid along that line before you put your money on shares.
Visa
Last, but certainly not least, on our list of potential breakout trades is payment giant Visa (V) . Visa has spent the last several months tracking sideways, but that do-nothing price trajectory has actually been laying the foundation for a possible breakout. For Visa the big buy signal comes on a push through the $81 level.
The price pattern in Visa is an inverse head and shoulders pattern, a classic price setup that signals exhaustion among sellers. The pattern is formed by two swing lows that bottom out at approximately the same level (the shoulders), separated by a lower low (the head). The buy signal comes on a move through Visa's neckline at the aforementioned $81 level. Shares are within grabbing distance of that neckline level as of this writing.
It's worth noting that the price pattern in Visa isn't exactly textbook. Typically, an inverse head and shoulders pattern is a reversal pattern that comes at the bottom of a selloff, not the top of an uptrend. But even though the price action isn't typical, it's tradable. If $81 gets taken out, we've got a signal that it's time to buy shares. Visa actually already showed us a more conventional example of an inverse head and shoulders setup earlier in the year, triggering with the breakout above $74, and this stock's prior technical obedience is a good indication that shares will react similarly on a push through $81.
From a fundamental perspective, Visa is a holding in Jim Cramer's Action Alerts PLUS charitable portfolio. Cramer and Research Director Jack Mohr wrote recently:
Ultimately, we view Visa's recent quarter as relatively in line and look ahead to the coming quarters with the inclusion of Visa Europe as a significant tailwind down the line. On top of this, we believe the announced buyback authorization, continued secular growth in the industry and improving consumer trends will help drive share gains moving forward. While this may take some time for investors to appreciate, we are in the name for the long term.
This article is commentary by an independent contributor. At the time of publication, the author held no positions in the stocks mentioned.