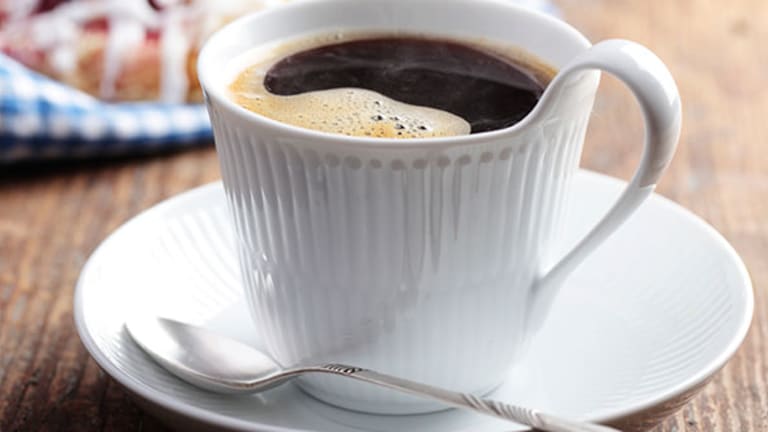 5 Best New Coffee Makers
Newer technologies are now being incorporated into today's machines that make coffee brewed at home just as good as any skillfully brewed cup of joe.
Newer technologies are now being incorporated into today's machines that make coffee brewed at home just as good as any skillfully brewed cup of joe.
When it comes to choosing a coffee maker, the options are almost as varied as the way in which people like to drink their java. The major distinction between coffee makers are automatic drip machines, which can make up to 12 cups of coffee at once, and pod machines that are perfect for individual servings. In both cases, newer technologies are now being incorporated into today's machines that make coffee brewed at home just as good as any skillfully brewed cup of joe.

Among the two major types of machines, there are nuanced differences in both function and cost that will impact your decision. Here are five new coffee makers worth considering.
Krups EC314 Savoy Coffee Maker, $79.95
Hitting the sweet spot between cost, quality and functionality is this model from Krups.
A drip machine, the EC314 has a carafe that can hold 12 cups. It keeps coffee in that carafe at 180°F, widely recognized as the ideal temperature for storing brewed coffee. If that temperature is not to your liking, you can also adjust it and the EC314 will hold the coffee at your selected temperature for any amount of time -- up to four hours -- that you choose.
The Savoy EC314 also brings you a degree of customization for your coffee with a regular/bold button that lets you choose how strong you want your coffee's flavor. There's also a small batch feature that optimizes the flavor when you brew between one and four cups, which lets you use this drip machine a little more like a single-serving coffee maker.
Other features that round out this model's value are a built-in water and coffee filter; an auto-clean function; and the ability to program auto-on according to two different schedules such as weekend and weekday.

Buy the Krups EC314 Savoy Coffee Maker now

OXO On 9 Cup Coffee Maker, $199.95
Many coffee aficionados will say that the pour-over coffee method is best for maximizing flavor. In this process, water is hand-poured slowly over ground beans in a filter. This allows water to have a longer time to mingle with the beans and, some say, release more flavor.
Because not everyone has time to hand-pour their coffee in the morning, this OXO brewer might be perfect. It contains a microprocessor that simulates the pour over method. First, it releases a burst of water that sits with the beans in the filter basket to let it "bloom," and release flavor. Then it continues with the rest of the brewing cycle delivering what many say is an outstanding cup of coffee.
The brewer also has a unique timer that tells you how long it's been since your brew was made, so you can ditch that stale coffee your roommate left for you hours earlier.
Buy the OXO On 9 Cup Coffee Maker now


Bonavita BV1900TS 8-Cup Carafe Coffee Brewer, $144.95
This machine also takes a cue from the pour-over method. Like the OXO, this Bonavita model pre-infuses the beans. Whereas OXO says this is to let the beans "bloom," Bonavita says it's useful for letting trapped gasses escape.
Aside from that though, the machine is relatively simple, lacking any special timers, programs, or other whistles. That might be just perfect for someone who only makes coffee on occasion and doesn't want to fuss with a lot of knobs and displays just to get to their cup.
Despite it's lack of high-tech features, the machine is well-regarded for brewing a superior cup of coffee.
Buy the Bonavita BV1900TS 8-Cup Carafe Coffee Brewer now


Breville BDC650BSS Grind Control, $269.98
True coffee lovers know that the first step to a great cup of coffee is to grind the beans yourself, because the minute a coffee bean is shattered, it beings to lose its volatile aromas and oils, which means that it begins to lose flavor.
This model by Breville lets your pour whole beans right in and it does the rest of the work for you -- grinding them according to the setting that suits your tastes, weighing the amount of ground coffee produced, and releasing the right amount of water into the brewing system based on your desired level of strength.
What's more, the coffee the machine produces flows into an insulated carafe that keeps it hot for hours without a heating element, which can impart a burnt flavor. There's also a one-cup setting that lets you replace the carafe with your favorite coffee mug or thermos. You simply input the size in ounces, push "brew" and watch the java flow.

Buy the Breville BDC650BSS Grind Control now
Keurig 2.0 K200, $95
While many coffee purists will say using a brewer that makes coffee from pre-measured pods is a kind of java sacrilege, there are plenty of people who are perfectly happy with pod-based coffee. Plus, if you aren't someone who needs large pots of coffee, a pod machine offers a great way to get a single fresh cup whenever you need it. One of the leaders in pod-style coffee machines is Keurig, which recently came out with its 2.0 line of brewers.
This model improves upon past brewers with technology that can automatically read the lid of the inserted pod and adjust its settings to maximize the flavor for that particular beverage. It is also different from past models because it can brew either a single cup or a four-cup carafe using Keurig's K-Carafe™ pod.
While the convenience of this system is hard to deny, it's important to be aware that the system uses disposable plastic pods, which isn't the best approach to living green if that's a concern for you.

Buy the Keurig 2.0 K200 now

-- Written by Michael Franco
Disclosure: TheStreet has advertisers and partnerships; we may get a share of the revenue from your purchase.