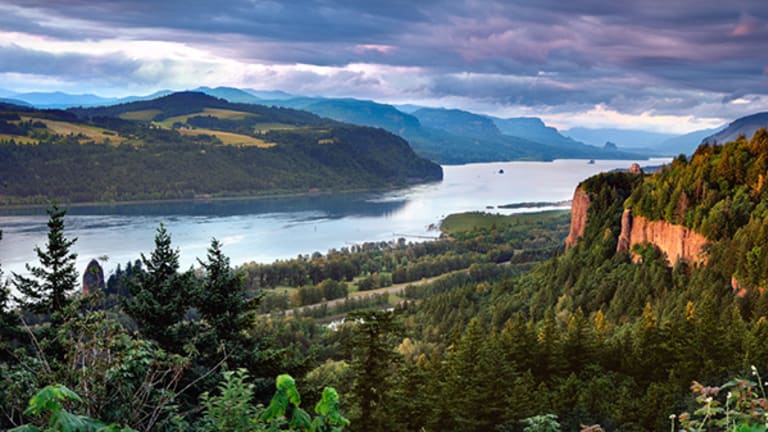 5 Best Beer Vacations of 2014
When beer and craft beer are involved, Cincinnati can look as beautiful as San Diego in the eyes of the pint-swigging faithful.
When beer and craft beer are involved, Cincinnati can look as beautiful as San Diego in the eyes of the pint-swigging faithful.
PORTLAND, Ore. (TheStreet) -- It's a whole lot more difficult to build vacations around craft beer when just about everywhere in the United States is a craft beer destination.
We've been writing about beer and vacations for four years now, which is an incredibly long time in craft beer terms. Just for perspective, when we wrote our first story about craft beer vacation destinations in 2011 -- and its follow-up after leaving out Michigan and Colorado completely -- there were 1,716 craft breweries in operation. By the time we put together our lists of the top beer vacation cities, brewpubs worth visiting and the top brewpubs in all 50 states and Washington, D.C., in 2012, that number had already jumped to nearly 2,000.
Last year, we put together a couple of lists featuring the most-hiddencraft beer destinations, but even that was a stretch with more than 2,400 craft brewers in operation. By the beginning of this year, the Boulder, Colo.-based Brewers Association craft beer industry group noted that 98% of the 2,722 breweries operating in the United States were considered craft. They were also getting a lot more company, as the Beer Institute industry lobbying group in Washington, D.C., noted this year that the number of licensed breweries in the U.S. had jumped to 3,699.
That's roughly 74 breweries per state -- if they were all somehow distributed that evenly -- but between California's more than 320 breweries and Mississippi's three, there are a whole lot of places where clusters of breweries have managed to thrive. Yes, that means that, occasionally, you have to travel for great beer and can't just get it in the airport concourse of whatever great beer city you have a layover in.
With brewery numbers increasing and these enclaves becoming less rare each year, we've come up with five areas worth visiting for their beer, but worth staying in for their hospitable surroundings:

Columbia River Gorge
Between Washington State and Oregon, the mighty Columbia River winds through rocky desert steppes, rolling green hills, massive hydroelectric dams and small towns at the bases of towering volcanoes.
Its fish ladders still run thick with salmon and sturgeon, while nearby waterfalls such as Multnomah Falls mark the last slow trickle of the mighty glaciers that carved the gorge deep into land that once stood hundreds of feet taller. Once strong enough to move hill-sized bits of volcanic rock down to the Oregon coast, where it remains today, the Columbia's waters also provide a valuable resource for the brewers that call the area home.
Full Sail Brewing in Hood River, Ore., was one of the Gorge's brewing pioneers when it opened back in 1987. It has since expanded operations, opened a pub overlooking the Columbia and the kitesurfers who frequent it during the warmer months to take advantage of the Gorge's strong air currents. While its main-line beers pitch toward the more conservative side of styles such as India Pale Ale, Extra Special Bitter, Amber Ale and Lager -- with its pre-Prohibition-style Session lagers drinking like better lawnmower beers -- its beer portfolio includes limited-edition brewers series that let the folks in the brewhouse show off their skills a bit. Enjoying a flight of their beers and watching the kitesurfers and windsurfers sail through the Columbia is a great start to a day at the Gorge.
About a block from Full Sail's taproom lies Double Mountain, which was founded back in 2007 by couple of Full Sail alumni looking to to make stronger brew and a decent pizza. With a heavy focus on hops, Double Mountain pulls no punches and gives drinkers a strong taste of the nearby hop-growing region through its Hop Lava IPA (7% alcohol by volume, 75 international bitterness units), India Red Ale (6.5% ABV, 65 IBUs) and Vaporizer Pale Ale (6% ABV, 55 IBU). With seasonal selections including Double IPAs, Belgian styles, porters, stouts and brown ales and a cavernous taproom with live music and a formidable pizza and sandwich menu, it's all downhill from here.
No, seriously, walk right down the hill past the Tofurky plant and Dakine sports apparel offices to the stretch of Columbia River waterfront park that hosts families, cyclists, dog walkers, the aforementioned kitesurfers and windsurfers and Hood River's newest addition -- Pfriem Family Brewers. Open for little more than a year, Pfriem made a name for itself by pairing Full Sail alum Josh Pfriem with former Magic Hat/Brooklyn Brewing/Full Sail brewer Dan Peterson to make a full-slate of Belgian-inspired beers and hustle them throughout the Pacific Northwest. We checked in on the Pfriem family during its earliest stages last summer and are please to find the brewery not only thriving, but expanding its availability through the Pacific Northwest. Having an incredible view of the Gorge and a reclaimed, rustic brewpub filled with lots of local food offerings doesn't exactly hurt the cause.
This is the kind of place that requires a few days to take it all in. Sure, Hood River's a town of only 7,000, but it jams during the warm months as people head in to bike the recently restored historic Columbia River Highway, check out the waterfalls and hiking trails, see the view from Vista Point, watch the salmon swim through the Bonneville Dam, listen to the songs Woody Guthrie wrote about this neck of the woods and gawk at Mount Hood and Mount Adams -- if not tour the fruit farms, lakes and forests around their bases or try to ascend them. If you want to get all of that in and visit the Big Horse Brewpub and heavily Belgian influenced tasting room of Logsdon Farmhouse Ales, brewed at the 10-acre farmstead of Wyeast Laboratories and Full Sail founder David Logsdon, it's going to take a while.
Also see: 10 Cheapest Beers in Major League Baseball>>
And that's just if you stay on the Oregon side of the river. If you want to taste the steelhead salmon tacos and Black Cherry Stout on the patio at Walking Man Brewing in Stevenson, Wash., or get an absolutely ridiculous view of Mount Hood to go with a pint of Cash Stout on the back deck of Everybody's Brewing in White Salmon, Wash. -- and the beer lists and scenery at either of these stops are worth the time -- you're going to need to set aside a long weekend to make it all happen.

Greater Atlanta
So what's your plan? Tool around Centennial Park, take a few swigs at the World of Coca-Cola, ogle the whale sharks at the aquarium, get a bite at Waffle House and take in a Braves game?
That's great ... if you want to see the absolute minimum Atlanta has to offer. The Margaret Mitchell House and the museums and parks are great and all, but a city built on sprawl has a whole lot going on outside city limits. Sure, Atlanta-based SweetWater Brewing is now one of the biggest craft breweries in the country, riding its citrusy 420 Pale Ale, LowRyeDer IPA, Georgia Brown Ale and overall fishin'/mellow tie-dyed party vibe to more than 100,000 barrels of production. Yes, breweries such as Eventide and Monday Night Brewing are putting more choices on the shelves -- even if tours and tastings are somewhat limited. Even one of the brewpubs we recognized as Georgia's best -- The Wrecking Bar on NE Moreland -- is a reason for a beer lover to enjoy a visit to the ATL.
But that's all just part of the story. If you want the rest, take the MARTA out to Decatur, hang out at Wuxtry's Records for a bit and then drop in pop into Napoleon's to catch a band and a pint from one of Decatur's finest breweries -- Wild Heaven Craft Beer. Founded by Paste Magazine publisher Nick Purdy and overseen by brewmaster Eric Johnson -- a horticulturalist and musician who also owns the Trappeze Pub beer bar in nearby Athens -- Wild Heaven is as cool and obsessive with its beer lineup as its principals are with their encyclopedic music knowledge. Their Ode To Mercy Imperial Brown Ale, at 8.2% ABV, is one strong cup of coffee featuring a blend from Athens coffee roasters 1000 Faces, while its 10.5% Belgium Quad is aged on Pinot Noir barrel chips and is as rich and oaky as a beer this big and complex should be.
Wild Heaven does have a lower-octane, hoppy 4.7% ABV American ale, but keep in mind that this is an area that prizes its whiskey and loves nothing more than a potent bourbon drink. This is the bar Decatur's Three Taverns Brewery is trying to clear when it invites you down to the tasting room. Just off of two MARTA stops, Three Taverns doesn't want you driving anywhere after sampling its heavily Belgian menu, including its dark, savory 10% ABV seasonal Belgian Quad or its bitter, slightly sour 7.5% Belgian IPA. That same push toward stronger beers also drives Decatur's BlueTarp Brewing to bowl over visitors to its Friday and Saturday tastings with its 11.3% ABV, 93 IBU chocolate-and-coffee-heavy Last Place Stout and its heavily hopped 10.1% ABV, 92 IBU Mother Hoppin' Double IPA. It's not that these breweries don't have more mild options -- Three Taverns' Belgian Single clocks in at a scant 5% ABV, while BlueTarp's lemony summer Funk Weisse clocks in at a barely there 3% ABV -- but bigger is better in this beer scene.
It is rarely in a brewpub, however, which is what makes Decatur's Twain Billiards such a rare treat. Though its portfolio of pale ales, brown ale and wheat beer rarely strays above 5% ABV (with a 6.8% ABV oatmeal stout and 7% IPA serving as noteworthy exclusions), Twain's does beer lovers the rare favor of throwing them some spent-grain bread, wings, poutine, nachos, burgers, sandwiches and chicken & waffle plates to soak up the suds.
That becomes an important caveat when you realize most of the Atlanta area's better beer offerings aren't exactly rail-adjacent once you leave Decatur. When the Brewers Association last counted in 2012, Georgia had only one brewery for every 400,000 residents -- which placed it ahead of only Alabama, Mississippi and Louisiana in breweries per capita. While Georgia's beer laws aren't exactly freewheeling -- as evidenced by the restrictions on brewery tours and tastings -- the aforementioned states' breweries were either on lockdown or nonexistent in 2012.
As a result, Atlanta-area breweries are in clusters that sometimes have to be sought out. The outstanding Jeckyll Brewing and its "hopped up like a one-legged chicken" Hop Dang Diggity IPA (6.7% ABV, 74 IBU) and its smooth, sweet Cooter Brown Ale (6% ABV) are a half-hour away in Alphretta. The nearby Creek Greenway is lovely for biking and hiking -- and the brewpub chains along it are serviceable -- but we warn that it's a bit out of the way.
Then again, so is Athens at more than an hour, but we couldn't recommend a beer vacation to Atlanta without mentioning it. We don't care if you're a Georgia alum that still comes back to town for Bulldogs games or a music fan with a wall filled with ticket stubs from R.E.M., Matthew Sweet, B-52s, Neutral Milk Hotel, Widespread Panic, Of Montreal, Vic Chestnutt, Pylon and Drive-By Truckers shows at the 40 Watt -- this town full of pubs, bottle shops and growler stations pours for everyone.
While we'll give credit to Copper Creek for putting an extensive portfolio behind its downtown brewpub's taplist and give Creature Comforts Brewing some hearty congratulations for giving Athens a new brewing presence, Athens beer is on the map thanks largely to the folks at Terrapin Beer Company. Since 2002, Terrapin has ridden year-round favorites including its Rye Pale Ale, Hopsecutioner IPA and Liquid Bliss Chocolate and Peanut Butter Porter (yes, Georgia breweries throw in some peanuts every so often) to national notoriety. Brewers such as Colorado's Left Hand, Maryland's Heavy Seas and Switzerland's Brasserie BFM have lined up to collaborate with Terrapin, while special releases including last year's Cinnamon Roll'd Wake-n-Bake -- a coffee oatmeal stout made with coffee from local roaster Jittery Joes -- draw lines and cross-country beer trade requests. This brewery alone would be worth the trip, but a town that's home to the state's art museum, botanical garden and the annual AthFest summer music festival deserves a lot more of your time than one brewery can take up.

San Diego
Surfing! Skating! Segways! Boating! Legoland! Weird dancing! Kayaking! The zoo! Sea World!
All of this and more is yours if you just head to San Diego. How do we know this? Because San Diego's damned tourism bureau keeps running this incessant bit of twee propaganda every time we fire up Hulu Plus. There are points in this thing where the jingle writer just gives up on words and scats something that looks good with images of yachts.
Listen, we get it. You get nearly 260 rain-free days a year. It's just straight-up sun for like five months out of your year. Your average high temperature doesn't drift below 66 and your average low is still 17 degrees above freezing. The Padres can spend the whole summer being terrible, but you're spending less than $17 on average to see them in Petco Park's gorgeous weather with fish tacos in hand. Your life is a vacation.
To top it off, you have about 50 breweries in and around your city and exactly two of them are Rock Bottom or Gordon Biersch outposts. That's more breweries than 37 states had in 2012, more breweries than Missouri had that year and more than that year's count for Mississippi, Louisiana, West Virginia, North Dakota, Rhode Island and Delaware combined. BeerAdvocate has rated beers from four of them -- Alesmith,Stone Brewing,Alpine Beer and Lost Abbey -- among the 100 best in the world. Blow that out to the Top 150, and you can throw Green Flash and Port Brewing -- the folks behind the four locations of this town's beloved Pizza Port franchise into the mix as well.
That doesn't even pay lip service to brilliant newcomers including Belgian-and-IPA masters Modern Times; or the esoteric, pedantic beer scholars behind Societe Brewing; or to longstanding veterans such as the folks at Coronado Brewing. There is honestly no way to go into detail about every brewery in this town or to plot out a map of tasting rooms, brewpubs and pizza shops that wouldn't take up every day and calorie of your vacation. Instead, we'll just point you to Drink Up San Diego and the San Diego Brewers Guild for a complete guide to breweries and San Diego beer events. Hit either of the Stone Brewing World locations because they're beer Disneyland, avoid any beer that focuses on spokespeople and packaging instead of the beer and hit as much of the rest as you can.

The Wind River and Teton ranges, Wyoming
Back in 2012, Wyoming had only 13 breweries. Considering that it's added 150,000 people to its population and still sneaks under 600,000 total -- or less than the city of Boston -- that wasn't necessarily a terrible thing.
Also see: The Brewpub Is Craft Beer's Golden Goose>>
That gave Wyoming a brewery for every 37,600 residents, a better per capita than the craft beer loving state of Washington (1 per 41,800) and brewery-flush California (1 per 114,600). Since then, Wyoming's brewery count has ballooned to 23, but that's a lot to spread around the 10th-largest state in the union. Cities such as Cheyenne and Laramie may get lucky and land two to three breweries or brewpubs apiece, but there are few places here where enough are clustered together to make it a decent "beer vacation."
The junction of these two ranges is one exception. Home to Teton National Park, some excellent skiing in Jackson and the gorgeous Wind River Canyon, this area has natural beauty to rival its northern neighbor in Yellowstone. Its beer isn't too shabby either. Any journey here should begin with Jackson beer lovers' spiritual center and apres ski stop of choice, Snake River Brewing. A cavernous two-tier facility that was taking home Great American Beer Festival awards as early as 2000, "the brewpub" has trucked in new tanks and begun canning all its beers just to keep up with demand. While it keeps the menu stocked with locally sourced fare including bison burgers, seared trout, flat-iron steaks and wood-fired pizzas, its beer lineup including Pako's Eye-P-A (6.7% ABV, 60 IBU), OB-1 Organic Ale (4.9% ABV) and Custer's Last Ale English Pale Ale (6% ABV, 45 IBUs) hold up well on their own.
Worth the price of admission in and of itself, however, is Snake River's roasty, chocolate-laced Zonker Stout (6%). One of the best sweet stouts this nation produces, Zonker is worth seeking out even if you never set a snowshoe in Jackson. It also sets a high bar for neighbors such as Thai Me Up -- the pun-tastic Thai restaurant that serves up brews from its three-barrel Melvin brewing system alongside its chili wings and Pad Thai. Though it still needs Deschutes, Sierra Nevada and Big Sky offerings to fill out its beer list, house brews including its 7% ABV rye ale, its 9.5% ABV, 88 IBU double IPA and its intimidatingly bitter 10.5% ABV, 98 IBU 2x4 imperial IPA are legit. The sweet oatmeal stout is particularly lovely, but both it and the smooth brown ale are best saved for ski season.
From here, you're traveling a bit. Wind River Brewing is about a half-hour or so away in Pinedale, but follows the Wind River range the whole way and is well worth the trip. Yes, the wings, beer brats, burgers, steaks and fajitas at its expanding brewpub are just fine, but it's the 5.4% ABV Out of Order brown porter and its chocolatey, eminently drinkable flavor that hooks you in. It isn't the strongest beer it has -- the sweet 7.4% Strom Bomb oatmeal stout and gut-warming T.K.O. old ale are far more imposing -- but it's easily the best hook this brewery has. The brewers are not afraid of hop bitterness, as the 5.7% hop-loaded Gayle Force English Pale Ale attests, but man do these folks know their way around a malt.
If you still have some sightseeing left in you, head about an hour outside of Jackson to Lander -- the site of one of the state's largest annual beer festivals -- to Lander Brewing. This is where the region's big beers roam free, with a 7.5% ABV Belgian golden ale sharing tap space with an 8.25% ABV Belgian strong ale and a 9% ABV barleywine. The brewery's Old No. 7 bourbon barrel-aged imperial stout, at 7% ABV, is the brewery's finest offering and seems most in line with the town's kitschy Old West aesthetic. Its home inside the ski-bum, tourist-friendly Cowfish restaurant may look like Sonoma East, but the old gunfighter's strip outside and the false-front spaghetti Western sets surrounding it suggest mixing bourbon and beer wouldn't be frowned upon.

Greater Cincinnati
They can't all be San Diego, but at least some of them can get back to beer's roots somewhat.
Were it not for the thriving community of German brewers in Cincinnati and nearby Newport, Ky., the craft beer world wouldn't have Jim Koch, his Boston Beer, its Samuel Adams brand or its nearly 3 million barrels of annual production. Boston Beer still looms large in this area, with the Koch's brewery now operating a large facility out of the old Hudepohl-Schoenling brewery on Cincinnati's Central Parkway, but it hasn't erased the area's brewing history or the brands that made it great.
Forget Skyline or any other chili. Forget the Reds and Bengals. Christian Moerlein Brewing in Over-The-Rhine has singlehandedly served as the Cincinnati area's beer archivist since reopening in 2010 after a nearly three decade absence. Owner Greg Hardman bought not only the Moerlein brand that was introduced in 1853, but the Hudepohl, Burger and Little Kings brands of Cincinnati's beer heyday, as well as smaller brands including Top Hat, Hauck, and Windisch-Muhlhauser. In the old Husman Potato Chip factory, Moerlein now brews a Zeppelin Bavarian Pale Ale, an Exposition Vienna Lager, its Over The Rhine Ale, Barbarossa Double Dark Lager, Little Kings Cream Ale and other beers served at its lager house. Pair them with some soft pretzels and beer cheese, garlic fries, spaetzle, a beer can chicken melt or fried pickles and you're off to a good start.
While you're in Over-The-Rhine, head over to Elm Street and check out Moerlein's still-standing 1895 bottling facility -- now home to Rhinegeist. This relative newcomer jumped out of the box with a head brewer trained at Indianapolis-based Sun King and a complete corporate structure including a distribution manager and a head of marketing. This is how you get not only a packed tasting room in your new Brewing District digs, but cans of Truth IPA (7.2% ABV, 75 IBU) at Reds games in your first year. With a huge rotating portfolio and mainstays including a mild, citrusy Cougar blonde ale (4.8% ABV), a low-octane British Mild called Uncle (3.8% ABV) and a surprisingly hoppy American Wheat (5.5% ABV, 40 IBU), this self-distributed beer line should grow beyond its 20-barrel operation to a size more befitting its neighborhood -- which once housed 38 breweries at its peak.
The craft boom has been kind to Cincinnati, giving it a wealth of breweries including 50 West, Mad Tree, Mount Carmel, Rivertown and Blank Slate in recent years.
But it's those older names in this town and neighboring Newport across the Ohio river that gave this region it's beer legacy.The one Cincinnati-area brewery that Moerlein couldn't save, Newport-based George Wiedemann's, disappeared in 2007 after changing hands several times during its nearly 140-year history. A couple of would-be craft brewers enlisted the help of Cincinnati's Listermann Brewing to bring back Wiedermann's in 2011. Its Pilsner, Dortmunder, Marzen and Bock were all revived and now make their way through Cincinnati's bars and pubs once more.
It's great to see this area's brewing culture revived in such robust fashion, but it's also great to see that the lines to its brewing past haven't all been severed. Consider for a moment that the only outposts of the 400-year-old Munich-based Hofbrauhaus to open in the U.S. have been in major cities including New York, Pittsburgh, Cleveland, Miami, Las Vegas, Chicago and Houston. The first, however, was opened in Newport and remains there to this day. Stop in after a Reds game or a trip to the Newport Aquarium and sample the Marzen, Pilsner or Sommer Weizen during your vacation. It'll serve as a fine example of how all this started, and a healthy reminder of why beer has such a special meaning to folks from the Cincinnati area.
-- Written by Jason Notte in Portland, Ore.
>To contact the writer of this article, click here: Jason Notte.
>To follow the writer on Twitter, go to http://twitter.com/notteham.
>To submit a news tip, send an email to: tips@thestreet.com.
RELATED STORIES:
>>Beer Mailbag: Kona Goes IPA, Woodchuck Cans Cider
>>Widmer Brothers Mark 30 Years Of Craft Beer -- Yes, Craft Beer
>>How Yuengling and Schell's Became Craft Beer
Jason Notte is a reporter for TheStreet. His writing has appeared in The New York Times, The Huffington Post, Esquire.com, Time Out New York, the Boston Herald, the Boston Phoenix, the Metro newspaper and the Colorado Springs Independent. He previously served as the political and global affairs editor for Metro U.S., layout editor for Boston Now, assistant news editor for the Herald News of West Paterson, N.J., editor of Go Out! Magazine in Hoboken, N.J., and copy editor and lifestyle editor at the Jersey Journal in Jersey City, N.J.