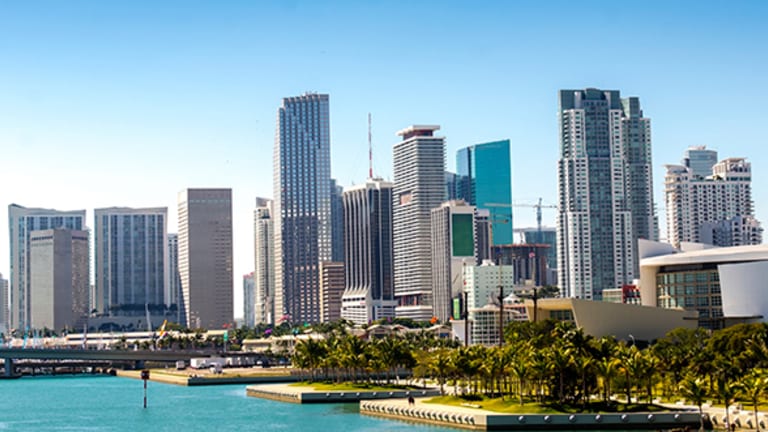 5 Best and Worst Cities For Buying a Used Car
Used car pricing boils down to supply, demand and density. If you're in an isolated city with frugal car buyers, expect to pay more for someone else's vehicle.
PORTLAND, Ore. (TheStreet) -- A used car hasn't always been a great deal since the recession, but buyers in some U.S. town are finding them a much easier sale than in others.
Depending on location, the price of a used car on a dealer's lot or even in a listing on Craigslist can be considerably more than what someone on the other side of the country is paying. Supply, demand and the general economy of the surrounding area mean there might be better deals just a few towns away or across the state border.
The U.S. auto industry reached 15.6 million vehicle sales last year after bottoming out at 10.4 million in 2009. While the industry is on pace for 15.9 million sales this year, it's still well below the 17.4 million it rung up back in 2001.
Sales of new cars have increased 4.3% year to date, but used cars have continued to be hot commodities as inventory recovers from the economic downturn and buyers seek deals. Publicly traded used car dealers CarMax, AutoNation, Asbury Automotive Group, Group 1 Automotive, Litihia Motors, Penske Automotive Group and Sonic Automotive have watched vehicle sales rise for 19 consecutive quarters and by double-digit percentages in three of the past four quarters alone.
According to used-car data firm Manheim Consulting, vehicle repossessions are down as the economy improves and 8% fewer people are selling their used cars. Meanwhile, leases are back and dealerships are unloading 2.5% more used cars than they were a year ago. Prices for used vehicles are up across the board, with cars that were selling for $8,000 to $10,000 less popular this year than models going for $11,000 to $14,000.
Part of the problem is that frugal U.S. drivers shocked by the recession aren't as willing to swap out their cars as they once were. Automotive data service Polk found that the average age of cars and light trucks on U.S. roads to be 11.4 years. That's up from 8.9 years a decade ago and 9.8 as recently as 2007.
"Where you shop for your car can make a big difference in the prices you'll find, so if you are motivated to save money, it's worth looking beyond your local area," said Langley Steinert, founder and chief executive of used car pricing site CarGurus. "However, even for shoppers living in the more affordable used car cities, understanding local market values is critical to assessing whether a particular listing is a good deal or not."
There's a lot more than geography separating places where used cars are a great deal from towns where they're far pricier. CarGurus, for instance, used its Instant Market Value algorithm to determine used car values in 139 different metro and rural areas across the country. It then ranked the largest metro areas in the contiguous United States according to how prices in that market compare to the nationwide average.
According to its findings, a car buyer paying 1.4% more than the national average for a car in Harrisburg, Pa., would be best served driving an hour and a half or so to Allentown and paying 2.8% less than that average or making the two-hour trip to Scranton for a 2.5% discount from what the rest of the country is paying. Don't like getting gouged from 1.8% above the national average in Indianapolis? A less than two-hour trip to Dayton, Ohio, will get you get you a slightly better deal at 0.1% less than average.
According by CarGurus' numbers, the following are the 5 best and worst places to get a car. Just to help buyers out a bit, we've also looked in their surrounding areas to see where cash-squeezed buyers can find some savings.

BEST
5. Akron, Ohio
Discount from the national average: 4.96%
LeBron James' hometown is one of the least expensive places to buy a used car in the country, which isn't such a bad thing for the folks at locally based Goodyear to hear. But Ohio itself is a used car capital, with four cities (Akron, Dayton, Toledo and Cleveland) boasting used car prices below the national average.
They're far from alone in their neck of the woods. Rust Belt cities including Detroit (4.2% below average), Buffalo (2.7%), Pittsburgh (2.27% below), Rochester, Mich. (2.3%), Cincinnati (0.8%) and Syracuse (0.4%) all sell vehicles far below what the rest of the country pays. That's not so much a function of economy as it is of density. Consider that Boston, D.C., Minneapolis, Philadelphia, Austin and San Antonio can all make the same claims. Used cars tend to be where the people are, and there are a whole lot of used vehicles in Ohio.
Also see: 5 Great Places to Retire Without a Car
4. Stamford, Conn.
Discount from the national average: 5.5%
Right in the New York Metropolitan Area and situated in what has quickly become a financial hub, Stamford has cars to spare.
What it doesn't have is a whole lot of car-poor neighbors to draw from. Hartford used-car prices sit 3.8% below the national average. Providence is paying about about 3.5% less than the rest of the country for its used cars. You have to head up to Springfield, Mass., and a used-car market that's just 0.75% below the national average before you can even begin discussing deals.
3. New York City
Discount from the national average: 5.65%
You'd like to think everybody takes the subway or the ferry here, but there are used car lots lining the Cross-Bronx Expressway that beg to differ.
This is a city of 8.4 million people that's bigger than all but 11 states in the union and trails neighboring New Jersey by only about 500,000 residents. As the bridges and tunnels make quite clear on a regular basis, lots of people drive here. What's a bit less surprising is that it's a better deal for used cars than anywhere in its home state, Connecticut, New Jersey or even Pennsylvania.
The supply is all over the place and new vehicles make their way into New York area ports every day. New York's dealers know that their main advantage is price, and they use it to move a whole lot of volume.
2. Cleveland
Discount from the national average: 5.75%
Welcome back to Ohio: the used car industry's swing state.
Honestly, you have to travel about 200 miles to Fort Wayne, Ind., to find a bad deal on cars anywhere near Ohio, and even there cars sell for only about 0.9% more than average. It's 11.6 million people in a relatively small, car-reliant state with winters that absolutely chew through vehicles. Should there by any surprise this state plows through used cars?
Certainly not in Cleveland. The combination of density and those demanding conditions keep used cars in high supply here while demand stays about level. This isn't a town that's going to shell out loads of money for used vehicles, so once again it's a matter of volume.
1. Miami
Discount from the national average: 8%
Yes, those are insanely cheap used cars compared with the rest of the nation, but they're none too shabby for Florida, either.
After being absolutely crushed by the recession, Florida residents learned how to stretch a dollar and have been getting a whole lot for their money from an overflowing used car market. Sadly, the losses of more than a few car owners during the economic downturn have turned into deals for car buyers in Florida's secondary market.
Only Jacksonville (0.7% above average) and Pensacola (a whopping 5.2% above average) managed to drift above the national baseline. Sarasota (with a 2.1% discount), Tampa (1.9%) and Orlando (1.65%) all manage to have some of the sweeter deals in the nation. As with housing prices during the peak of the crisis, however, none offered more of a discount than Miami.
WORST
5. Jackson, Miss.
Premium above the national average: 6.6%
Don't blame Mississippi. Most of the Gulf Coast states from Florida's panhandle clear out to Louisiana are awfully expensive places to buy a used car.
We already mentioned Pensacola's painful 5.2% premium on used car prices. It only gets worse in Mobile, Ala., where used car prices fall 5.7% above the national average. Alabama cities including Montgomery (3.74% above average) and Birmingham (2.72%) provide only modest relief, while neighbors to the west in Shreveport, La., pay 3.1% above the national average. Even three hours north in Memphis, Tenn., prices are 4.66% greater than what the rest of the country pays.
So where's Jackson's best bet for a discount? Three hours south in New Orleans, where used car prices are still 0.1% above average, but a whole lot more reasonable than what they'll find at home.
4. Albuquerque, N.M.
Premium above the national average: 7%
Think used car prices are tough in the South? Welcome to the Southwest and its desert of deals.
Also see: 10 Best Used Luxury Cars Under $30,000
Folks in the ABQ have no good options for used car buying, only less awful alternatives a long drive away. Going six and a half hours to Denver will get you a used car selling for 1.8% more than the national average. It's better deal than Albuquerque, but it's 12 hours round trip or about $600 by air. Roughly the same trek to Tuscon or Phoenix, Ariz., will only get a vehicle that costs 1.4% to 2.6% more than the average U.S. used car buyer is paying.
Want something a little closer, such as a four-and-a-half-hour ride to El Paso, Texas? That'll only cost you more, with that city's going rate on used cars sitting 7.1% above the national average. Albuquerque residents pay for their relative isolation, but used car dealers see unlimited potential in that town's limited supply.
3. El Paso, Texas
Premium above the national average: 7.1%
It's not that Texas is a bad state for used cars, mind you. It's just a large state with smaller cities at the margins that don't fare nearly as well as its heavier hitters.
El Paso to the West and Corpus Christi on the Southern Gulf Coast (where used cars sell for 3.9% above the national average) pay a price for their positions on the map. In Corpus Christi's case, however, it's only two hours from San Antonio and a 0.4% discount from the nation's average used car price.
El Paso is near absolutely no place that helps its cause. Albuquerque's used cars are similarly expensive, while Texas's biggest discounts (Dallas' 2.1% and Houston's 1.6%) are nine hours away at best and half a day away at worst.
2. Seattle
Premium above the national average: 7.3%
Whoa, this is a thriving Northwest boomtown with ports and rail and a whole lot of ways to move product. Why are used cars so hard to come by here?
Partially because it's about as isolated as the Gulf Coast and Southwest, if not more so. The nearest major city is only three hours away in Portland, Ore., but even there cars sell for 3% above the national average. After that, it's seven to eight hours to Boise, Idaho, where cars are still selling for 2.7% above average.
More importantly, that's only 13 million people spread out over three huge states where, generally speaking, there isn't a whole lot of road salt and harsh winter to eat away at cars. Vehicles East Coast drivers haven't seen in years still live on Pacific Northwest roads because they aren't worn down so quickly by the elements.
It's not as if it gets better down Interstate 5 in California, either. San Francisco's used cars sell for the same 3% above average as Portland's, and you have to get way down to Los Angeles before that premium drops to 2%.

1. Fresno, Calif.
Premium above the national average: 7.8%
Speaking of California, it does not pay to buy a used car in the Inland Empire.
Go up the 99 to Stockton and used cars still sell at 5.2% above the national average. Head down 99 to Bakersfield and it's a 6.1% premium. But head about two and a half hours toward the Bay and that premium drops to 3.6% in San Jose before crashing to 3% in San Francisco.
Again, it just becomes a matter of density and supply. There's a whole lot of both in the Bay Area and Silicon Valley and that puts a bit of downward pressure on used car prices. There's also the not small matter of demand, which is more acute in the inland cities still reeling from the recession and looking for any means of cutting costs. While the Bay and Valley would have you believe that we're back and booming, Fresno and its neighbors are a reminder of why used cars became so coveted in the first place.
-- Written by Jason Notte in Portland, Ore.
>To contact the writer of this article, click here: Jason Notte.
>To follow the writer on Twitter, go to http://twitter.com/notteham.
>To submit a news tip, send an email to: tips@thestreet.com.
RELATED STORIES:
>>5 Hottest Cars You Can't Have
>>10 Cars That Retain Their Value After 5 Years
>>10 Best Convertibles For Summer 2014
Jason Notte is a reporter for TheStreet. His writing has appeared in The New York Times, The Huffington Post, Esquire.com, Time Out New York, the Boston Herald, the Boston Phoenix, the Metro newspaper and the Colorado Springs Independent. He previously served as the political and global affairs editor for Metro U.S., layout editor for Boston Now, assistant news editor for the Herald News of West Paterson, N.J., editor of Go Out! Magazine in Hoboken, N.J., and copy editor and lifestyle editor at the Jersey Journal in Jersey City, N.J.