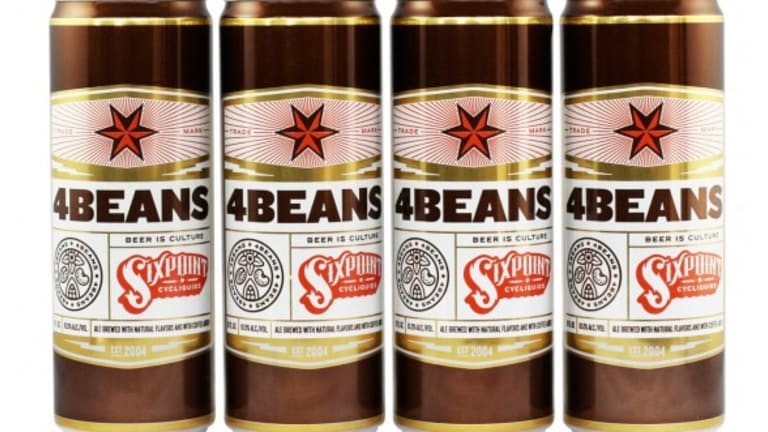 5 Beer Styles They'll Want You To Drink In 2016
Light lager is still the most popular beer in the U.S., while one out of every four craft beers is an IPA. Beer's future doesn't look like either.
The modern beer industry is less about what you're drinking now and more about what it can get you to drink next.
There are more than 4,100 breweries in the U.S. in 2016. Large breweries are buying up small craft brewers (and even large competitors) at a clip. Though light lager like Budweiser, Coors Light and Miller Lite still comprises the overwhelming majority of beer drunk in the United States (Bud Light alone still accounts for one out of every five beers sold here, according to Beer Marketer's Insights), brewers of all types still want to get you to try their ciders, low-alcohol "session" India Pale Ale and beer-and-juice/soda shandies and radlers.
Why? Because, as Nielsen, IRI and just about every other firm measuring beer sales note, traditional styles are dying and taking beer sales down with them. While craft beer, cider and flavored malt beverages boast double-digit percentage point growth almost annually, beer sales overall have either remained stagnant with less than a percentage point's worth of growth or have slid. Beer accounts for 47.8% of all alcohol sales, compared to 34.7% for spirits and just 17% for wine, according to the Distilled Sprits Council of the United States. Yet beer's share has actually fallen from 55% in 2000 thanks largely to U.S. light lager's collapse, and even craft beer has been cautious about not attaching itself to any one style -- despite watching IPA take more than 27% of all craft beer sales in 2015 after sitting at just 8% in 2008, according to IRI.
Thus, you get a radlers, session IPA and the like that you've seen above, but you also get grapefruit IPAs and root-beer-flavored malt beverages that multiply exponentially as soon as one takes off. It's within each brewer's best interest to jump on a popular beer style as soon as it lands, and it isn't always the traditionally defined craft brewers leading. Jacob Leinenkugel Brewing Company, for example, is part of the MillerCoors family and has been owned by Miller since 1988. However, after introducing its Summer Shandy in 2007, it not only grew out of its Great Lakes niche and spread across the U.S., but it's set the pace for just about every other brewer who's wanted to make a shandy or radler of their own.
Just as you've seen brewers pick up "hard root beer" after the success of Not Your Father's Root Beer from Pabst-owned Small Town Brewery in Wauconda, Ill., and grapefruit IPA after the growth of Grapefruit Sculpin from Constellation Brands-owned Ballast Point in San Diego, other styles will follow in the search for the next big thing. Our senses tend to be just a bit off when it comes to figuring out exactly what beers are going to transform from beer-festival favorites to summer-cooler superstars, so we've enlisted the help of Nielsen to determine which styles you're going to be seeing a lot of within the next year.

Imperial Porter
Year-to-year growth through October: 95%
Also known as a Baltic Porter, which dates back to its days as an English Ale brewed to a high alcohol content to make the long and arduous journey across the North Sea, an Imperial Porter isn't quite in the same category as its white-whale cousin -- the Russian Imperial Stout -- but it's one potent brew all the same.
We're actually kind of glad to see this one on the list, as porters as a whole now make up less than 2% of all craft beer sold in stores, according to IRI. We remember the old days of craft beer when breweries took the light, medium, dark approach of putting a pale ale, and amber/ESB or a stout/porter on their three taps and called it good. However, despite the fact that American porters have sub-6% alcohol by volume similar to a bolder light lager, porters are often tarred as "heavy" beers. Do their roasted malts give them more body? Absolutely. Does that make them heavy? No... unless you're embracing Baltic Porters of 7% ABV or greater.
In this case, however, we're glad to see folks grabbing for more potent porters. After all, the race to the most alcohol-laden, hop-stuffed, tongue-peeling, piney IPA led to the diversity of beers within that style today. If we see a continuation of a run on beers like, for example, Brooklyn-based Sixpoint's cocoa-laden 4Beans (10% ABV) or Downingtown, Pa.-based Victory Brewing's Baltic Thunder (8.5% ABV), perhaps a bit of redemption for milder porters isn't too far behind.

Cream ale
Year-to-year growth through October: 96%
Our apologies to anyone who remembers the green cans of headache that were Genesee Cream Ale in the '80s and '90s, but this is no longer that beer.
However, it is a great way for a craft brewer to brew a lager-style beer without clogging up the tanks with a lager -- which takes a whole lot more time and cold to produce than ales. A light-bodied, lightly hopped ale with a touch of lager yeast, cream ale has received a huge boost recently thanks to easy drinking, not-so-bitter takes on the style including Anderson Valley Summer Solstice (5% ABV), Sun King's Sunlight Cream Ale (5.3%), Sixpoint Sweet Action (5.2%) and, at least in our opinion, New Glarus Spotted Cow (4.8%). U.S. beer drinkers don't necessarily have a problem with a beer that tastes like a light-bodied light lager -- as the craft-like success of Modelo, Pacifico and Corona suggests -- but they may just drink a little easier knowing it's made closer to home.

Berliner Weisse
Year-to-year growth through October: 182%
This style is hitting the beer world right where it's at, but it's taken everyone a little while to embrace it.
A traditional, low-alcohol German wheat beer brewed with lactobacillus bacteria to give it some sourness and tartness, Berliner Weisse used to be relegated to old German-American bars and beer halls where goblets of it laced with raspberry syrup or woodruff would float among steins of lager. However, everything from the wheat beer, the citrusy flavor to the sourness to the artisanal addition of syrup is right in line with the curious, fussy nature of modern craft beer. Oh, and the ABV under 5% and the lack of calories that result are welcome traits for those who'd rather switch to spirits than pack on extra beer pounds.
It's getting to be a far less rare commodity among U.S. brewers, thanks largely to Dogfish Head's success with its Festina Peche peach Berliner Weisse (a scant 4.5% ABV) and Bell's Oarsman (4%). However, if a brewer like Anheuser-Busch InBev wanted to go nationwide with a Berliner Weisse like, say, it's Berliner-based 10 Barrel Swill, that may be all the style needs to dive into the mainstream.

Herb/Spice Beer
Year-to-year growth through October: 254%
What herbs and spices could help triple the sales of one particular beer category within a year? Try pumpkin pie spices.
Anheuser-Busch InBev, Blue Moon from MillerCoors, Boston Beer Company's Samuel Adams and New Belgium all produce pumpkin beers. However, ABI just bought Seattle-based Elysian Brewing this year, and that brewery produces a ton of pumpkin ales. Granted, there are a lot of winter holiday beers that use holiday spices as well -- and sales of those beers and pumpkin ales combined spike basically as soon as Labor Day hits -- but pumpkin ales are what brewers have seized on vigorously within the last few years.
And, no, it isn't exactly a new development, either. Just consider that Blue Moon, about as big and mainstream a pumpkin beer brewer as there is, has been brewing its pumpkin ale for 20 years.

Gose
Year-to-year growth through October: 291%
If you haven't had one yet, you've probably been yelled at about one. If you have had one, you've either spent the rest of the year evangelizing the style or straight-up punching people who recommend it.
A once-dead style out of Leipzig, Gose fits into that Berliner Weisse category of sour, fizzy, obscure German wheat beers that suddenly everybody loves. If you've used the words "cucumber" and "beer" in a sentence this year, you likely had a gose. If you swapped out "cucumber" for "hibiscus" in that same sentence, you likely had a gose. If you've had someone sniff at you and tell you it isn't pronounced "goes," "goose" or "go-say," but "gos-uh," you've definitely had one.
How much did you like it? Enough to make Sierra Nevada offer its Otra Vez gose year-round in 2016, but also enough to make Jim Koch and Samuel Adams experiment with its Verloren and 26.2 Brew within the last few years. Boulevard's Hibiscus, Victory's Kirsch, Anderson Valley's series of goses, Odell's Brombeere, Almanac's Golden Gate gose... they all brought the style center-stage in 2015. However, having one of the biggest brewers in the country make gose part of its year-round stable will quickly give this formerly obscure style a familiar face.
This article is commentary by an independent contributor. At the time of publication, the author held no positions in the stocks mentioned.