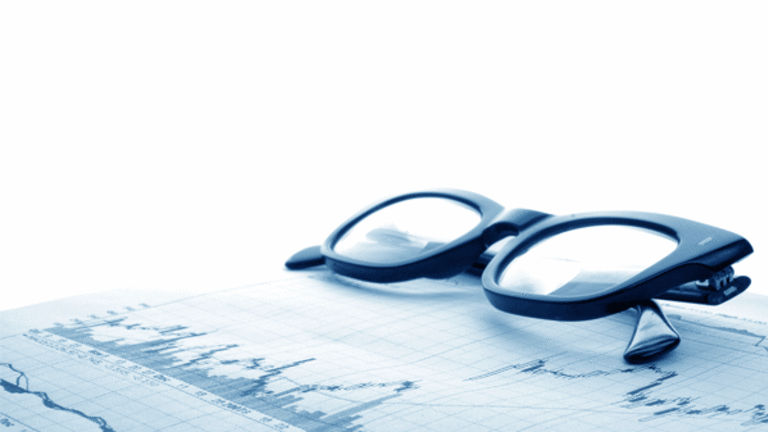 5 Banks Ready to Boost Dividends, Buybacks in 2012 (Update 1)
Banks are promising to reward shareholders with more dividends and buybacks in 2012.
Updated with further analyst commentary.
NEW YORK (
) --
Banks are promising to reward shareholders with more dividends and buybacks in 2012 as opportunities to deploy capital in organic growth opportunities remain limited.
The nation's biggest banks, those with assets greater than $50 billion, will be subject to the Fed's stress test early next year. While the test is fairly harsh, most analysts expect banks to pass as they are well capitalized under Basel 1 rules.
RBC Capital analyst Gerard Cassidy believes returning capital to shareholders is likely the best way for banks to improve valuations and return on equity in the next two to three years given the current environment. According to Cassidy, in order for banks to properly leverage excess capital, they will have to report organic asset growth of 12% to 15%. But only 2% to 4% of asset growth is likely in the next two years.
Banks may also not be able to use acquisitions to ramp up growth as much as they have in the past because buyers and sellers disagree on valuation.
Instead he points to
Bank of Hawaii
(BOH) - Get Report
which during the period between third quarter of 2000 and fourth quarter of 2003 returned $984 million to shareholders in the form of buybacks and dividends and saw its stock rise 224%.
He expects
First Horizon
(FHN) - Get Report
,
Keycorp
(KEY) - Get Report
and
Webster Financial
(WBS) - Get Report
to be able to replicate that model.
Still, critics point out that the
Federal Reserve
might limit how much banks can pay out in the form of dividends and buybacks in light of an uncertain economic backdrop. So while banks have the desire to return more capital, they might not be able to pay out as much as they want to.
KBW has developed a stress model for banks that incorporates the Fed's stress test scenario. Based on their model, they have identified seven banks that are best positioned for capital deployment, be it dividend increases, buybacks or acquisitions.
The slideshow that follows focuses on the
five banks that are likely to increase their payouts
in 2012. KBW expects
BB&T
(BBT) - Get Report
and
Capital One Financial
(COF) - Get Report
to be well positioned under the stress test but believe that the banks might use their capital more towards acquisitions rather than buybacks or dividends.
Missing from this list is
Citigroup
(C) - Get Report
, which has been touting its capital return story in recent conferences. Citi has said it expects to generate $65 billion in excess capital over the next few years which it hopes to return to shareholders starting modestly in 2012 and ramping up in 2013.
KBW expects Citi to raise its quarterly dividend to 5 cents per share and does not expect any purchases. It however expects the bank to be able to resubmit for approval as the year progresses.
On the other hand,
Bank of America
(BAC) - Get Report
actually screens poorly on KBW's stress model as it is heavily tied to the U.S. economy and the American consumer and real estate markets. The analysts forecast neither dividend increases, nor buybacks through 2013 and considers those to be only 2014 events at the very least.
Read on to find out which banks are best positioned to deploy capital through dividends and buybacks in 2012.
1. Keycorp
Shares of Cleveland, Ohio-based
Keycorp
(KEY) - Get Report
are down nearly 19% year to date.
The bank has a Tier 1 Common Ratio of 11.28% and KBW estimates that even under the harsh stress test scenario, the common capital ratio stays above 7%.
The strong capital cushion is despite the bank's relatively low profitability versus its peers. However, Keycorp's loan growth showed improvement for the first time in third quarter since the third quarter of 2008, suggesting improving fundamentals in the upcoming quarters..
While plans have not been set yet, CEO Beth Mooney said at a recent conference that the bank anticipates seeking a dividend increase that would come somewhere between 20% and 30% of KeyCorp's net income, and then potentially some level of buybacks above that
Still, the bank's payout ratio may not exceed 65% given the management might place a bigger priority on acquisitions to build scale in certain markets, according to KBW analysts.
4.Comerica
Shares of
Comerica
(CMA) - Get Report
have shed 41% year to date.
The Dallas, Texas-based bank has a Tier 1 Common Ratio under Basel 1 of 10.65%. Comerica has been growing through a combination of strong commercial lending activity and acquisitions.
While its outlook for loan growth is cautious, the bank expects to triple its market share in Houston, thanks to its acquisition of
Sterling Bancshares
which it completed in July.
In the third quarter, Comerica resumed buybacks of shares after the Sterling acquisition closed, buying back 2.1 million shares. According to a report from BMO Capital Markets, the bank has bought an additional 1.5 million shares in the fourth quarter and has 8.1 million shares remaining under its repurchase authorization.
KBW analysts expects the bank to be able to get an approval for a maximum of 65% return of capital in both 2012 and 2013, based on their stress test model.
3. Goldman Sachs
Shares of
Goldman Sachs
(GS) - Get Report
have been under pressure in 2011 as the European debt crisis takes a toll on capital markets revenues and regulations such as the Volcker rule threaten to disrupt its business model.
Still the investment bank enjoys a healthy capital cushion against future losses with a Tier I Common Capital ratio of 12.1% under Basel 1 and a Basel 3 ratio of about 7.6%.
Goldman bought back more than $2 billion worth of shares in the third quarter and CFO David Viniar said in a conference call that he would love to buy back more stock because the price was so cheap.
KBW expects Goldman's Basel 3 Tier 1 ratio to improve to 8.6% in 2012 and near 10% in 2013 without reliance on major reductions in risk weighted assets.
While the analysts expect the investment bank to payout just 50% in 2012, it expects the ratio to increase to 75% in 2013.
2. JPMorgan Chase
JPMorgan Chase
(JPM) - Get Report
with its "battleship balance sheet" has plenty of flexibility to return capital to shareholders.
The bank has a Tier I Ratio of nearly 10% under Basel 1 and an estimated Basel III Tier I Common ratio of 7.7%.
CEO Jamie Dimon recently indicated to investors that the bank is eager to attain a Basel 3 Tier I Ratio of 9% by the end of 2012 in what he considers will be a "race to the top" but said it will still have room for modest dividend increases and buybacks.
Dimon also said that the bank has an additional $950 million that was previously authorized for dividends in 2011 that went unused. Chase intends to divert that money towards further buybacks.
KBW expects the bank to repurchase shares worth $3.2 billion in 2012 and increase its quarterly dividend from 25 cents per share to 35 cents, bringing it to a total payout ratio of 45%.
The analysts estimate that the bank will still be able to achieve a Basel III Tier one common ratio of 8.8% in 2012 and 9.7% in 2013, which means it has "meaningful financial flexibility for targeted acquisitions and potential asset purchases," the analysts said.
Shares are down 25% year to date in 2011. The stock figures among the
5 Bank Stock Picks for 2012 by Goldman Sachs.
1. U.S. Bancorp
U.S. Bancorp
(USB) - Get Report
is best positioned to return the highest capital to shareholders, according to KBW analysts.
Shares of the Minneapolis-based bank are off by only about 3% year to date in 2011, outperforming most of its large-cap bank peers.
U.S. Bancorp has a Tier I capital ratio of 8.47% and a risk-based capital ratio of 13.55%. It has a tier one common ratio under Basel 3 of about 8.2%. KBW notes that the bank is also a "strong capital generator" with a pre-tax, pre-provision return on assets ratio of 3%.
CEO Richard Davis said in a recent investor conference that the bank is targeting a long-term payout ratio of 60% to 80% to shareholders.
The bank may choose to limit its dividend payout ratio to 30%, as the Fed's stress tests limits dividend payout to that level. Davis said the bank will however, use repurchases to get closer to its 60% to 80% target.
Morgan Stanley analysts expect the bank to increase dividends by 44% and buybacks by 156% in 2012.
U.S. Bancorp is growing commercial and industrial loans at a far more rapid pace than its peers, with an 18% annualized growth in the third quarter compared to 15% by the median group, according to Morgan Stanley.
The stock is in the list of
6 U.S. Banks to Buy Amid a Euro Blow Up.
>>To see these stocks in action, visit the
5 Banks Ready to Boost Dividends, Buybacks in 2012
portfolio.
--Written by Shanthi Bharatwaj in New York
>To contact the writer of this article, click here:
Shanthi Bharatwaj
.
>To follow the writer on Twitter, go to
.
>To submit a news tip, send an email to:
.
Disclosure: TheStreet's editorial policy prohibits staff editors and reporters from holding positions in any individual stocks.