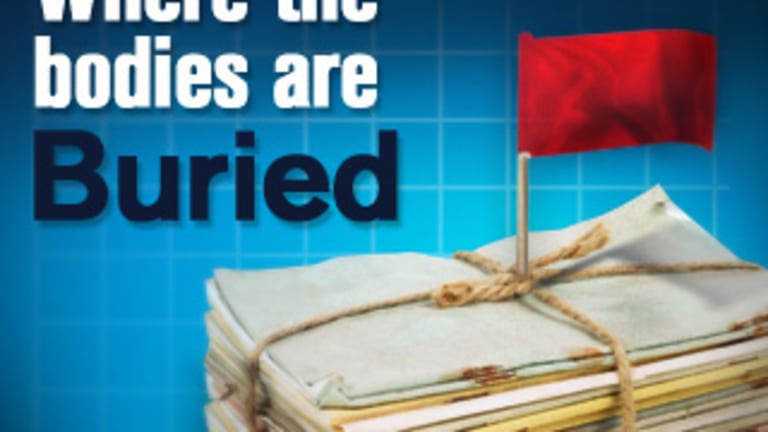 5 Bank Stock Red Flags
<I>TheStreet</I> looks at red flags that bank stock investors need to consider, to look beyond the bottom line numbers and understand what's really going on.
NEW YORK (
) -- It can pay for bank investors to look a little deeper at financial statements.
While you are not able to see everything going on behind the scenes at a bank holding company, there are some items that can serve as red flags for trouble down the road.
We've selected five areas for bank stock investors to consider that can distort the bottom line, lead to future write-downs or -- in the worst of cases -- a dreaded restatement of financial results.
Provisions for Loan Losses
Over the past several quarters, many of the largest U.S. banks have seen a direct boost to earnings through the release of loan loss reserves. This is no surprise, since the obvious reaction to a souring loan portfolio is to sock away extra reserves. Then, after working through a significant portion of the problem loans, most of the large players have found that they had more reserves than they needed.
Each quarter, a bank will typically add to its allowance for loan losses by making a provision for loan loss reserves, which lowers its earnings. If the provision outweighs a bank's net charge-offs -- its loan losses less recoveries on previously charged-off loans -- its allowance for loan losses increases.
Since messing with the quarterly provision is an obvious way for banks to manage earnings, regulators frown upon banks "over-reserving" when the economy is strong. This, of course, is counter-intuitive, because a period of strong economic growth is when a bank will be better prepared to build reserves. No matter. What happens is they scramble to build reserves in the midst of a recession, thus front-loading their net losses, leading to the large release of reserves we are seeing now.
During the second quarter,
JPMorgan Chase
(JPM) - Get JPMorgan Chase & Co. Report
reported net income of $5.4 billion, partially fed by a $1.2 billion reserve release.
For
Citigroup
(C) - Get Citigroup Inc. Report
, second-quarter earnings of $3.3 billion were greatly boosted by a $2.2 billion decline in loan loss reserves.
Wells Fargo's
(WFC) - Get Wells Fargo & Company Report
second-quarter net income of $3.9 billion reflected a $1.1 billion decline in reserves.
Bank of America
(BAC) - Get Bank of America Corp Report
posted an $8.8 billion second-quarter losses, mainly reflecting its attempt to settle mortgage putback claims related to Countrywide. But the company's net loss was partially mitigated by a $2.5 billion decline in loan loss reserves. Of course, for Bank of America, facing seemingly limitless exposure from former CEO Ken Lewis' $4 billion play for Countrywide in 2008, the reserve release was simply "moving money from one bucket to another," since the company set aside $5.4 billion for private-label mortgage putback claims, beyond its $8.6 billion provision for the Countrywide "settlement."
At this stage of the economic recovery, an investor wanting to get the lowdown on a bank's success in growing its franchise should take a look at pre-provision net revenue, which SNL Financial defines as a bank's tax-adjusted net interest income plus its non-interest income, net of non-credit-related expenses. This way, you can blow right past the reserve provisions to come up with a useful comparison. Please see
TheStreet's
, for a list of bank holding companies making solid growth strides over the past year, based on growth of pre-provision net revenue.
In more "ordinary times," smaller banks face a seasonal temptation to lower their provision for loan loss reserves during the first calendar quarter, "since first quarter results are usually what you present at the annual shareholders' meeting," according to one community banker we spoke to.
None of this is to say that some of the largest banks aren't over-reserved right now, or that they shouldn't release reserves. The point is that investors need to look further, to be aware of reserve releases -- however justified -- and look at revenue in addition to earnings.
Troubled Debt Restructurings
A troubled debt restructuring -- or TDR -- is a loan for which the lender has granted concessions to a borrower, in order to avoid a possible foreclosure or charge-off. The lender is supposed to write-down the TDR, and sometimes regulators come in and force additional write-downs.
Regulators may also force a bank or thrift to more aggressively identify a loan as a TDR, which is what happened with
First Place Financial
( FPFC) of Warren, Ohio, which was forced to restate its results for its fiscal year ended June 30, 2010, and increase its reported TDRs to $70 million from $18 million. With other required adjustments to provisions for loan losses and reported nonperforming loans resulting from an examination of main subsidiary
First Place Bank
completed by the Office of Thrift Supervision in August 2010, First Place Financial estimated that its Fiscal 2010 net loss would increase to $45.2 million, or $2.98 a share, from $31.2 million, or $2.14 a share.
The holding company has neither filed its restated fiscal 2010 results nor filed subsequent quarterly 10-Q reports with the Securities and Exchange Commission. Its share price has declined from $2.17 on December 6 -- the date of its press release announcing the restatement -- to 70 cents, at Tuesday's market close.
Following net losses of $7.3 million during the first (calendar) half of 2011, First Place Bank was left with a Tier 1 leverage ratio of 5.98% and a total risk-based capital ratio of 9.57%, below the 10% required for most institutions to be considered
by regulators.
First Place Bank entered into a Cease and Desist order with the OTS on July 13, agreeing to increase its Tier 1 leverage ratio to 8.5% and its total risk-based capital ratio to 12%, by December 31.
A very important question for bank stock investors is, could investors have detected a problem with the holding company's financial position from the 10-K? Of course, the regulatory examination was confidential, and investors only have the publicly available financial statements.
One major red flag in the original fiscal 2010 10-K was that Fist Place Financial's ratio of net charge-offs to average loans for the year ended June 30, 2010 was 3.34%, while its loan loss reserves covered only 1.96% of total loans as of June 30. This meant that if the pace of charge-offs continued, the holding company was under-reserved. And despite the relatively high pace of charge-offs, the company reported a nonperforming assets ratio of 4.18% as of June 30, 2010, increasing from 4.11% a year earlier.
Mortgage Servicing Rights
For most banks originating fixed-rate mortgage loans, the best practice is to underwrite the loans under standards established by Fannie Mae or Freddie Mac and immediately sell the new loans to the government-sponsored mortgage giants, while continuing to service the loans. This way, the banks typically make a quick profit while selling the loan, and then enjoy continuing servicing fees from the GSEs.
The mortgage servicing rights -- or MSRs -- for these loan portfolios are carried on a bank's books as an asset, and banks typically reassess the MSRs once a year. In a declining rate environment -- or a seemingly eternal low-rate environment like this one -- it's quite likely for banks to write-down the value of their MSRs, because of the higher likelihood of mortgage refinancing.
Bank of America reported $14.9 billion in MSRs as of December 31, declining from $19.5 billion a year earlier. Ouch. The company said those numbers reflected a $3.8 billion "impact of customer prepayments," including home sales and refinancing, "other changes in MSR fair value" of $4.3 billion, and net MSR additions of $3.5 billion.
Deferred Tax Assets
Banks that have booked losses will carry deferred tax assets on the books in the hope of offsetting them against future earnings. The problem with this is that if you don't return to profitability quickly enough, you might need to write-down the deferred tax assets.
One of the ways that the Basel III agreement tightens banks' capital measures is to exclude deferred tax assets from capital ratios. This is one reason investors focused so heavily on banks' levels of tangible common equity during the credit crisis.
Bank of America reported "disallowed deferred tax assets," -- referring to their exclusion from regulatory capital -- of $8.7 billion as of December 31, rising to $16.6 billion as of June 30.
That's quite a potential padding for the company's future earnings, if it can get past the
endless mortgage headline risk
sooner rather than later. Otherwise, there be write-downs ahead.
Deposit Structure
Our last area for bank accounting red flags is deposit structure. A heavy reliance on deposits gathered from outside an institution's home market, brokered CD deposits and deposits gathered through a listing service, could potentially lead to a liquidity squeeze for a bank, making funding more costly and compressing net interest margins. This is because the out-of-area deposits tend to be "flighty," unless the bank continues to pay top dollar for them.
Over-reliance on out-of-market deposits was one of the factors leading to the rapid expansion and demise of community banks with a heavy concentration in construction and real estate development loans, in hot spots such as Georgia, during the boom-and-bust cycle that is still playing out.
The warming signs of an over-reliance on noncore funding are easiest to detect if you look at the banks and thrifts themselves, rather than just looking at the holding companies.
Jonathan Hullick, President of Bank Performance Solutions LLC and a former senior FDIC regulator and bank executive, told
TheStreet that
"brokered and listing service deposits, play an important role in funds management but usually carry higher rates," adding that "high levels of non-core funding may indicate strained liquidity, limit growth capacity, and raise regulatory concerns."
Of course, if the bank is focused on a high-margin lending area, such as credit cards, heavy reliance on noncore deposits has far less potential to cause pain.
Capital One Bank (USA), NA
, which is a subsidiary of
Capital One Financial
(COF) - Get Capital One Financial Corporation Report
, had brokered deposits of $11.4 billion or 31% of total deposits as of June 30, according to SNL Financial. Add in $4.5 billion in deposits gathered through listing services, and the ratio of out-of-market deposits to total deposits jumps to 43%. The bank also had a high ratio of loans to deposits, of 152% as of June 30. Then again, the bank had a return on average assets (ROAA) of 3.61% for the second quarter, which is very strong earnings performance for any bank.
A good example of a bank cutting its reliance on brokered deposits is
Great Southern Bank
of Springfield, Mo., which is the main subsidiary of
Great Southern Bancorp
(GSBC) - Get Great Southern Bancorp, Inc. Report
. The cut its ratio of loans to deposits to 73% as of June 30, from an already low 75% a year earlier. Its ratio of brokered deposits to total deposits was 12% as of June 30, and even if you add in $84.7 million in deposits gathered through listing services, the ratio of out-of-market deposits climbs to only 15%. In June 2010 -- before the deposits gathered through listing services were broken-out -- 18% of the banks total deposits were brokered deposits.
RELATED STORIES:
10 Banks with Solid Revenue >>
10 Bank Stock Picks for Bottom-Fishing Investors >>
--
Written by Philip van Doorn in Jupiter, Fla.
To contact the writer, click here:
.
To follow the writer on Twitter, go to
http://twitter.com/PhilipvanDoorn
.
Philip W. van Doorn is a member of TheStreet's banking and finance team, commenting on industry and regulatory trends. He previously served as the senior analyst for TheStreet.com Ratings, responsible for assigning financial strength ratings to banks and savings and loan institutions. Mr. van Doorn previously served as a loan operations officer at Riverside National Bank in Fort Pierce, Fla., and as a credit analyst at the Federal Home Loan Bank of New York, where he monitored banks in New York, New Jersey and Puerto Rico. Mr. van Doorn has additional experience in the mutual fund and computer software industries. He holds a bachelor of science in business administration from Long Island University.