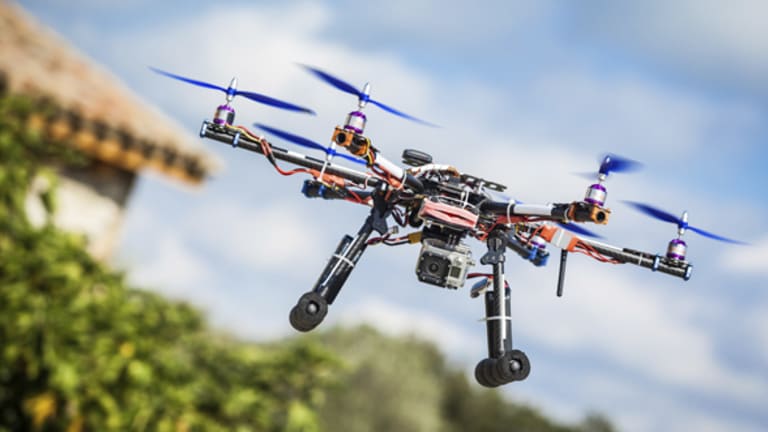 'Star Wars' and 4 Other Best Drones to Consider Buying This Holiday Season
The Millennium Falcon is just one of a slate of drones expected to end up on consumers' wish lists this year.
NEW YORK (TheStreet) -- The Christmas and end-of-the-year holiday shopping seasons are about to kick into high gear, and this year expects to be one where consumer drones are going to show up on many wish lists.
"It's the next step in robotics," said Jim Schmidt, head of the drone safety advisory board at PCS Edventures. "It's a great platform for kids to learn, but there are multiple levels of interest."
And with Amazon.com (AMZN) - Get Amazon.com, Inc. Report getting into using drones to make deliveries, and sport-camera maker GoPro (GPRO) - Get GoPro, Inc. Class A Report slated to launch its own drone in early 2016, the drone market is getting more attention than ever. Heck, even Facebook (FB) - Get Meta Platforms Inc. Class A Report is using drones to help spread Internet to various parts of the globe.
Exact sales figures are difficult to pin down for the nascent industry. Consulting firm Deloitte estimates that 300,000 non-military drones will be sold in the U.S. this year, while the Federal Aviation Administration has come out saying that as many as 1 million drones may make their way under consumers Christmas trees in December.
Such potential has created a growing industry among companies looking to tap into consumer demands for drones as gadgets and learning devices.
"It should be a time for one or more of the emerging vendors in the market to make a play for some holiday market share with some timely pricing or a new release," said Gerald Van Hoy, an analyst who covers the drone industry for Gartner. "[And] the FAA is expecting to see a large number of drones in the air during and right after the holidays."
Here's a look at some of the best-known consumer drone makers and products that are expected to be popular among holiday shoppers.
DJI Phantom 3 Professional Quadcopter
"DJI is the most-popular brand currently," said Chad Taylor, Connect Store Manager for Chicago retailer ABT Electronics.
The DJI Phantom 3, which comes with a 4K UHD video camera, can be found on Amazon for $1,400 in a bundled package that includes a 64 gigabyte micro SD storage card and an intelligent battery pack with 23 minutes of flight time.

Buy the DJI Phantom 3 Professional Quadcopter on Amazon.
The price of drones varies widely, and the Blade Nano QX is considered one of the more-popular entry-level drones on the market.
The Blade Nano QX can often be found for as low at $69, and its relative, the Blade Nano QX RTF, is available for $90 at some outlets.

Buy the Blade Nano QX on Amazon.
3DR, as the company calls itself, sells what it calls "the world's smartest drone" from around $1,000.
The Solo has twin computers on board and can stream high-definition video video directly from a GoPro camera to Google (GOOGL) - Get Alphabet Inc. Class A Report Android and Apple (AAPL) - Get Apple Inc. Report iOS devices.

Buy the 3D Robotics Solo on Amazon.
At about $450, the Parrot Bebop is viewed as solid midrange drone that's not too expensive, but offers more that a low-price entry level model. The drone offers a 14-megapixel camera with image stabilization and a 180 degree field of view.

Buy the Parrot Bebop Quadcopter on Amazon.
Air Hogs Star Wars Millennium Falcon
With Star Wars: The Force Awakens expected to be a holiday blockbuster, now anyone can be Han Solo with this quadcopter drone manufactured by Air Hogs.
This Millennium Falcon might not make the Kessel Run in less than 12 parsecs, but it can be controlled by up to 200 feet away and can be found at several retailers and online stores, such as Wal-Mart (WMT) - Get Walmart Inc. Report , for about $89.

Buy the Air Hogs Star Wars Millennium Falcon on Amazon.
Disclosure: TheStreet may get a share of the revenue from affiliate partners included in this article.
This article is commentary by an independent contributor. At the time of publication, the author held no positions in the stocks mentioned.