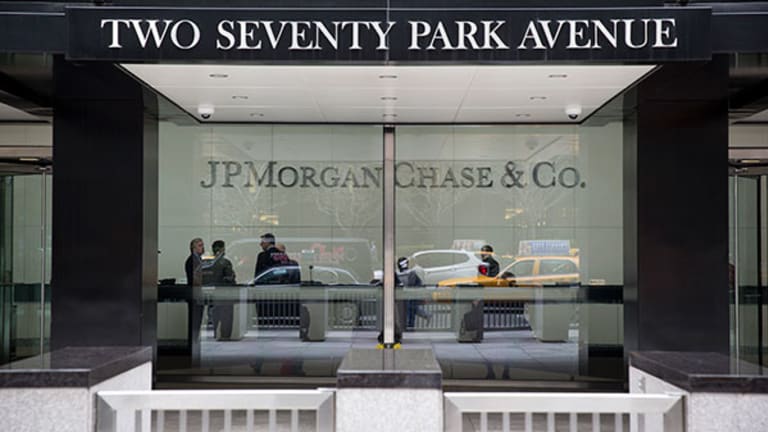 Publish date:
[video] $4B in JPMorgan Consumer Relief Will Rankle Investors
The consumer relief portion of JPMorgan's $13 billion settlement is likely to come under criticism for the way it has been structured.
The consumer relief portion of JPMorgan's $13 billion settlement is likely to come under criticism for the way it has been structured.
NEW YORK (TheStreet) -- JPMorgan Chase (JPM) - Get Report will provide $4 billion in consumer relief to as many as 100,000 borrowers under the $13 billion mortgage settlement with the Department of Justice and other federal authorities, but the devil is in the details.
According to the terms of the settlement, about $2 billion will go toward principal reductions and forbearance with a focus on first liens, though the bank will also receive some credit for modifying second lien loans. The remaining would go toward refinancing relief, anti-blight efforts and targeted loans to low-and-moderate income borrowers.
The bank will receive more credit for relief provided to borrowers in "hardest hit areas" defined by Department of Housing and Urban Development. It will also earn more credit for early relief provided before October 2014.
But JPMorgan will  also receive partial credit (50 cents for every dollar of writedown) for modifying loans that the bank services for third-party investors. This has been a theme in previous settlements that has rankled investors, who believe they are being unfairly subject to losses to pay for wrongdoing by banks.
Investors of mortgage-backed securities have also complained that banks frequently modify investor-owned loans which are mostly first mortgages, but do not modify second-lien mortgages held on their balance sheet. That violates the hierarchy that requires owners of second mortgages to take the first loss.
The Association of Mortgage Investors wrote a letter to Attorney General Eric Holder in October, asking him to avoid entering legal settlements with any bank where investors would be left bearing the cost, but it appears it was to no avail.
The Association of Mortgage Investors declined to comment on JPMorgan's settlement.
Critics also argue that these mortgage settlements tend to reward banks for actions they would have done anyway. For instance, modifications made under the government's HAMP program would qualify for credit under the DOJ settlement.
Consumer activists, however, welcomed the deal.
"While details are still emerging, some of the provisions in the settlement will go a long way towards helping homeowners who are struggling to keep their homes," said Kevin Stein, associate director of the Californian Reinvestment Coalition. "We applaud the focus on principal reduction modifications for first mortgages (modifications that are statistically the most likely to help keep people in their homes) and support the appointment of a strong monitor to oversee the settlement. The bank committing to provide additional quality loans to low and moderate income home buyers is welcome, and could be an antidote to all-cash investors and Wall Street firms that are buying up properties and pushing out first-time home buyers.
JPMorgan said during its conference call on the settlement that it expects to complete its obligations sooner than the 2017 deadline, with a majority of the relief likely to be front-loaded in the first year.
An independent monitor will be appointed to determine whether JPMorgan is satisfying its obligations. If JPMorgan fails to live up to its agreement by Dec. 31, 2017, it must pay liquidated damages in the amount of the shortfall to NeighborWorks America, a non-profit organization that focuses on affordable housing and facilitating community development.
-- Written by Shanthi Bharatwaj in New York.
Disclosure: TheStreet's editorial policy prohibits staff editors and reporters from holding positions in any individual stocks.