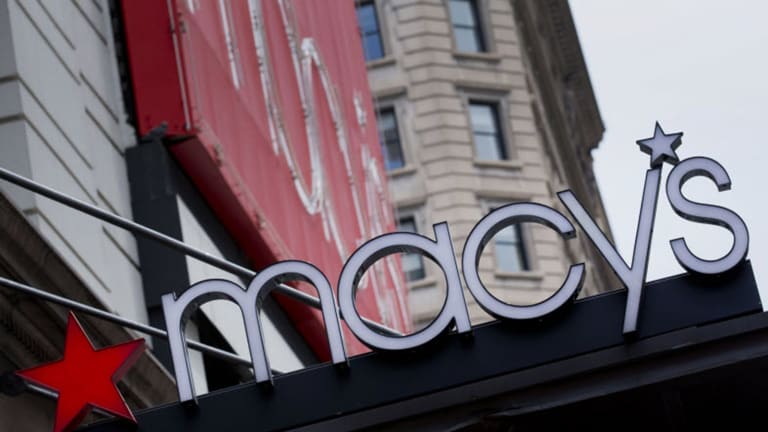 4 Ways Macy's Is Trying to Compete With Next-Gen Retail
Parties within stores? Cashier-less checkout? Macy's is going all-out with its brick-and-mortar turnaround.
Macy's Inc. (M) - Get Free Report  knows it'll never be the hot new boutique in town, so instead, it wants to be your next hangout spot.
Under its North Star strategy unveiled in May, the Cincinnati-based department store is upping its brick-and-mortar appeal by spiffing up product offerings, revamping stores and rolling out innovations for customers, all the while riding the momentum of its positive comparable sales growth in the fourth quarter — the first time in 12 full quarters.
"How can [we] be a hub in the community?" CEO Jeff Gennette said at a conference Tuesday, March 13, organized by the Bank of America and Merrill Lynch, pointing to a comprehensive slate of initiatives the company is testing to compete with younger retail counterparts.
How does Macy's hope to succeed? Below are TheStreet's picks for the four ways Macy's could put a shine on the shopping experience.

1. Experiential stores
"Experiential shopping is the future of retail," Cowen analysts wrote in a recent report. "Stores are evolving primarily from points of purchase into showrooms and places for a community of shoppers to meet."
Macy's, like Nordstrom Inc. (JWN) - Get Free Report , is taking this analysis to heart.
To complete the community element, the company is looking to not only what's going in inside its malls but beyond, to community centers and chambers of commerce. "Based on what we learn and what works, you're going to see a scale and rollout [of] stuff that works into more stores in 2019," Gennette said Tuesday.
The stores themselves will be updated, he added, with new lighting, carpeting, fixtures, restrooms and fitting rooms — "making sure that we are very competitive with the best retailers in those malls."
Macy's is also toying with the concept of vendors within the stores, having just launched a Market at Macy's, which sells food and beverages, in 10 stores, the company underscored at the conference Tuesday. Macy's already has a partnership with LensCrafters Inc. in which the eyeglasses retailers are located in select Macy's stores. Like its partnership with LensCrafters, Macy's is considering expanding its Starbucks concept in which the coffee chain would open within certain stores, Gennette said. The Herald Square Macy's in Manhattan, for instance, has a Starbucks on the second floor. 
2. Macy's Backstage
With 45 Backstage locations so far, Macy's plans to expand its off-price footprint to another 100 locations this year. Backstage gave Macy's a seven-point comp lift in 2017, Gennette said. 
Backstage offers name-brand items at discounted prices and exists solely within larger Macy's stores. Rather than the Backstages taking up space, it's a way for the retailer to condense the Macy's, thereby creating two destinations. According to the company, the two retail operations haven't yet cannibalized each other.
The company, which also owns the off-price Bloomingdale's Outlets, has invested in that division, too, said CFO Karen Hoguet during the fourth-quarter earnings call.
"Two-thirds of our core customer shops off-price," Gennette said, including 70% of all millennials.

3. Credit-less loyalty program
To attract new customers, Macy's launched late last year an overhauled version of its Star Rewards loyalty program, with more perks. The company's next move? Introduce a "tender-neutral" program in which customers don't have to apply for a credit card.
"We believe that's going to be very sticky with customers who don't want a credit card," said Gennette. Among those experiencing "stickiness" are millennials or Gen Z'ers.  

4. Mobile checkout
Move over, Amazon.com Inc. (AMZN) - Get Free Report .
Macy's is catching up with checkout innovators by introducing mobile checkout to 450 stores by year's end. How does it work? Customers use the Macy's app to scan their products, and at the door, they show their app and products to a salesclerk who rings up the sale.
"If you want to talk about the single biggest pain point in our stores right now, it's checkout," Gennette said.
Macy's shares are up nearly 5% midday, trading at $30.19. 
Amazon and Nordstrom are holdings in Jim Cramer's Action Alerts PLUS Charitable Trust Portfolio. Want to be alerted before Cramer buys or sells AMZN or JWN? Learn more now.