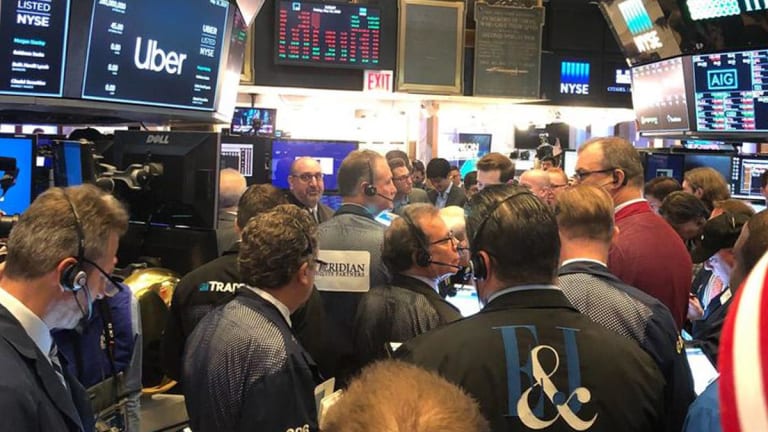 4 Tech IPOs to Watch For in the Second Half of 2019
Robinhood, The We Company, Postmates and Medallia are a few of the tech firms that may go public in the latter half of this year.
The march of unicorn IPOs isn't over yet.
The first half of 2019 saw Uber (UBER) , Lyft (LYFT) , Slack (WORK) , Zoom (ZM) and others make their stock market debuts, to mixed results. Zoom, for instance, is up 45% since its April 18 public offering; Lyft, meanwhile, has slumped 22% since going public on Mar. 29.
Provided that market conditions hold up, we could see several more multibillion-dollar listings hit the public markets in the back half of the year -- here are a few to watch for.
1. Medallia
Medallia may not be a household name like Uber, but the 18-year-old tech firm, which specializes in customer experience software, is a significant player in the enterprise software market. In its S-1 filing, it reported 2018 revenue of $313.6 million, a 20% increase over the prior year. Last year, it posted a loss $82.2 million, which it attributed to investments in growth. The majority of its revenue ($246.8 million in 2018) comes from software subscriptions, which may appeal to investors who favor predictable sources of revenue. As of its last round of private financing in February, Medallia was valued at $2.4 billion.
2. Robinhood
Millennials are looking for easier ways to invest, and 6-year-old Robinhood has capitalized on this trend. The app allows buying and selling of U.S. listed stocks and ETFs with no commission, and Robinhood claimed about 6 million user accounts late last year and was last valued at $5.6 billion. As for how it makes money, there have been conflicting reports about that over the past year. In October 2018, Bloomberg analyzed SEC filings and calculated that Robinhood makes about half of its revenue from a controversial practice known as "pay for order flow;" its founders subsequently said it was only a small percentage. Robinhood also makes money selling premium subscriptions as well as interest, however. It hasn't yet filed for an IPO, but founder and CEO Baiju Bhatt said in September 2018 that he aimed to take the company public this year.
3. Postmates
Valued at $1.85 billion earlier this year, Postmates was among the first startups to offer on-demand delivery of food and other goods. Nowadays, it operates in about 550 cities and says it completes 5 million deliveries per month. It filed confidentially for an IPO in February, but has kept its financials close to the vest since then. Reportedly, it recorded $400 million in revenue in 2018, but competes in the very crowded food delivery space with the likes of Uber Eats, Grubhub undefined , DoorDash and others. A recent survey by Zion & Zion found that Postmates was the fourth most frequently used delivery app, with 10% of respondents saying they used it often; Grubhub was the most frequently used at 37%.
4. WeWork
WeWork, which was re-branded to the We Company earlier this year, is another firm with big ambitions and an eye-popping private valuation -- $47 billion as of January 2019. The We Company is centered around shared coworking spaces, and intends to expand into other lines of business such as education and residential real estate. It's already among the largest corporate landlords in the world, and reported 401,000 membership across 425 locations as of Dec. 31. It filed confidentially for an IPO in April, but its heavy losses are likely to give some prospective investors pause: In 2018, it lost $1.9 billion on $1.82 billion in revenue, according to a March earnings release. But on Sunday Reuters reported the company was looking to raise up to $4 billion in debt in advance of its IPO. WeWork did not immediately respond to a request for comment from TheStreet on the report.
Looking for ways to become a smarter investor? Join Jim Cramer's Action Alerts Plus Charitable Trust Portfolio investor club. Learn more now about our big July 4th sale; save more than 50% off the list price.