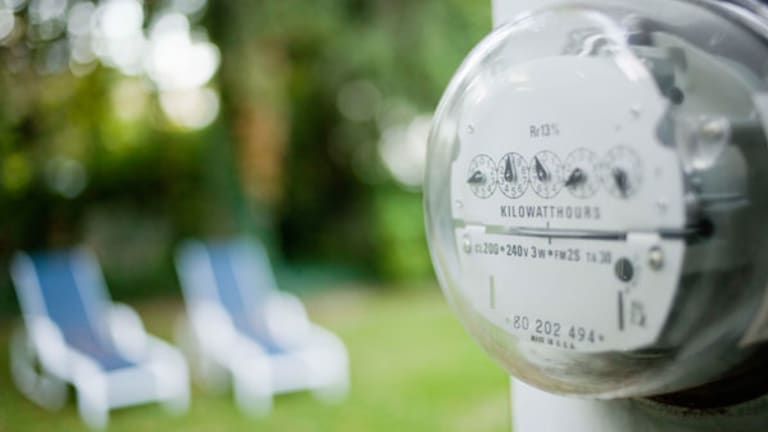 4 Signs of Big Oil's Future From ConocoPhillips
ConocoPhillips offers some big picture commentary on where the oil majors are headed in the coming years.
NEW YORK (
) -- Big Oil earnings season doesn't mean big needle-moving trades for these companies. A decline like the 1% slide in shares of
ConocoPhillips
(COP) - Get Report
after it reported earnings on Wednesday is about as big as the moves usually get. The reason for a move on any given Big Oil earnings day is as likely to be macroeconomic sentiment or the price of crude, as it is some specific earnings metric, or simply profit-taking.
ConocoPhillips did trail its peers after it reported. Argus Research analyst Phil Weiss said there was nothing negative that stood out in the report and ConocoPhillips shares have been on the decline since last week, so barring macro-driven swings, the stock's a buy in his opinion.
Where ConocoPhillips didn't trail peers was in providing a preview of some of the bigger picture, longer-term issues for Big Oil companies as they seek to grow production, deal with the fluctuations in commodity pricing, and find new exploration hotspots.
Here are four key issues on which ConocoPhillips provided commentary that provides a peek into Big Oil's future.
Natural Gas Weakness
The recent
slide in the price of natural gas led
Chesapeake Energy
(CHK) - Get Report
, the largest independent driller in the U.S. and second only to
Exxon Mobil
(XOM) - Get Report
, to announce that
it is curtailing production.
ConocoPhillips offered its view on how the current natural gas pricing doldrums is shaping its decision-making.
The company said that its spending plan for 2012 doesn't allocate much to new gas drilling, totaling no more than a few hundred millions of dollars (that's versus a total capital spending plan of $15.5 billion). And even at this relatively low level of spending, ConocoPhillips is "pretty closely looking at" whether it makes sense given the recent pricing developments, said Jeffrey Wayne Sheets, ConocoPhillip's chief financial officer, during the earnings conference call. That should tell you something about the economics of natural gas drilling -- right now, it's a losing proposition.
Sheets said that production shutdowns, like those announced by Chesapeake and
EQT
(EQT) - Get Report
, may be coming.
ConocoPhillips' fourth-quarter natural gas production in Canada and the lower 48 states was around 2.5 bcf (billion cubic feet) a day. Across that portfolio, roughly two-thirds of the drilling activity and economics are driven by liquids production and not natural gas prices, and that's good news since it's not going to make sense to shut in this production. This would imply 1.5 bcf of the 2.5 bcf total won't be impacted by current natural gas pricing. On the remaining production, ConocoPhillips has production partners, and those partners have different views about shut-ins.
One of the key issues related to the Chesapeake shut-in announcement was whether the rest of the industry
would line up and follow suit, showing the discipline to cut production and help support prices. For some companies, the lost cash flow from shutting in production would be too severe a strain on the balance sheet -- Chesapeake, with a large debt load, may face funding issues as a result of its decision, even if the decision was the right one. ConocoPhillips hinted at this Catch-22 when its finance chief commented that its partners generally don't want to shut in natural gas and lose the cash flow associated with it.
ConocoPhillips is looking at the portion of production that it controls, but that's a subset of its overall natural gas drilling.
"I think that we will have some shut-ins of natural gas going forward and it's going to be on the order of 100 million cubic feet a day, or something like 15,000 to 20,000 BOE (barrels oil equivalent) per day going forward, and we'll continue to watch that. As the year goes on, we'll see how the natural gas markets develop," Sheets said during the conference call.
Natural Gas Export Market
With low natural gas prices expected to remain in the U.S., the issue of exporting domestic fossil fuel resources came to the fore in 2011.
Cheniere Energy
(LNG) - Get Report
was awarded a permit by the federal government to begin building an LNG export terminal at Sabine Pass, La. Cheniere said the export facility may not be operational until 2017. The major oil companies are already building massive LNG facilities in Asia to meet the greatest demand for natural gas, and where prices are highest, in countries like Japan. ConocoPhillips has two LNG facilities in Australia, and also has a partnership in another Sabine Pass facility.
Given ConocoPhillips' growing exposure to natural gas, the company said this idea is at least on its radar, even if it didn't have much to say about it.
"I think it's something we are going to continue to study. It's really not just thinking about it from the perspective of Lower 48 natural gas production, but as we think about what long-term alternatives are for Canadian gas production, and importantly, as we think about what alternatives could be for development of the North Slope gas in Alaska. Those are all things that we'll be investigating whether liquefaction and export and natural gas makes sense going forward," Sheets said on the conference call.
Production Growth Drivers
Even as the U.S. land-drilling boom has crushed natural gas prices, it's led to liquid gold with all the E&P companies
finding more and more oil in liquid-rich plays across North America. ConocoPhillips provided a forecast that shows this trend is really just beginning in terms of swinging its overall production numbers: of the 120% replacement of organic reserves the company had in 2011, only 10% was from U.S. land drilling.
The Eagle Ford, the Bakken, the Permian (where both vertical and unconventional drilling is used) and the Cardium plays are the drivers at this point for ConocoPhillips. In the Eagle Ford, the company has a 16 rig count average and plans to drill about 180 wells in 2012. Production in late December was around 50,000 BOE per day, and the company anticipates that average production from the Eagle Ford should grow to around 100,000 BOE per day by the end of 2012.
In the Permian and the Bakken, the company plans to increase its rig count by 50% during 2012. The fourth quarter production at the Permian was 50,000 BOE and the Bakken 18,000 BOE.
But here come the really important numbers. These three areas together amounted to production in the fourth quarter of 118,000 BOE per day, but by the 2013 to 2015 time period, these three plays should more than double in production to over 250,000 and possibly as high as 275,000 BOE per day. "And it's going to just increase just fairly steadily over that time period," Sheets said.
For a company that produces 1.6 million barrels of oil a day, that's still a relatively small part of overall production, but it's a spike in the next three years from 7.3% to roughly 16% of production.
Frontier Exploration
The liquids-rich increases the land drillers are seeing in the U.S. is the reason why foreign buyers have been
paying up for acreage in the shale plays. That's made a lot of acreage very expensive, and with the low natural gas prices, and Exxon Mobil consistently bearing the brunt of the abuse for its $41 billion acquisition of
XTO Energy
, investors may not look kindly on major acreage buys in the premium-priced basins.
However, ConocoPhillips was busy buying in 2011, and announced a total of 500,000 additional acres of shale acquisitions (some of the individual buys had been previously reported in the quarter in which the acreage was purchased). With shale plays like the Eagle Ford and Bakken now attracting the most attention, majors may add selectively where pricing and logistics related to their existing drilling footprint make the most sense. Chesapeake Energy, one of the most aggressive land buyers in the E&P business, said during its last conference call that it was buying into one more area which it wasn't ready to reveal, but it stressed that the play wasn't expensive because of its early phase of exploration.
ConocoPhillips said the acreage acquisitions it made in 2011 span across the Avalon (southeastern New Mexico and West Texas), the Wolfcamp (in the Permian), the Niobrara, and the Duvernay and the Canol in Canada.
Overall, ConocoPhillips said two-thirds of the added acreage came in Canada, as opposed to one-third from the lower 48. Specifically, the company said all of the acreage buys are targeting plays which it believes are liquids-rich plays and not gas plays.
-- Written by Eric Rosenbaum from New York.
RELATED STORIES:
>>6 Tired Energy Arguments That Need to Go in 2012
>>The Energy Issue on Which Obama Can Lead
>>Solyndra Moves Closer to Scrap Heap
>To contact the writer of this article, click here:
Eric Rosenbaum
.
>To follow the writer on Twitter, go to
.
Follow
TheStreet
on
and become a fan on