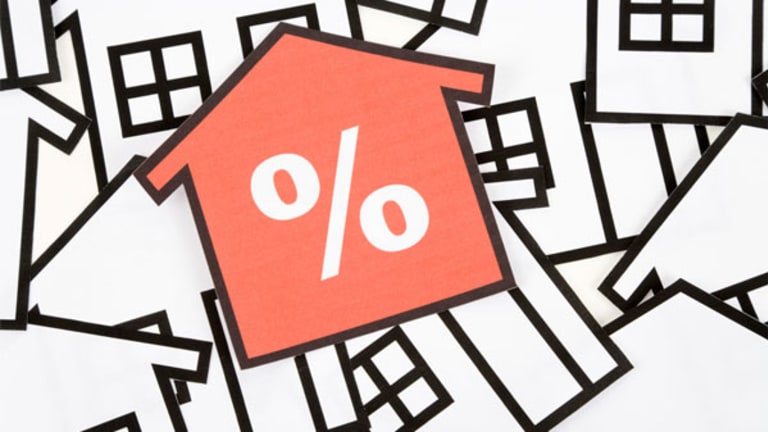 4 Real Estate Stocks Outpacing Rivals
Commercial real estate is on a tear, and some of the industry's biggest companies are faring the best.
BOSTON (TheStreet) -- Financial stocks have been on a tear, with a big contribution to performance coming from commercial real-estate services firms, which suffered during the recession as office space demand shrank but then strongly rebounded.
The group's shares averaged a gain of 29% last year after an 84% jump in 2009. This year, they're up 2.3%, on par with the rise in the
S&P 500 Index
. Analysts are beginning to question how far and long the run can continue.
Standard &Poor's, which has a "neutral" fundamental outlook on the real-estate services industry, says a few stocks could be a long-term play, with some firms benefitting from a continued industry consolidation.
"We still look for the rebound to be tepid compared to the boom years," S&P wrote of the commercial real estate industry's prospects on Feb. 5. "We think continuing tight credit and difficulty accessing capital will limit pricing for commercial, as well as residential, real estate."
Commercial real estate firms buy and sell properties for clients as well as manage many of them after the sale.
Here are four companies in the industry, most of which hold a dominant position, and a breakdown of performance and analysts' expectations.
The biggest player, with almost $8 billion in market capitalization, is
CB Richard Ellis
(CBG)
. Typical for the group, its shares plummeted 80% in 2008, but then gained 214% in 2009, ran up 51% in 2010 and are up 8% this year.
S&P gives CB Richard Ellis a "four- star buy" rating and projects earnings of $1.14 per share in 2010 and $1.35 in 2011. It says "we expect the company to benefit over the longer term from its large size and broad array of products and services relative to peers. We think the global reach of (its) operations helps generate economies of scale that few other real estate firms can match, helping create sustainable barriers to entry."
Goldman Sachs
(GS) - Get Goldman Sachs Group, Inc. (GS) Report
downgraded CB Richard Ellis to "neutral" from "buy" on Feb. 7.
Jones Lang LaSalle
(JLL) - Get Jones Lang LaSalle Incorporated Report
, the second-largest U.S. firm in the sector with a $4 billion market value, posted a strong fourth quarter on Feb. 1, with earnings of $1.91 per share, exceeding analysts' estimates by 15.3%.
A survey of analysts who follow the firm by Thomson Reuters resulted in a mean share price estimate of $100, a 2.5% premium to its current price.
Jones Lang LaSalle receives three "buy" ratings and five "holds" from analysts, according to a Morningstar survey.
The firm's shares have an impressive 10-year average annual return of 21% and a three-year return of 8.5%. It has almost 90% institutional ownership, usually a good sign.
Another industry leader,
Grubb & Ellis
( GBE), has struggled since the recession and its shares are off about 1% this year, although they're up 16.7% over the past three months.
Wellington Management owns 6.6% of its outstanding shares.
But a Thomson Reuters analyst says "sell." The firm's poll of other analysts find two "buy" ratings and seven "holds."
Analysts estimate that the company will post a $1.07 per share loss in fiscal 2010 and cut that loss in half in 2011.
An exotic sounding play lumped in with the usually, urban-centric commercial real estate managers, is
Maui Land & Pineapple
(MLP) - Get Maui Land & Pineapple Company, Inc. Report
, the holding company of subsidiaries that engage in agriculture, community development and resort operations in Hawaii. Its shares are up 10% so far this year.
The company, founded in 1909, operates through two segments: an agricultural unit, Maui Pineapple Co. with extensive land holdings; and the developer of the exclusive destination resort property, the Kapalua Resort in Maui, Hawaii.
According to TheStreet's ratings summary, the one analyst who follows it has a "strong sell."
After disclosing severe financial constraints at the end of 2009, the company has been in turnaround mode. In the first nine months of 2010, it reported net income of $1.23 per share, compared with a net loss of $92.9 million, or a loss of $11.57 per share, for the first nine months of 2009.
Readers Also Like:
Goldman's 6 Best Industrial Stocks for 2011
5 Android Phones that Outmuscle the iPhone
Disclosure: TheStreet's editorial policy prohibits staff editors and reporters from holding positions in any individual stocks.