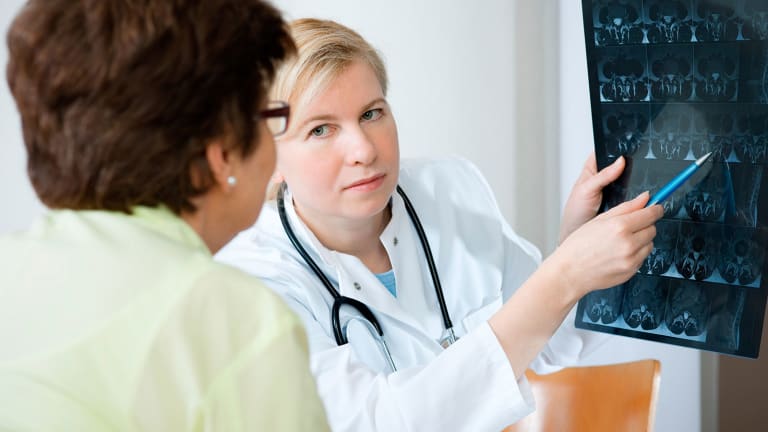 Publish date:
4 Health Care Stock Picks for Your Long-Term Portfolio
Johnson & Johnson (JNJ), McKesson (MCK), Merck (MRK) and UnitedHealth (UNH) benefit from demographic trends and have solid fundamentals.
Johnson & Johnson (JNJ), McKesson (MCK), Merck (MRK) and UnitedHealth (UNH) benefit from demographic trends and have solid fundamentals.
Health care is a charged topic among both investors and politicians, particularly as the presidential election bites at our heels. The sector, which encompasses health care services and equipment as well as pharmaceuticals and biotechnology, is vulnerable to regulatory and fiscal policy issues and continues to face rising costs. Its products and services, however, are essential, and as the population continues to age, the need for more extensive medical care and drug treatments increases.
While the inner workings and relationships among the sector's different branches are exceedingly complex, it's safe to say that the demand for these products and services is largely inelastic; even during a downturn, people need medical care. Consistent demand makes health care companies less sensitive to business cycle fluctuations, and continued innovation, as well as leaps in both quantity and quality of available data, offers significant opportunities in this sector.
Population aging is accelerating worldwide. Life expectancy by 2019 is expected to be 73.3 years, which will bring the over-65 segment to nearly 11% of the global population. This has contributed to the increase in chronic diseases such as diabetes, hypertension, cardiovascular disease and dementia. Declining unemployment rates serve to boost the sector, because employed people tend to visit doctors more frequently and are more apt to undergo elective medical procedures.
Increased access to health insurance (under the Affordable Care Act) could also serve as a positive force for hospitals, medical equipment suppliers and pharmaceutical companies.
From the investor's point of view, the rhetoric swirling around health care policies and drug pricing introduces volatility and uncertainty to this sector of the market. That said, the underlying fundamentals of the sector are not likely to change significantly and could present long-term investment opportunities, particularly when the stocks of good companies go down in price offering the long term investors discounts to buy in.
Using my guru-based stock screening models, I've identified the following four health care-related stocks that deserve a look:
1. Johnson & Johnson (JNJ) - Get Report
This company is engaged in the research and development, manufacture and sale of a range of products in the health care field. The company's solid score under our James O'Shaughnessy-based Cornerstone Value screen reflects its size ($310.35 billion) and healthy cash flow per share of $5.30 (compared to the market mean of $1.40). Shares outstanding of 2.78 million well exceed the market average (621 million), and trailing 12-month sales of $71.59 billion are more than triple the market mean. The stock, which is also one of Warren Buffett's holdings, scores highly based on our Buffett approach. The company has 10 years of earnings consistency and impressive returns on capital and equity, qualities that make this a Buffett favorite and high-scoring stock in Validea's system.
2. Merck (MRK) - Get Report
Merck is a global health care company offering health solutions through prescription medicines, vaccines, biologic therapies and animal health products. It earns a perfect score under our O'Shaughnessy-inspired Cornerstone Value strategy based on its dividend yield (3.01%) coupled with healthy cash flow-per share of $4.12 (vs. the market mean of $1.40). Shares outstanding of 2.8 billion represent more than four times the market mean, and trailing 12-month sales ($39.44 billion) meet the requirement to exceed the market mean by 1.5 times.
3. McKesson  (MCK) - Get Report
This company is engaged in delivering pharmaceuticals, medical supplies and health care information technology. Our John Neff-based screening model favors the company's growth in earnings per share (based on three, four and five-year averages) of 17.9%. The John Neff-based model requires growth of between 7% and 20%. This screen also requires earnings growth to be supported by adequate growth in sales, which must increase by 7% to 70% of EPS growth. With sales growth of 13% (based on three-, four- and 5-year averages), McKesson meets this requirement. This company also earns a solid score under our Joel Greenblatt-based screen due to its earnings yield of 9.52%, which ranks it 219th among all stocks in our database. Return-on-total capital of 54% is also considered very favorable under this model.
4. UnitedHealth (UNH) - Get Report
UnitedHealth is a diversified health care company operating through UnitedHealthcare, OptumHealth, OptumInsight and OptumRx. This company is a high-scorer under our O'Shaughnessy Cornerstone Growth strategy due to its sizable market capitalization of $138.44 billion and its persistent EPS growth (EPS has increased every year for the last five years). The price-to-sales ratio (based on trailing 12-month sales) of 0.76 meets the requirement to fall under 1.5, and the stock's relative strength of 81 adds interest.
This article is commentary by an independent contributor. At the time of publication, the author and/or his private clients were were long JNJ, MRK and UNH.