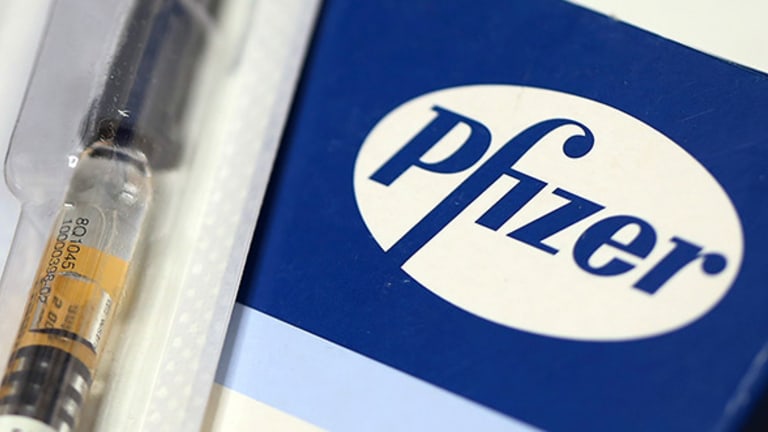 Publish date:
4 Health Care Charts Signaling Buys: Pfizer, Amgen Included
Obamacare? Trumpcare? These stocks don't care.
Obamacare? Trumpcare? These stocks don't care.
The stakes are high in the health care sector in 2017. As Congress battles it out over the nation's health care laws, it's not just your health coverage that's hanging in the balance in Washington -- it could be your portfolio, too.
While the details of Republicans' proposed health law are still being argued over by politicians, the uncertainty apparently isn't rattling health care stocks. They couldn't care less, in fact.
The health care sector has actually been one of the strongest pockets of the overall market in 2017, with the Health Care SPDR ETF (XLV) - Get Report up 9.26% on a total-returns basis since the calendar flipped to January. That's a pretty material bit of outperformance vs. the rest of the S&P 500, which is "only" up about 6% over that same time frame. And the good news is that the technicals are pointing toward higher ground for S&P stocks in the days ahead.
To find the health sector stocks that look best positioned for a reversal higher this month, we're turning to the charts. Here's a closer look at four stocks showing buyable technical trading patterns.
In case you're unfamiliar with technical analysis, here's the executive summary: Technical analysis is a way for investors to quantify qualitative factors, such as investor psychology, based on a stock's price action and trends. Once the domain of cloistered trading teams on Wall Street, technicals can help top traders make consistently profitable trades and can aid fundamental investors in better planning their stock execution.
Pfizer Inc.
Up first on our list of potential health care breakouts is pharma giant Pfizer Inc. (PFE) - Get Report. Pfizer is one of the biggest drug makers on the planet, and after a sluggish start to 2017, shares have been showing a bullish change in trajectory. Pfizer has rallied 10% since bottoming back at the end of January -- and now, a classic bullish continuation pattern points to another leg higher in March.
Pfizer is currently forming an ascending triangle pattern, a price setup that's formed by horizontal resistance up above shares at $34.60, and uptrending support to the downside. Basically, as Pfizer bounces in between those technically meaningful price levels, shares have been getting squeezed closer and closer to a breakout through their $34.60 price ceiling. When that happens, we have our buy signal.
It's important to be reactionary when it comes to trading Pfizer's breakout. Technical analysis is a risk-management tool, not a crystal ball. In other words, more upside in Pfizer doesn't become a high-probability outcome until shares actually manage to close above that $34.60 line in the sand. Shares are within grabbing distance as I write this.
Pfizer is a holding in our Dividend Stock Advisor portfolio. Learn more now.
Zimmer Biomet Holdings
We're seeing the exact same setup in shares of $25 billion medical-equipment maker Zimmer Biomet Holdings Inc. (ZBH) - Get Report. Like Pfizer, Zimmer is currently forming a textbook example of an ascending triangle pattern, but with two important differences: Zimmer's pattern is longer term, and it's already breaking out.
The buy signal got confirmed with Monday's open above $120.
What makes $120 the decisive price level for Zimmer Biomet? It all boils down to buyers and sellers. Price patterns, like this ascending triangle setup, are a good quick way to identify what's going on in the price action, but they're not the ultimate reason shares look attractive here. Instead, the "why" is driven by basic supply and demand for ZBH's shares themselves.
The $120 resistance level is a price where there was an excess of supply of shares; in other words, it's a spot where sellers had previously been more eager to step in and take gains than buyers have been to buy. That's what makes the breakout we're seeing above $120 so significant -- the move means buyers are finally strong enough to absorb all of the excess supply above that price level. If you decide to pull the trigger on ZBH here, the 50-day moving average is a logical place to park a protective stop.
Amgen Inc.
Amgen Inc. (AMGN) - Get Report has had an eventful few days. The firm's disappointing results for reduced heart complications from cholesterol drug Repatha sunk shares on Friday, and investors would be wise to question whether now's the time to be buying shares. But, from a technical perspective, buy signals don't get any clearer than this.
Amgen has been bouncing its way higher in a well-defined uptrending channel since November. In that stretch, this stock has managed to rally more than 26%, even with Friday's big drop factored in. The fact that Amgen's selling Friday managed to hit the brakes right at that trendline support level only adds confidence to the upside opportunity here. It makes sense to buy the next bounce off of trend line support from here.
Actually waiting for that bounce is important for two key reasons: It's the spot where shares have the most room to move up before they hit resistance, and it's the spot where the risk is the least (because shares have the least room to move lower before the channel breaks, invalidating the upside trade). Remember, all trend lines do eventually break, but by actually waiting for the bounce to happen first, you're ensuring Amgen can actually still catch a bid along that line before you put your money on shares.
Agios Pharmaceuticals Inc.
Last on our list of health care breakouts is $2.3 billion biotech Agios Pharmaceuticals Inc. (AGIO) - Get Report. Agios has exhibited some choppy trading over the last year, but shares look primed for a test of 52-week highs just below the $67.75 level.
Here's how to trade it:
Agios is currently forming a rounding bottom, a bullish reversal setup that looks just like it sounds. The pattern signals a shift in control of shares from sellers to buyers, and it triggers a buy if shares can muster the strength to push through the resistance level that defines the top of the pattern. For Agios, that's the $55 price level and it got taken out in Monday's trading session.
Price momentum, measured by 14-day RSI up at the top of AGIO's chart, is the side-indicator to pay attention to in this stock. Our momentum gauge made higher lows over the course of AGIO's rounding bottom pattern, adding confidence to Monday's breakout. If you decide to buy it, $50 is a technically meaningful place to park a protective stop.
At the time of publication, author had no positions in the stocks mentioned.