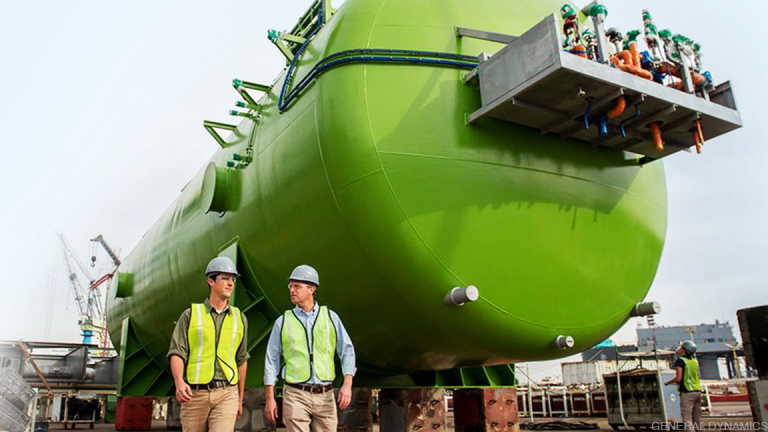 4 Hot Defense Stocks for Syria and a More Dangerous World
The world remains dangerous, and dangerous 'toys' are increasingly in demand.
The current situation in Syria serves to remind us that the world remains dangerous, and dangerous "toys" are not just simply in demand, but demand is increasing rapidly both home and abroad.
Here are four names I like in the aerospace & defense group and why they look good right now.
As I wrote yesterday, Lockheed' s older F-16 jet is considered a front runner in the Indian Air Force's potential $15 billion order for 110 fighter aircraft. Lockheed also produces the more modern (and stealth capable) F-22, and F-35 fighters. Both of these fighters are professionally thought to be effective against Russia's S-400 long range air defense missile system. That system is currently deployed in western Syria. Last week, Lockheed also won a $247 million contract from NASA to design and build an experimental aircraft that could operate without creating a traditional sonic boom. My price target: $375.
First off, should the president decide to strike Syria without the use of American pilots, guess who produces the Tomahawk missile? That's right. These guys. On top of that, you might have noticed that two weeks ago, Poland agreed to spend $4.75 billion on RTN's Patriot missile defense system. By the way, this is the largest weapons deal in the history of Poland. Russia's annexation of the Crimean peninsula has not been lost on this former Warsaw Pact nation.
In addition to increasing the dividend, Action Alerts PLUS holding Raytheon announced in late March that under the Department of Defense's DARPA program, it was developing technology that could control swarms of both air-based, and ground-based drone vehicles that might be launched using a "drag and drop" visual interface. My price target: $245.
This is one firm where we have already seen cash flows and margins improving. GD is also another defense name that increased their dividend in March. Think the Navy gets some love in the 2018 federal budget that earmarked $654 billion for the Pentagon? Me too. Know who runs the Virginia class submarine program? General Dynamics. In fact, the Navy just awarded a $696 million modification to that program for 2019.
One worry here is exposure to China. China is expected to be the hottest market for business jets over the next couple of decades, and General Dynamic's Gulfstream is the most popular business jet in that nation. Canada's Bombardier BDRBF is number two in that market, and eager. This will be a risk through the March 15 tariff hearing in Washington. My price target: $245
The stock has performed spectacularly since being impacted by the negative press regarding the Spruce Point analysis in mid-March. This calendar year, Kratos has landed at least $187.7 million in a series of awarded contracts, the details of which are at times murky due to the nature of the business. Though Spruce Point was correct in its assertion that the firm has gone through "multiple reinventions now hyping drones," it is just that, the elite level unmanned drone business, that is poised only to grow at this point, in my opinion.
Total debt is down significantly from fourth quarter 2016. Cash and equivalents have grown more than 85% over that time. Both the Current and Quick ratios are above 2.0, meaning Kratos is able to meet obligations, all while EBITDA and operating margins have grown significantly. P.S. The retail crowd can afford to play this name. My price target: $14.
I am personally long the four names above, but there are many attractive names in the group. A bit much for you? There are also ETFs that cover the space.
At the time of publication, Guilfoyle was long LMT, RTN, GD, KTOS equity.