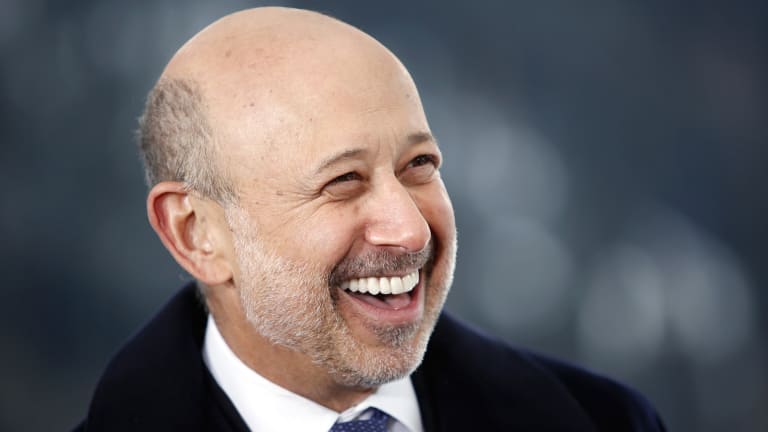 4 Books on Goldman Sachs CEO Lloyd Blankfein's Nightstand
CEOs approach summer reading a bit differently than the rest of us, or at least Goldman Sachs' CEO Lloyd Blankfein does.
NEW YORK (TheStreet) -- When most of us pick our summer reading lists, we choose light reads -- books that are entertaining enough for a long car ride but aren't so dense they keep us from popping our head up to look at the ocean every once in a while.
Goldman Sachs (GS) - Get Goldman Sachs Group, Inc. (GS) Report CEO Lloyd Blankfein approaches his summer list somewhat differently. He is an avid history reader, though many of his picks focus on technology and innovation. Hardly surprising, considering this year's shareholder meeting was held in San Francisco, an area which he says is "a major -- not the only one -- but a major locus of technology and innovation."
In a podcast interview with Jack Siewert, Goldman Sachs' global head of corporate communications, Blankfein listes his top reads for the summer. No pressure if you can't make it through the list -- Blankfein admits that even he doesn't always make it through his list, and he has been working on one of the books for 18 years.
The Wright Brothers -- David McCullough
Among the books Blankfein discussed was this one, released in May and written by Pulitzer Prize-winning historian David McCullough. The book recounts the stories of Wilbur and Orville Wright, who flew the world's first motor-powered airplane in 1903, as they taught themselves flight theory through correspondence with the Smithsonian, then "repeatedly risked life and limb in pursuit of their goal -- including when Orville fractured a leg and four ribs in a 75-foot plunge to the ground," according to Amazon.
Dead Wake: The Last Crossing of the Lusitania -- Erik Larson
Just when Blankfein thought he knew everything about the Lusitania, the ocean liner whose sinking off the Irish coast helped draw the U.S. into World War I, Larson came out with a new book.
"He's a writer who makes these narrow events -- gives a lot of texture to them and makes them feel very vivid," Blankfein explained. More than 1,100 people, including more than 100 Americans, were killed when the Lusitania, one of the fastest ships of its day, was torpedoed by a German U-boat in May 1915.
Although the German embassy had warned American passengers in a newspaper notice when the Lusitania sailed from New York that the German navy was targeting British ships, declaring that passengers embarked on the voyage "at their own risk," the attack sparked public outrage in the U.S. and helped convince President Woodrow Wilson to end his policy of neutrality.
Larson's account of the ship's last voyage illustrates "his gift for seducing us with history and giving it a human face," according to an Amazon review. "Dead Wake puts readers right aboard the famous Cunard liner and keeps them turning the pages until the book's final, breathless encounter."
The Discoverers -- Daniel J. Boorstin
A sweeping history of humankind's exploration of Earth, this book has been on Blankfein's reading list for 18 years, and he admits it may be another 18 years before he finishes it.
Although The Discoverers easily stands on its own, it is technically the first entry in a trilogy by Daniel Boorstin that also includes The Creators and The Seekers, according to Amazon. "To call it a history of science is an understatement," Amazon adds. "This is the story of how humankind has come to know the world, however incompletely."
Boorstin's premise ultimately relies "on what he calls 'illusions of knowledge,'" Amazon says. "If we think we know something, then we face an obstacle to innovation. The great discoverers, Boorstin shows, dispel the illusions and reveal something new about the world."
The Creators -- Daniel J. Boorstin
If Blankfein makes it through "The Discoverers" this summer, he said he'd like to tackle Boorstin's next book, The Creators. (Should we tell him that The Discovers and The Creators are only the first two books in Boorstin's trilogy? He may want to add The Seekers to his list...)
"Boorstin knows that good history demands good writing, and his prose makes this big book easy to absorb," according to Amazon. "'This is a story,' he writes, 'of how creators in all the arts have enlarged, embellished, fantasized, and filigreed our experience' -- an apt description of the role art plays in our life and an equally apt description of the way Boorstin interprets it for readers."