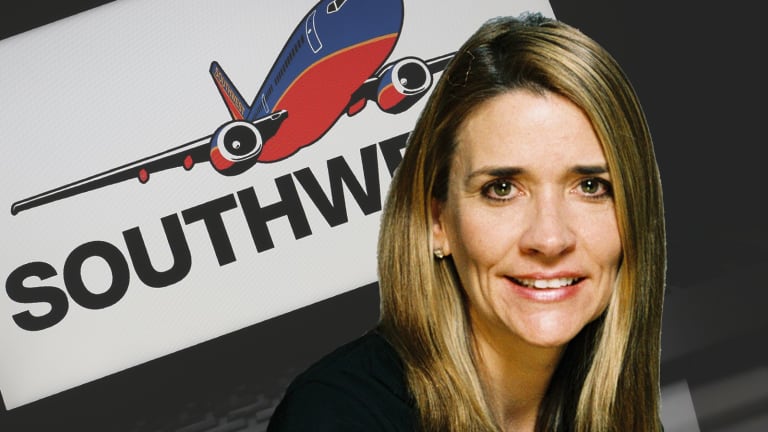 4 Biggest Mistakes Wall Street Makes When It Looks at Airlines
Southwest, Delta and JetBlue have all sat in Wall Street's doghouse recently, a result of pursuing strategies that seem to make sense even if analysts don't like them.
NEW YORK ( TheStreet) -- Right now, Wall Street isn't happy with the airline industry.
After three years of generally steady gains, industry shares tumbled last week, reflecting concerns over pricing and capacity. Airline shares fell 5% to 10% and about $12 billion in market capitalization was destroyed.
The decline shows that Wall Street analysts and investors definitely have an effective way of making their concerns known. But that doesn't mean Wall Street is always right.
Rather, analysts are so narrowly focused on their favorite topics -- which include capacity restraint and ancillary revenue growth, as well as the current burning debate over which is more important, revenue per available seat mile or profit margin -- that they sometimes seem to miss the bigger points, which are that at times airlines must seize growth opportunities and that customer amenities matter, even if they cost money.
Here are four recent examples, starting with the most recent, of cases in which Wall Street seems to have made or is making misjudgments.
Southwest Growth at Love Field
Analysts widely view Southwest's (LUV) - Get Report growth at Dallas Love Field as a negative.
Arguably, Southwest has been performed better financially than any airline in history. It has never sought bankruptcy protection. It has never laid anybody off. Its employees are among the industry's highest paid. In March, it paid its 154th consecutive dividend.
Nevertheless, Southwest shares declined 12% last week, largely due to projected Love Field growth.
The growth reflects the October 2014 expiration of the Wright Amendment.  The law took effect in 1980 and prohibited nonstop flights from Love Field to most U.S. destinations. It initially allowed flights only to Texas, Oklahoma, New Mexico, Arkansas and Louisiana. Later, Missouri, Alabama, Kansas and Mississippi were added.
CEO Gary Kelly began calling for its repeal in 2004. A phase-out was negotiated in 2006. Ever since then, Southwest has been saying it would expand service at Love Field when the law expired, and that is exactly what happened.
Remarks made Tuesday by Southwest CEO Tammy Romo, who spoke an in investor conference, triggered the shares' decline, even though Romo said the new flights are performing well.
"The demand is very strong for those (new) flights," she said. "We have 20% of (capacity) in developmental markets, largely at Love Field. The fact that we are able to generate such stellar margins on that capacity, with Love Field at a very high level (means) we are confident in the capacity we are adding at Love Field."
Analysts said if you want to grow at Love Field, don't grow overall capacity. Just eliminate your worst-performing routes and move the airplanes.

Delta Growth in Seattle
Travel between the U.S. and Asia is an obvious growth area. And for the big three U.S. airlines, the operating model demands a hub that can collect enough passengers to enable profitable flights to various destinations.
The best U.S. West Coast hub is San Francisco, where United (UAL) - Get Report is long established. For years, that has left Delta (DAL) - Get Report and American (AAL) - Get Report , as well as United, fighting it out at Los Angeles International Airport, a place where nobody can win.
The problems with LAX are that airport capacity is too limited for any U.S. carrier to build a real hub, while the many foreign carriers often set pricing below where U.S. airlines would like to set pricing.
Seven years ago, I was on an airplane with Glen Hauenstein, now Delta's chief revenue officer and executive vice president, who built what is now United's hub in Newark and then helped remake bankrupt Delta into what has become the most successful U.S. airline. Hauenstein pointed to the map in the inflight magazine and said Seattle is the best place in the U.S. for an Asian hub.
Among the advantages: It is 36 minutes closer to Tokyo Narita than SFO, it is closer to Northern China than any other mainland U.S. airport and it has fewer weather problems than SFO. You don't have to agree that SEA is better than SFO to see the logic --there is room for both.
Two years ago Delta started to build a Seattle hub, triggering a battle with Alaska (ALK) - Get Report, which already had a Seattle hub, albeit one with no service to Europe or Asia. Wall Street disapproved of Delta's buildup.
The criticism reached a crescendo on Delta's October 2014 earnings call, during which JPMorgan analyst Jamie Baker declared, "When you add capacity, particularly into (other airline) hubs, it diminishes shareholder confidence, it suggests a lack of discipline, and in my opinion, it jeopardizes the likelihood of earning a multiple closer to that of high-quality industrial transport.
"So I know it may be difficult to quantify, but do you ever stop before you announce a route and just ask, or maybe run it past others: What if this destroys tens of millions of dollars of shareholder value by robbing me of a better earnings multiple?"
Delta CEO Richard Anderson responded, "I think you are in an area that is in some respects not appropriate for an earnings call. But I will just say this: Look at our results. I don't think there is a more disciplined approach to the deployment of capital in this industry anywhere in the world."
Recently, it seems, Delta has slowed its Seattle growth. At the same conference where Romo defended Southwest's Love Field growth, Alaska CEO Brad Tilden said, "It looks like the first quarter is the high water mark in terms of (Delta) capacity adds ... it feels to us like things are settling down a bit."
If this fight is over, it seems to have turned out that Seattle is big enough for two profitable airlines to operate successful hubs -- not exactly what Wall Street anticipated.
Southwest Bag Fees
Beyond the capacity discipline enabled largely by consolidation, perhaps the most important factor benefiting the 21st century U.S. airline industry has been ancillary revenue.
It is not generally known that the first major U.S. airline to impose a bag fee was United, which decided late in 2007 to charge passengers $25 to check a second bag. In 2008, American came up with the idea of charging for the first checked bag.
Six years later in 2014, ancillary revenue from a la carte services, primarily charges for bags and select seats, brought $5.4 billion in revenue to the seven major airlines, according to IdeaWorks.
Southwest has largely stayed away from this party.
That has caused angst among airline analysts, although they have largely backed off recently. Perhaps that reflects the 2014 performance of Southwest shares, which gained 124%, topping all the companies in the S&P 500. Or perhaps the shares performed well partially because the analysts backed off.  
Of course, falling oil prices were the biggest factor. But Southwest's share price performance is proof that you don't always have to obey Wall Street to get ahead.
At Southwest media day in September 2014, CEO Gary Kelly was asked whether Southwest might end its "bags fly free" policy.
"That debate's long ended," Kelly responded. "You see the results that we have, which are affirmed by all the research that we do in marketing that say if we charged for bags, the defection rate of our customers would be such that it would more than wipe out the bag fee revenue."
Kelly noted that Southwest's market share grew after other carriers began charging for bags. The value of that increase was about $1 billion, he said.

JetBlue Amenities
Flying on JetBlue last week, I momentarily thought that the carrier had dispersed with its long-time practice of distributing free cookies and snacks to passengers. I had forgotten that the cookies and snacks are served following the beverage service. I wondered whether JetBlue would be able to maintain its image as passenger-friendly if it did away with the practice.
JetBlue would still have free TV and more pitch at every seat: my E190 had 32 inches of legroom, compared with 31 inches on a US Airways E190. A JetBlue Airbus A320 has 34 inches, compared with 32 inches at US Airways.
It is exactly these amenities that distinguish JetBlue in a way that passengers like and Wall Street dislikes.
In February, JetBlue CEO Dave Barger departed under pressure from Wall Street. Now the carrier is developing a plan that is going to try to keep both Wall Street and passengers happy.
Partially in anticipation JetBlue shares have risen 29% year to date, leading the airline industry.
It's too soon to say whether new CEO Robin Hayes can keep everybody happy.
An interesting exchange occurred on JetBlue's first-quarter earnings call, when Chief Financial Officer Mark Powers discussed the success of Mint, the low-cost premium trans-continental product that Barger introduced in June 2014.
Powers said, "Our goal was to go in there and (reduce) prices significantly, which is what we have done -- that's why it's so successful." Mint revenue per available seat mile grew 20% in the first quarter. Mint pricing starts at $599 one-way.
"We have gone through rounds of fare increases for Mint based on the demand we're seeing," Powers said. "We have flights sold out several days before departure. (So) you think about opportunities to increase price and create availability." Theoretically, higher pricing would result in increased availability of seats closer to the time of departure.
But JetBlue has its limits. Before Mint, "you would routinely pay $2,200 or $2,500 each way," Powers said. "We don't want that. We have no aspiration ... (That's not) what JetBlue is all about."
Maximizing ticket prices may not be what JetBlue is about, but it is very definitely what Wall Street is about.
The showdown may come as soon as JetBlue passenger revenue per available seat mile isn't rising quite as quickly as Wall Street would like.
Sorry, no guess here on who will win. Only a reminder: Wall Street is not always right.
This article is commentary by an independent contributor. At the time of publication, the author held no positions in the stocks mentioned.