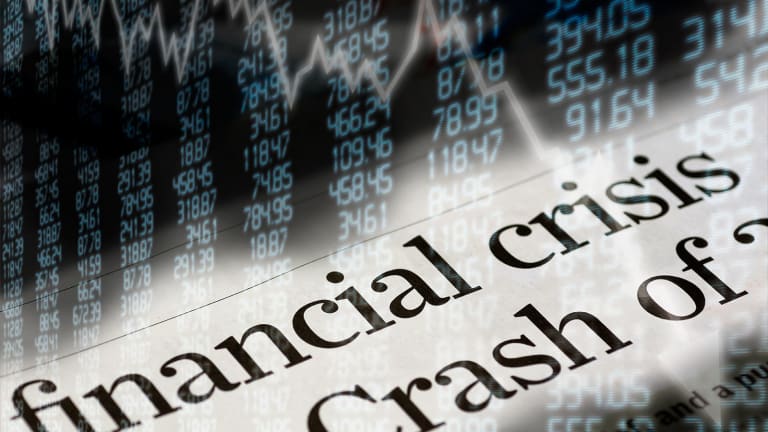 4 Biggest Boomerang Stocks After Black Monday
The members of the Dow Jones Industrial Average that rebounded the most sharply from a Black Monday sell-off include Johnson & Johnson, Apple, United Health Group and Visa.
NEW YORK (TheStreet) -- If you feel like you've stepped through Alice's looking glass and wound up in Wonderland, with U.S. markets rallying after a sell-off just one day earlier that earned the nickname "Black Monday," you're not alone.
The Dow Jones Industrial Average, an index of 30 blue-chip stocks that fell as much as 1,089 points during the worst of Black Monday's sell-off, is now up 384 points, or about 2%. Here's a look at the four member companies that made the sharpest turnarounds on Tuesday from their lows the day before:
1. Johnson & Johnson
Health-care products maker Johnson & Johnson (JNJ) - Get Johnson & Johnson (JNJ) Report rebounded 14% from its Monday lows, tying both Apple and United Health Group.
"When we think about Johnson & Johnson, we peg their fair value at $99, and the stock closed at $92, after pulling back a bit," Damien Conover, an analyst with Morningstar, said in an interview. "We think the stock is undervalued with the current movement. This is a very diversified, competitive firm that should be able to generate some growth despite macroeconomic push back."
Johnson & Johnson has many "inelastic qualities," a market term for demand that does not easily diminish when prices change, according to Conover. Its shares had climbed 2.4% to $95.01 at at 11:21 a.m. in New York.
"As the market may push back, there are demands here that will continue to be needed," he said. "I can't think of a more diversified company in the health-care space than J&J. They compete with the 'Big Pharmas,' and they also compete with some of the big device companies, also some of the big consumer brands."
2. Apple
While investors have been concerned about Apple's (AAPL) - Get Apple Inc. (AAPL) Report performance in China, CEO Timothy Cook told TheStreet's Jim Cramer in an e-mail on Monday that the Cupertino, Calif.-based company saw strong growth there in July and August.
Cook had previously warned on the company's fiscal third-quarter earnings call that a stock-market selloff in China could "create some speed bumps in the near term." 
As of 11:21, Apple had climbed 5.8% to $109.09 in New York.
3. United Health
United Health Group (UNH) - Get UnitedHealth Group Incorporated Report   led by CEO Stephen Hemsley, is the parent company for insurance provider United Healthcare and health information and technology provider Optum. The company, which introduced a Health4Me mobile app this year that lets customers pay medical bills with their smartphones, reported sales of $138.2 billion in the year through June 30, according to data analyzed by Bloomberg.
Its shares were trading at $113.93 at 11:22 a.m.
4. Visa
Visa (V) - Get Visa Inc. Class A Report came in last among the four biggest boomerangs, opening up 13% from its Monday low, largely based on the relative strength of credit cards in economic turmoil, according to David Koning, an analyst with Robert Baird.
"In a tougher economy, we see the shift to debit and credit cards around the world," he said in an interview. "If retail sales struggle, the penetration into debit and credit cards will still continue. And a big portion of their spending is on advertising, and in a tougher economy, advertising costs tend to drop."
Visa also tends to benefit from foreign-exchange volatility, Baird said. The credit-card processor, which posted sales of $13.5 billion in the 12 months through June 30, had climbed 2.7% to $70.18 at 11:22 a.m. in New York.