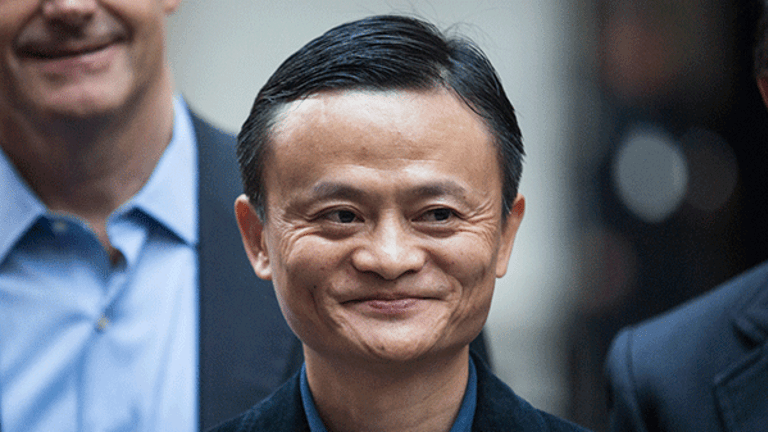 4 Big Hedge Funds Loaded Up on Alibaba Shares in Second Quarter
Some big investors have recently gotten bullish on the Chinese e-commerce giant.
Alibaba  (BABA) - Get Free Report  is soaring and everyone seems to want a piece of it. 
Shares of the Chinese e-commerce giant are trading up 77% year-to-date to $155.67 on Tuesday morning. The company told investors it predicts up to 49% revenue growth over the next year and $1 trillion in gross merchandise value for 2020. According to recent SEC filings, four large hedge funds disclosed new stakes in Alibaba in the second quarter. 
Billionaire Dan Loeb's Third Point bought 4.5 million shares of the company, which would have a current net worth of about $700 million, or 0.1% of Alibaba. Previously, Third Point sold all 10 million shares of Alibaba that it owned in early 2015 for about $1 billion, but started adding back to its position in late 2016. In its second-quarter letter to shareholders, Third Point noted that Alibaba is impressive because it has surpassed Third Point's estimates for gross merchandise value (GMV), revenue and earnings, and has also updated its advertising options. 
"We view these changes as an important catalyst for meaningful revenue acceleration over the next few years," the firm wrote. "Combined with an attractive multiple, we believe now is the time to own Alibaba again."
In addition to Third Point, David Tepper's Appaloosa Management disclosed a new 3.7-million share stake in Alibaba, Julian Robertson's Tiger Management reported a new stake of 214,000 shares, while Stan Druckenmiller's Duquesne Capital disclosed a new stake of 710,000 shares. 
The SEC requires large investment companies to disclose their holdings within 45 days after the end of each quarter, but does not necessarily reflect their current ownership stakes. 
The newly disclosed stakes come ahead of Alibaba's 2018 first quarter report, due out before Thursday's market open. Analysts are expecting the company to report earnings of 92 cents per share on $7.02 billion in revenue.
More of What's Trending on TheStreet:
Warren Buffett Dumps GE Stake to Invest in a Lender With GE Roots