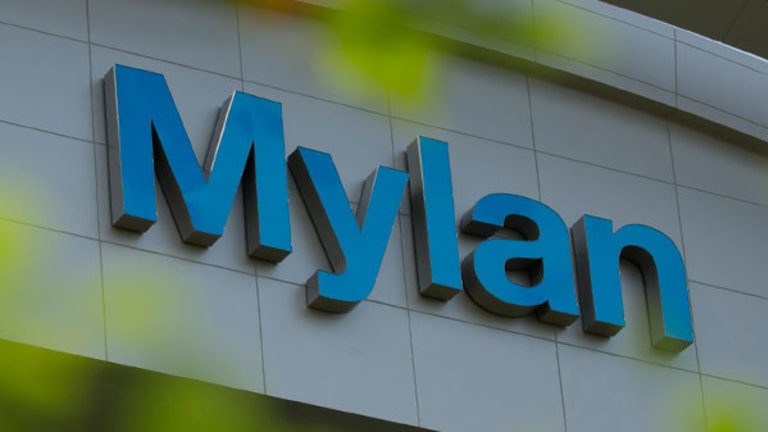 3 Troubled Companies and How to Play Them in the New Year
The share prices of Mylan, Sears and Endo International fell dramatically in 2016, and the companies face significant challenges ahead.
On a day of light economic news, the three major indices fell slightly Friday. But they finished the year in the black as the Dow Jones Industrial Average rose more than 13% year to date, the S&P 500 was up almost 10% and the Nasdaq rose 7.5% in 2016. It was a better than average year for the markets. 
How 2017 unfolds remains uncertain. Some experts believe the downward pressure in evidence Friday will continue. Investors will want to be prepared. Yet they may also want to look out for bargains. Mylan (MYL) , Sears Holdings (SHLD) and Endo International (ENDP) had a rocky 2016, to say the least.
Each stock rose in Friday trading. Is that a harbinger? 
Of the three Mylan looks like the best option. To be sure, the generic pharmaceutical company faces multiple lawsuits related to alleged price gouging for its EpiPen product, a portable syringe that can be used to treat severe allergic reactions. But the company is about to release three potential big-selling therapies and has a robust product development pipeline. 
Sears and Endo face deeper-rooted problems, particularly the former which has been unable to keep pace with e-commerce Web sites. 
Mylan
Shares of beat-up Mylan rose by more than 2%. The move higher followed the announcement that it will soon launch generic versions of Concerta, Cerebyx, and Zovia. Of the three, Concerta, a drug made by Johnson & Johnson to treat Attention Deficit Hyperactivity Disorder (ADHD), had annual sales of $1.59 billion as of October 2016. Cerebyx is used to control or prevent seizures. Zovia is an oral contraceptive. 
The new generic should help Mylan from its EpiPen debacle, which tainted the brand, particularly its management team, as greedy. The company has what appears to be a healthy product pipeline.
Mylan still has more than 240 drug application in the FDA approval pipeline and 41 one those have first-to-file opportunities that represent $32.5 billion in annual branded sales.
If Mylan can stay out of the headlines and off politicians' radar, the company could be profitable moving forward as new generic drugs come on line. Shares are trading high on a trailing price to earnings ratio of 75 times, but if analysts estimates are close to actual earnings, the forward looking P/E ratio sits at just 7. Mylan may not be a bad buy, if you can accept a few negative headlines moving forward.
Sears Holdings
Sears Holdings rose 10% on Thursday and again slightly on Friday, but shares of the battered retailer fell 55% in 2016. The pop on Thursday came after Sears announced it had lined up a new credit facility for $200 million with an option to be increased up to $500 million.
This agreement is a credit promise, which can help Sears convince its vendors that it will be able to pay for goods and services. But one analyst from Moody's believes the company will need to secure roughly $1.5 billion to make it through 2017. This figure is based on how much money the company has lost over the past few quarters.
While management believes Sears can rebound by closing unprofitable locations, the company faces a hard task in the coming months and beyond. Sears has struggled to keep customers, let alone, lure new ones. 
Investors should stay away from Sears, unless it is to short the stock.
Endo International
Endo International shares rose more than 4.5% on Friday, but the stock ended down 74% and was the dog of the S&P 500. Investors may have simply been bargain shopping.
Endo has been the target of nearly 60,000 lawsuits related to product liability. It has settled 49,000 of the cases. Meanwhile, the Department of Justice is investigating the company related to collusion on its pricing of generic drugs. Endo is accused of violating antitrust laws by paying other generic companies to delay the launch of their generic drugs.
Revenue is expected to be flat in 2017. 
But Endo has a number of promising drugs in its pipeline, and the company's new CEO, Paul Campanelli, who is intent on changing investor sentiment. It's difficult to imagine the stock falling further, so the risk of investing in Endo is low. Still, the company faces a lot of challenges in the near future. It's best to stay away. 
---
Perhaps you're like me and agree Endo is a little too risky, but still want to put some money to work. Well you are in luck, because here is a list of seven companies that would be worth owning, no matter what kind of investor you are. With many calling for a coming crisis, now is the perfect time to make sure your portfolio is protected. Each one of these powerful, yet overlooked companies barely notices when the market tumbles. And they'll skyrocket when it rebounds. Get their names here before it's too late.
The author is an independent contributor who at the time of publication owned shares of Johnson & Johnson and Mylan.