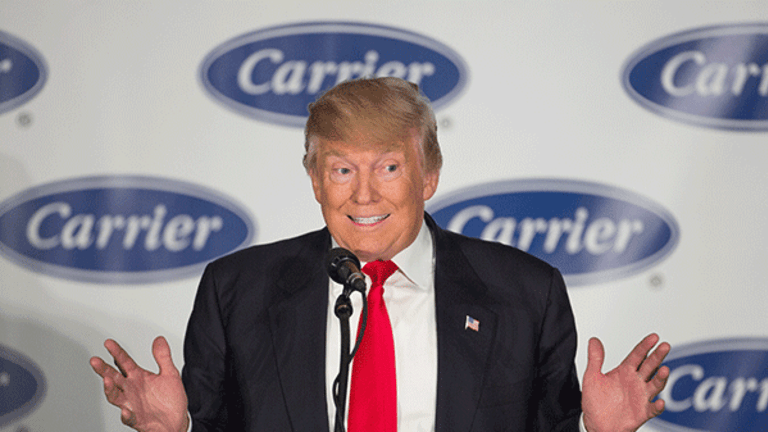 3 Stocks That Will Perform Well Under a Trump Presidency
Energy infrastructure is a 'big theme' that Hightower is focused on with the incoming Trump administration, said David Bahnsen, CIO of HighTower Advisors' The Bahnsen Group.
Editors' pick: Originally published Dec. 28.
When formatting a playbook to benefit from President-elect Donald Trump's administration, investors should look at Spectra Energy, (SE) Omega Healthcare, (OHI) and Virtus Emerging Markets Opportunities Fund, (HEMZX) David Bahnsen, CIO of HighTower Advisors' The Bahnsen Group, said on CNBC's "Squawk Box" on Wednesday morning. 
Spectra Energy will benefit from the executive branch "simply approving some of the projects that had previously been held up in an Obama administration," he said. In addition, it should benefit from its upcoming merger with Enbridge, (EEP) and it has "incredible dividend coverage." 
The energy department should be a "friendlier administration" under Trump, Bahnsen added. "Our friends at Strategic Research have identified 24 projects, not all of them specific to Spectra, but there are low hanging fruit to the tune of 24 different projects that could be green lighted, representing more of a build out - a lot of MLP pipelines and of course greater production capacity as well." 
Although the REIT sector hasn't been a part of the Trump rally, Omega Healthcare should perform well because it doesn't rely on just one or two particular operators, he claimed. The company is "really diversified" and it has an 8%-plus yield that is "totally covered from cash flows." 
Last, Virtus Emerging Markets is a good buy despite being inversely correlated to the strong dollar, Bahnsen said. This strategy is for people who are "focused on bottom-up company selection" or "good individual companies with high pricing power," rather than a "big commodity beta play." 
"It always overcomes dollar headwinds through a few months, becomes a great bargain," he explained.