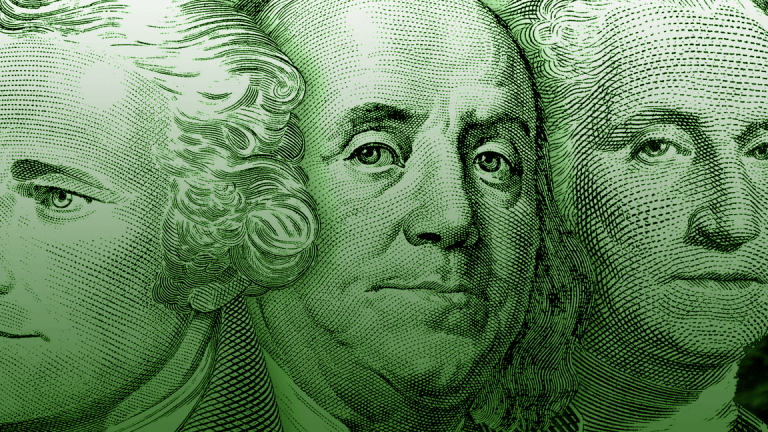 3 Simple Reasons to Buy Bank Stocks With Juicy Dividends
Bank stocks saw a mixed reaction to their second quarter earnings results. But with the outlook for banks still strong, investors should go hunting for the best names with the best dividends.
Bank stocks are poised to put money into your pocket longer-term. 
The combination of rising interest rates (which supports profit margin expansion for banks), attractive dividends and cheap valuations makes banks a worthwhile sector to bet on, suggests Goldman Sachs analyst Richard Ramsden.
Others on Wall Street agree.  
"It's getting harder to justify selling the banks because they are so cheap," says TheStreet's founder Jim Cramer, who is bullish on Citigroup (C) , Goldman Sachs (GS) and JPMorgan Chase (JPM) in the Action Alerts PLUS member club. The three banking giants have a solid average dividend yield of 2%.
"If you want to buy some individual stocks, I look at the banking sector," said Lee Munson, Chief Investment Officer of Portfolio Wealth Advisors.
Munson told TheStreet he is bullish on banks primarily as there are no signs of a U.S. recession on the horizon. 
Here are the three reasons behind Ramsden's call. 
Net Interest Margin Expansion
Ramsden thinks bank profit margins have only just started their upward trend. 
Writes Ramsden: "We expect net interest margins to expand a further 10 basis points through 2020, driven by: (1) the June Fed Funds rate hike; (2) the forward curve predicting another hike in 2018, two more in 2019, and roughly one more in 2020; (3) strong investment banking backlogs and the impact of tax reform, which we expect will drive higher loan growth; and (4) limited repricing in the core retail deposit franchise, and commercial and wealth management (WM) deposit betas already nearing normalized levels."
Bank of America (BAC) has the best opportunity to boost its net interest margin thanks to rising interest rates, Ramsden says.
Watch what The Deal's co-editor Michael Brown thinks about the outlook for M&A following second quarter bank earnings season. 
Cost Cuts and Tech Innovation
Banks have stayed lean and mean during the post Great Recession economic recovery. That focus on controlling costs, and reinvesting in technology, should continue to aid profits in the quarters ahead.
"Banks generated 110 basis points of efficiency gains, and the digital transformation should prolong this trend: banks generated roughly 5% year over year revenue growth and only 3% expense growth this quarter," points out Ramsden. "We expect that this operating leverage should not only continue, but potentially accelerate as tech innovation improves efficiency of the retail banking model through: (1) expense savings; and (2) scale benefits in the form of loan and deposit market share gains."
Cheap Valuation
Given their solid outlooks, Ramsden hints that it doesn't make too much sense that bank stocks continue to trade below historical valuation norms.
"Banks remain relatively inexpensive, trading at 68% of the current S&P 500 undefined multiple vs. 75% historically," says Ramsden. We think that valuation supports further upside given that second quarter earnings largely confirmed confidence in 2019 estimates."
Wondering how Jim Cramer is playing the banks? Here's a quick snapshot into the Action Alerts PLUS member club.