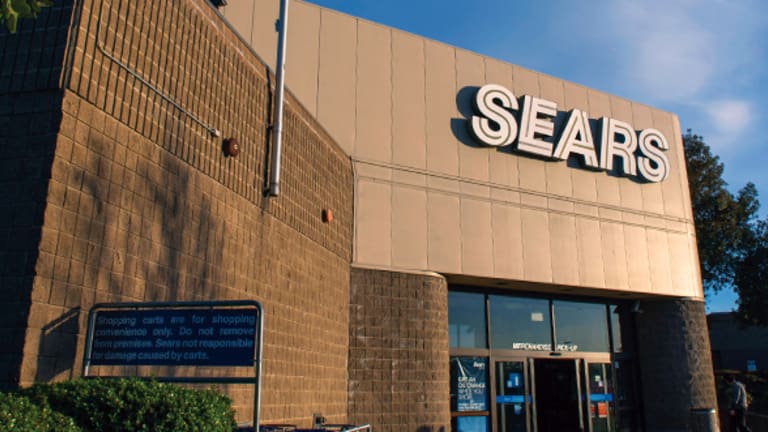 3 Signs Sears Will Deliver Yet Another Financial Disaster on Thursday
The second quarter will likely be another terrible quarter for the struggling retail chain.
With just a single Wall Street analyst -- Greg Melich at Evercore ISI -- now covering beleaguered Sears Holding Corp. (SHLD) , getting a handle on what the struggling department store retailer's quarterly results will look like may seem challenging to say the least.
But it really isn't if one gathers up clues from the plethora of Sears' rivals that are eating the company's lunch quarter after quarter.
TheStreet takes a brief moment to read the tea leaves surrounding Sears ahead of its second-quarter earnings release on Thursday morning, which is likely to show yet another staggering loss amid pressured sales. And if you're not inclined to put stock in the comments made by rival retail chains, perhaps you should just listen to Mr. Market's musings on how Sears is doing at this point in the year -- shares of Sears have cratered to the tune of 24% year-to-date, badly lagging the S&P 500's 7% gain.
Sears store closures appear to be hurting its appliance sales.
1. Sears is getting pummeled in its one-time stronghold. 
Sears continues to point out in its annual report that it's a "leader" in the home appliance category. All signs suggest Sears was anything but a leader in appliances during the second quarter, however, as a result of its widespread store closures and pressure from several competitors.
Home Depot's same-store appliances sales spiked by a double-digit percentage during the quarter, spurred by people investing in their homes amid rising home values and expanded floorspace for offerings from Whirlpool (WHR) - Get Free Report and KitchenAid. "There is a very large retailer headquartered in Chicago that is donating market share," Home Depot Chief Financial Officer Carol Tome told TheStreet in an interview when asked where she thinks the home improvement retailer was taking share from in appliances. Sears is headquartered in Chicago. 
Elsewhere, Best Buy (BBY) - Get Free Report notched an 8.2% same-store sales increase in appliances. And a new entrant into the appliance business, J.C. Penney (JCP) - Get Free Report , also saw strength. "We continue to be very pleased with the excellent results of our appliance businesses," J.C. Penney CEO Marvin Ellison told analysts on an Aug. 12 call, adding that it has seen sales and profit margins in appliances ahead of its expectations.
J.C. Penney is in the process of expanding its new appliance showroom concept to 500 stores nationwide after a successful 22-store test that kicked off in February. The shops are currently in 200 stores, with the remaining 300 set to open by the end of the fall. 
Said Ellison, who is a former top executive at Home Depot, "We know that there will be market share up for grabs with some of the disruption happening with some of the leading appliance retailers in the marketplace." Ellison likely was referring to the disruption being caused by Sears' aggressive store closure plan, which in effect is removing its formerly sought-after appliance offerings from malls.
Share loss for Sears in appliances is nothing new. According to a recent report from market research firm Stevenson, Sears shed an astounding one billion dollars in appliance revenue last year. The sales drop reduced its market share among the top 50 U.S. appliance sellers to 19.5% last year from 23.5% in 2014, putting it in third place behind home improvement retailers Lowe's (LOW) - Get Free Report and Home Depot. The report points out that Sears once held a commanding 40% share of the U.S. appliance market just 20 years ago.
Sears did not immediately return a request for comment for this story. 
Buy any clothes at Sears lately?
2. Sears was probably the odd man out in the summer apparel rebound at the mall. 
The onset of warm weather led to a nice rebound in apparel demand at department stores in the second quarter. At J.C. Penney, its apparel business caught fire thanks to the summer heat spurring sales of cheap private label t-shirts and shorts by St. John's Bay and Arizona, as well as a consistent stream of weekly promotions.
"We were not shy in the first quarter discussing the struggles that we faced in women's apparel and jewelry in the first quarter," said J.C. Penney's Ellison. "And not only did those businesses improve dramatically in the second quarter, women's apparel delivered positive same-store sales in the month of July." 
As for Macy's (M) - Get Free Report , it also highlighted strong apparel sales within its men's, women's and kid's categories during the quarter. The tone around the performance of apparel was similar at off-mall department store Kohl's (KSS) - Get Free Report , too.
But Sears was likely the odd man out in consumers' renewed interest in shopping for clothes at the mall, as ongoing efforts to streamline the apparel it sells in order to cut costs continues to leave it out of key styles and sizes. Apparel remains a "substantial part of our business," Sears reminded investors in its fourth-quarter earnings call back in February. And it was probably a substantial part of the business that under-performed competitors, once again.   
It was a tough quarter for those in the consumer electronics business.
3. Selling consumer electronics was tough for mostly everyone in the second quarter. 
Despite Sears' efforts to streamline the number of electronics it sells to save money -- which has harmed sales over the past two years -- it still does a fair amount of business in the category. With a soft sales trend in electronics already being seen, it's likely Sears experienced continued weakness during the second quarter due to broad industry pressure on electronics demand.
Target's (TGT) - Get Free Reportconsumer electronics business remained a significant drag to same-store sales in the quarter, with sales plunging by a double-digit percentage. Executives called out Apple (AAPL) - Get Free Report product sales being especially tepid, falling by a whopping 20%.
"We have seen continued (good) performance with wearable technology, but it's not overcoming the softness we have seen in mobile [devices], in tablets and in some of the core items," Target CEO Brian Cornell told analysts on a call last week.
Meanwhile, Walmart's (WMT) - Get Free Report sales for its entertainment business at its namesake U.S. stores -- which consists primarily of sales of electronics, cameras, cell phones and movies -- were "soft" during the quarter. Things weren't any better at the company's warehouse club chain Sam's Club.
Perhaps making matter worse for Sears' electronics business in the quarter was Best Buy appearing to gain market share vs. its rivals as it enhanced its website and in-store shopping experience. Same-store sales for Best Buy's U.S. online business surged 23.7%. The company's consumer electronics business, in particular, saw same-store sales rise a solid 4%. 
Apple is a holding in Jim Cramer's Action Alerts PLUS Charitable Trust Portfolio. Want to be alerted before Cramer buys or sells AAPL? Learn more now.