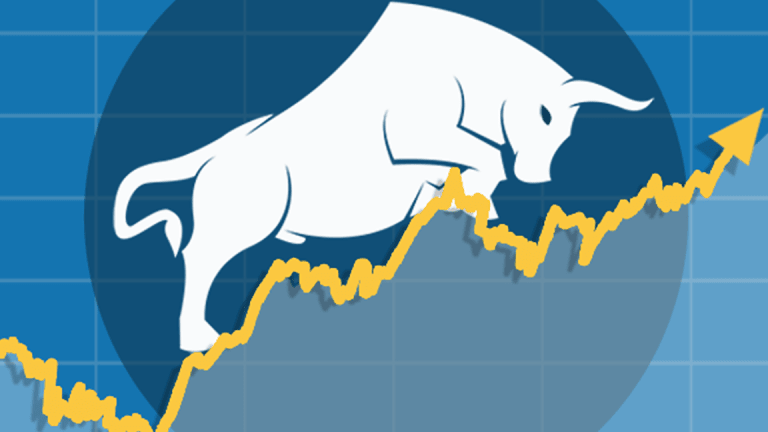 3 Reasons Why Stock Markets Are Rallying Again
February's S&P 500 correction has been statistically textbook so far -- and the weight of the evidence points to more upside in this rally.
Don't call it a comeback.
After correcting hard earlier this month, the big market averages have been on the mend, rallying almost 7% off their lows a week ago. As buyers and sellers battle it out Thursday afternoon, the big S&P 500 is adding to its spoils, up five straight days in a row.
That's a massive about-face for the stock market, and it's leaving plenty of investors scratching their heads about what's driving the return to rally-mode.
Don't worry, the reasons behind the market's rebound aren't all that mysterious.
In fact, they're indicative of even more upside for the broad market in 2018.
To try and decipher what's going to happen next in the stock market, let's unpack three reasons why markets are rallying again.
1. We're in a Bull Market
The S&P 500 is up 15% in the last year, and almost 80% in the last five years.
That, friends, is what we call a bull market.
Bull markets aren't anomalies or necessarily signs of a looming bubble; in fact, they're normal territory for stocks. Between 1950 and 2013, the S&P 500 has spent around half of all trading sessions within 5% of all-time highs. Sitting within grabbing distance of a new high-water mark is a pretty standard occurrence for stocks in the long-run.
Corrections are normal for bull markets, too.
Corrections are healthy. They're what keep rallies going. And after the nearly straight-up price action, we were due for one. Heading into February, the S&P 500 had gone 511 days without seeing a 2% single-day drop -- that's the abnormal bit.
Recency bias plays a major role in the size of the down-move. After spending so long without meaningfully correcting, investors who anchored themselves to 2017's upward price action simply forgot that stocks can go down, too. So, when volatility started unwinding, people started panicking.
Thing is, in the context of other bull market corrections, the selling we've seen this month hasn't been abnormal.
2. This Correction Wasn't Statistically Abnormal
As I pointed out last Friday, it's not statistically bizarre that we saw so many deeply red days in the S&P 500 this month. While 3% selloff days only make up around 1% of all trading sessions, the S&P 500 is around 60-times more likely to experience another 3% or worse selloff if it's within 20 sessions of another similar-sized selloff.
And that's exactly what happened.
2018's S&P 500 drawdown was still pretty average in terms of post-2008 corrections. And now that the broad market is putting some distance in between where it sits now and its lows, that's looking more likely to remain the case.
3. The Fundamental and Technical Outlooks Support Higher Prices for Stocks
Finally, both the technical and fundamental outlooks right now support higher prices for stocks.
First, the fundamental side of things.
Earnings season has been incredibly strong this quarter, with revenue and profitability growth. Per Zacks:
"Total Q4 earnings for the 362 S&P 500 members that have reported results are up +14.5% from the same period last year on +9% higher revenues, with 78.2% beating EPS estimates and 75.4% beating revenue estimates."
Likewise, the new tax plan is having the two-pronged effect of boosting EPS materially while also providing a major incentive for firms to repatriate cash.
On the technical side, the primary trend in the broad market is alive and well here:
The S&P 500 tested a key trendline support level with its lows last Friday, but only briefly. The broad market rebounded hard off of that level, holding onto their long-term uptrend right now.
Put simply, the S&P 500 got overheated at the tail-end of 2017 (and then practically went parabolic at the start of 2018), and we saw a perfectly normal correction. That doesn't mean that stocks are never going down again. It doesn't even mean that we've seen the last of selling this month. But it does mean that there's nothing particularly troubling about the recent rout in stock prices.
This is still a "buy the dips market" -- stocks have every reason to keep rallying.
We are always talking about markets on Morning Jolt. Check out the archives below. 
This article is commentary by an independent contributor. At the time of publication, the author held no positions in the stocks mentioned.