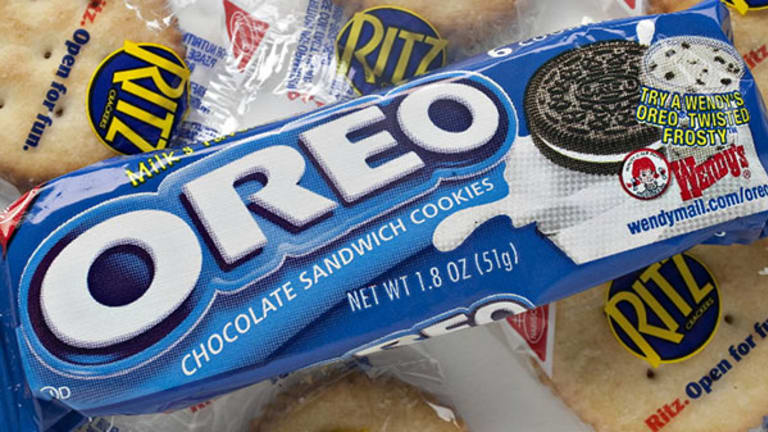 As consumers opt for healthier snacks, businesses in the space, including Mondelez (MDLZ) - Get Mondelez International, Inc. Class A (MDLZ) Report  , have pushed back against the tide. That push-back isn't lost on its longtime CEO and chairwoman Irene Rosenfeld, who's feeling the tug from some shareholders who want a new leader at the helm.
The company engaged Heidrick & Struggles International, according to the WSJ, to review possible internal candidates and then external ones to replace Rosenfeld. Heidrick & Struggles declined to comment.
Among the products that Mondelez makes are Oreo cookies, Ritz crackers and Trident gum.
Here's why Rosenfeld could be on her way out. 
The company still hasn't been sold, or done a major acquisition. 
Under her leadership, the company tried to buy Hershey's (HSY) - Get Hershey Company (HSY) Report for $23 billion last year, but failed because of objections from the Hershey's Trust. Had it succeeded, the acquisition would have gathered a whole host of chocolate bars and snacks under Mondelez's umbrella at a time when Hershey's is trying to make headway abroad.
Meanwhile, in what has been a golden age for deals in the consumer packaged food space, Rosenfield hasn't been able to sell the company. 3G Capital, a major player in the food space via its ownership of Kraft Heinz (KHC) - Get Kraft Heinz Company (KHC) Report , has long been rumored to covet Mondelez. 
Weak sales growth has persisted.
Organic revenue rose a meager 1.3% last year, and only saw a 0.6% increase in the fourth quarter. 
"Sales growth at Mondelez has consistently disappointed since its separation from Kraft [in 2012] and the investment thesis has drifted to margin expansion as management focused attention on productivity," wrote Goldman Sachs analysts in a research note on April 3. "The evolved thesis, however, has recently lost momentum as gross margin stalls and sales growth faded further."
The company was formerly known as Kraft Foods (KRFT) and changed its name to Mondelez International when it split five years ago.
Mondelez has largely been dead money of late.
Shares of Mondelez have risen slightly this year to $44.41, lagging the S&P 500's 5.5% gain. Over the past year, Mondelez' stock has risen about 4.8%, badly under-performing the S&P 500's 15% ascent. 
Even still, Rosenfeld continues to rake in the dough. According to The New York Times-200 Highest-Paid CEO's 2016 list, Rosenfeld earned $18.3 million in total compensation last year, ranking 72nd on its list. 
A spokesman for Mondelez wrote Monday by email to TheStreet: "As you can imagine, we have robust succession plans in place for all executives. That's simply good governance. Chairman and CEO Irene Rosenfeld remains focused on delivering our business objectives and creating value for shareholders."
More from TheStreet:
Cramer: Americans Would Snap Up 'Make America Great Again' Bonds
Trading Strategies: 8 Stocks to Buy If the Fed Keeps Raising Rates
This Is Jim Cramer's Second Quarter Playbook
Focus on Earnings in the Second Quarter, Not Donald Trump's Policies
What will move markets this quarter and how should investors position themselves ahead of time? Jim Cramer sat down with four of TheStreet's top columnists recently to get their views. Click here to listen to his latest Trading Strategies roundtable with them and read their advice for stocks, bonds, forex, tax reform and gold.