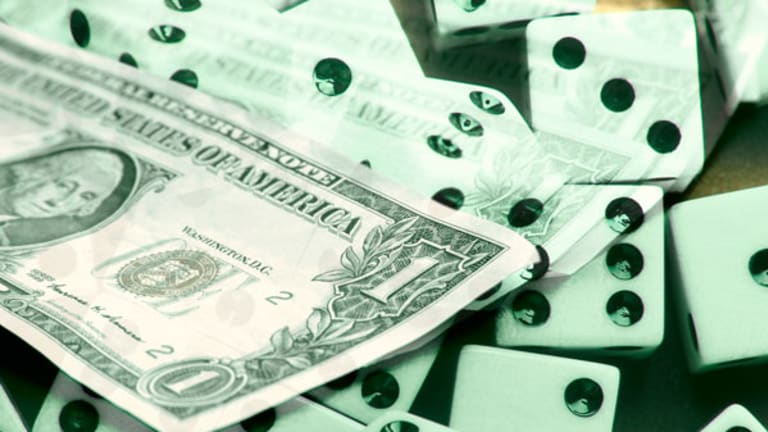 3 Reasons Not to Bet on Casino Stocks in 2011
The casino sector is on the road to recovery, but there are still headwinds facing the casino stocks in 2011.
NEW YORK (
) -- Casino trends have stabilized in 2010, but there are still several headwinds that could blow for these stocks in the coming year.
With the exception of one or two stocks, analysts believe the casino sector has finally bottomed. "The beginning of 2010 was a watershed year for the industry," says William Newby, managing director at Jeffries. "The beginning was still dire, but today there is more than a glimmer of hope for a permanent uptick in business."
But the recovery will be gradual, with a true turnaround not occurring until there's meaningful growth in the housing market and unemployment levels subside, says Alex Calderone, who provides turnaround and crisis management services for the gaming sector at Conway MacKenzie.
>>Online Gaming Bill: Who Will Win?
The worst, it seems, may be over, but that doesn't mean all casino operators will face good times in 2011. Calderone predicts supply will still need to exit the market through deconsolidation (aka the sale of assets) or restructuring (either inside or out of court).
The New Year won't come with some magical elixir to cure those companies that struggled in 2010. In the same respect, casinos that outperformed this year should continue to do so in 2011.
Still there are some potential issues facing casino stocks that could curb the recovery and put the brakes on growth. Here's a look at these headwinds and which casinos will be affected.
Atlantic City: No Recovery In Sight
Atlantic City sticks out like a sore thumb amid the recovery. While the rest of the gaming sector is expected to bottom out, the New Jersey gambling hub faces obstacles that stretch beyond the overall economic recession and decline in consumer spending.
Atlantic City gaming revenues are expected to plunge 10% in 2010, according to PricewaterhouseCoopers, a far bigger drop than most other markets -- which would stretch out what has been three years of declines for the region.
Looking ahead, trends are unlikely to improve in the near term. In fact, PwC predicts that Atlantic City will be the only market where gaming revenues will be lower in 2014 than in 2009.
Increasing competition from nearby markets have accelerated Atlantic City's demise. Pennsylvania, in particular, has been a proverbial thorn in its side. This year the state opened its first casino in Philadelphia and rolled out table games.
Nearby,
Penn National Gaming
(PENN) - Get Penn National Gaming, Inc. Report
opened Maryland's first slot casino in September, and the pending launch of New York's Aqueduct in mid-2011 is also expected to further pressure Atlantic City.
In 2010, one of the most newsworthy events in Atlantic City was the announcement by
MGM Resorts
(MGM) - Get MGM Resorts International Report
that it's divesting its 50% stake in the Borgata Hotel Casino & Spa, which it owns along with
Boyd Gaming
(BYD) - Get Boyd Gaming Corporation Report
. MGM agreed to sell its half after Atlantic City regulators expressed concern over MGM's partnership in Macau with Pansy Ho, whose family was allegedly linked to organized crime in China.
This year,
Pinnacle Entertainment
(PNK) - Get Pinnacle Entertainment Inc Report
also abandoned its development on the Boardwalk, and the development of Revel, which was pegged as Atlantic City's only savior, was suspended.
Looking to revitalize the Boardwalk, New Jersey government has stepped in, and is currently in the process of discussing proposals to create a state-run tourism zone in Atlantic City and scale back casino regulation. Lawmakers are also considering a bill to legalize sports betting and Internet gambling at the state's casinos and horse-racing tracks.
But Moody's Investor Services doubts any of the reforms will successfully revive the troubled Boardwalk. The firm said in a report that these changes could send money "in one pocket, out the other," and in many cases could cannibalize existing properties.
Opening of Cosmopolitan
The Las Vegas Strip is getting yet another new property this month with the opening of the $3.9 billion Cosmopolitan.
The resort-casino, which is owned by
Deutsche Bank
, is scheduled to open on Dec. 15 and to include about 3,000 rooms, a 10,000-square-foot casino, 1,500 slot machines and 83 table games.
But the opening of Cosmopolitan comes at a time when Las Vegas is only just starting to regain its footing. In the second half of the year, Nevada finally saw revenue start to rise. Still, overall Nevada gaming revenue is expected to fall 2.9% in 2010, according to a recent report from PricewaterhouseCoopers.
"Las Vegas is currently hunkered down for a relatively gradual recovery, since experience shows that an upturn in vacations to casino gaming centers tends to lag about 12 to 18 months behind a rebound in the economy," the firm noted.
PwC forecasts that Nevada gaming revenues will begin to recover in late 2011, with mid-single-digit gains expected between 2012 and 2014.
The old school of thought is that the opening of Cosmopolitan could help bolster the Las Vegas Strip, generating traffic at other destination properties.
But while the theory that when a new casino property opens it grows the market may have been true in the heyday of Vegas, it is no longer valid in today's economy, says Calderone. "Cosmopolitan opening is not good for anyone. There's a good chance it will cannibalize
MGM's Bellagio and CityCenter," he predicts.
Las Vegas casinos could be even more at risk, depending on Cosmopolitan's marketing strategy. "If they are overly aggressive with giving out complementaries, other casinos will have to match this offer, which could be detrimental," says Lawrence Klatzkin, analyst at Chapdelaine Credit Partners.
Ultimately, Sterne Agee analyst David Bain says, Cosmopolitan will add too much capacity to high-end room count, which will hurt all the major players on the Strip.
Will Macau Beef Up Restrictions?
There's no denying that Macau was the epicenter of gaming growth in 2010. But this double-digit growth has to end at some point, right?
Most recently, Macau gaming revenue surged 42% in November to $2.2 billion, and the region is on track to surge more than 50% for the full year.
Of course, at this rate, those with Asian operations will continue to outperform, with
Las Vegas Sands
(LVS) - Get Las Vegas Sands Corp. Report
and
Wynn Resorts
(WYNN) - Get Wynn Resorts, Limited Report
being the biggest beneficiaries of Macau strength. But it is becoming evident that these casinos will run into some roadblocks as they look to expand in Macau.
Last week, the Macau government failed to approve Las Vegas Sands' land concession for what has been known as Sites 7 and 8 on the Cotai Strip. The company now has 15 days to apply for a review of the decision and 30 days to appeal the decision.
Las Vegas Sands had already invested about $100 million in the sites, as it has become commonplace for casino operators to build in Macau before final approval is granted.
"
This decision serves as yet another reminder of the unpredictable nature of policy decisions in Macau, something we believe will be a recurring theme in 2011," Wells Fargo analyst Carlo Santarelli, wrote in a note.
There are several reasons why Macau would make the decision not to approve these sites, according to J.P. Morgan analyst Joseph Greff. "We believe the current Macau Chief Executive wants a diversity of casino operators on Cotai versus Las Vegas Sands having a disproportionately large share," he wrote in a note. "It also could signal a preference for non-U.S., more local casino operators to build out on Cotai, especially since
SJM
previously expressed interest in developing. It could also signal that the Macau government would like a more heavily skewed non-gaming facility, as it previously stated that the main goal is to diversify the economy away from gaming."
While Las Vegas Sands still has Sites 5 and 6, construction has been slow due to insufficient labor. The site is expected to open in early 2012.
In another blow, the Chinese government also took some steps last week to tighten lending, which could impact credit to VIP players in Macau. Chinese leaders ordered a "prudent monetary policy" as it tries to fight inflation and curb growth to more sustainable levels.
Back in March the government announced a ceiling for the number of gaming tables and the Secretary reiterated that any amendments to such policy would not come until 2013. The same policy is applied to land grants, according to the Secretary.
"This would put Wynn's stated desire to have a Cotai facility opening in 2015 in somewhat more murky territory as it also does not yet have a land concession for its project," Bain wrote in a note. "We also believe MGM will have a more difficult time utilizing a future Cotai development as a 'story' for its potential Hong Kong Macau gaming IPO."
Investors are optimistic -- perhaps overly so -- about the future of Macau, which has resulted in a run-up of casino operators like Sands and Wynn. It was proven following Macau's decision regarding Sites 7 and 8, that if the Chinese government takes any steps to further curb this growth, stocks of these operators will surely take a hit.
--Written by Jeanine Poggi in New York.
>To contact the writer of this article, click here:
Jeanine Poggi
.
>To follow the writer on Twitter, go to
.
>To submit a news tip, send an email to:
.
RELATED STORIES: