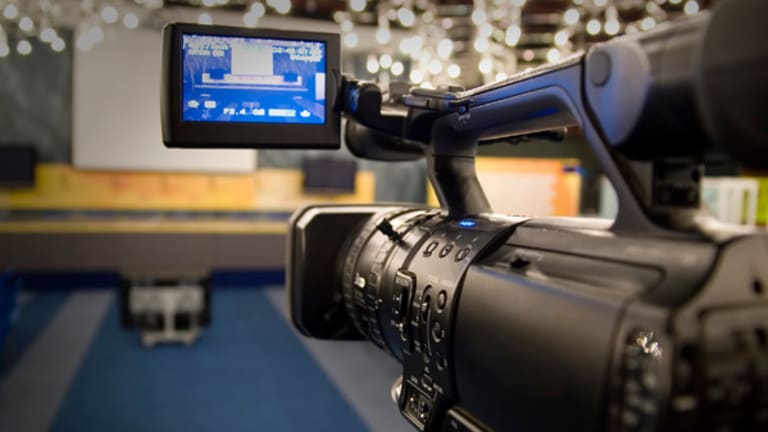 3 Reasons Netflix's Reed Hastings Shouldn't Be Fired ...Yet
Netflix's CEO Reed Hastings is in the hot seat as the company reports third-quarter earnings. But it might be too soon to give him the boot.
Updated with news of Netflix's expansion to the U.K. and Ireland
NEW YORK (
) --
Netflix
(NFLX) - Get Netflix, Inc. Report
CEO Reed Hastings has become the enemy of Wall Street and Main Street.
Not-so-fondly dubbed "Greed Hastings," investors and consumers alike are calling for the CEO's head after
in recent weeks. There are Facebook pages shouting for Hastings to step down and even an "Saturday Night Live" skit poking fun at Netflix's flip-flops.
Netflix CEO Reed Hastings
Netflix's 60% price hike went into effect in September for its popular one DVD-by-mail and unlimited streaming package, and Liberty Starz ended talks to renew its streaming contract, meaning its popular content will be pulled from Netflix next February.
As a result, Netflix lowered its domestic subscriber forecast for the third quarter, predicting 24 million subscribers, down from its prior outlook of 25 million.
Hastings apologized for the price increase earlier in the month, but amid his mea culpa more bad news was hidden. Hastings announced the company would split up its DVD-by-mail and streaming services into two separate businesses, with the DVD segment called "Qwikster" and the streaming division continuing to live under the Netflix banner.
Hastings quickly back-peddled on this plan after subscribers were up in arms over having to separate their movie queues and have two different accounts for DVDs and streaming video.
Yes, Hastings and crew haven't made the best decisions in recent weeks, seeming at times a bit desperate. But it could be too soon to demand his resignation.
"We can't judge him in the short-term," said Sterne Agee analyst Arvind Bhatia. "The jury is still out."
While Bhatia said some of Netflix's recent moves were done in haste, he "applauds the guts and vision."
Bhatia said we can't make a fair assessment of Hastings' leadership in the next six months, but Hastings will need to prove himself in 12 to 24 months, with the key metric being the attrition rate.
Read on for three reasons why Hastings deserves a second chance.
International Expansion
Netflix will expand into the U.K. and Ireland in 2012, the company announced ahead of earnings on Monday.
This will put Netflix in direct competition with Amazon's LoveFilm, better known as "the Netflix of Europe."
There had been speculation of this expansion, and chatter has also emerged that the company could also be eying Spain.
International growth remains a catalyst for the stock, which fell about 58% in the third quarter, as pressure continues to heat up in the U.S.
The company rolled out its streaming service in 43 countries Latin America and the Caribbean during the quarter. During its conference call with Wall Street, Netflix is expected to provide some color on subscriber growth in the region and when Latin America will be profitable.
But the market remains a wildcard. Latin America's economics are significantly different, while content costs will likely be lower. So are consumer income levels, UBS analyst Brian Pitz wrote in a note.
Netflix launched its Canada streaming service last year and as of the end of June boasted 1 million subscribers.
Domestic consumer sentiment may be in the doldrums, so maybe Netflix can make a better impression overseas.
New Content Deals
Netflix has been on a content spree, trying to prove to subscribers that it can provide
after talks to renew its deal with Liberty Starz fell through.
It seems Netflix is making an aggressive push for television shows, which the company said makes up about 60% of its streaming usage.
The company struck a deal last week reportedly worth $1 billion with The CW, which is owned by
Time Warner
(TWX)
and
CBS
(CBS) - Get CBS Corporation Class B Report
. The partnership will allow Netflix subscribers to stream previous seasons of scripted series that air currently until the 2014-2015 season like
The Vampire Diaries
,
Gossip Girl
,
90210
and
Supernatural
. The deal also includes new series like
Hart of Dixie
and
Ringer
.
In the third quarter, Netflix also reached a deal with NBC to receive new episodes of
The Office
and
30 Rock
, expanded its deal with Discovery and secured exclusive rights to the AMC drama
Walking Dead
.
Subscribers have been critical of Netflix's streaming library, saying that it lacks newer blockbuster movies. But Netflix seems unconcerned with this complaint, telling
TheStreet
in August that most users aren't coming to Netflix for new releases but for its variety and instant access to a deep library.
Lack of Alternatives
There's been a lot of talk about the next Netflix killer. While there are certainly possible threats, no one service is quite at a level to single-handedly take down Netflix.
"We believe customers are lacking an alternative option with a comparable service," Bank of America analyst Justin Post wrote in a note.
Amazon
(AMZN) - Get Amazon.com, Inc. Report
has been pegged as Netflix's biggest competitor. The e-commerce giant has been beefing up its streaming offerings, most recently expanding its deal with PBS, striking a deal with Fox and CBS. And the launch of its Kindle Fire tablet earlier in the month, which offers a free trial of Prime Instant Video, puts all of Amazon's digital offerings on a device for only $199.
But Amazon's streaming library will be just 12,000 titles by the end of the year, this compared with more than 20,000 titles in Netflix's streaming library.
With its acquisition of Blockbuster out of bankruptcy,
Dish Network
(DISH) - Get DISH Network Corporation Class A Report
also became a formidable player in the streaming market.
After much anticipation, Dish launched its Blockbuster Movie Pass feature earlier in the month, providing a DVD-by-mail and streaming offering to Dish subscribers. The service costs $10 a month and includes 100,000 movies available by mail, Blu-ray and video game rentals for no extra price, in-store trade-ins, 3,000 movies that can be streamed via televisions and 4,000 movies that can be streamed via computer.
The offering fell short of Wall Street's expectations, as it only taps Dish's 14 million subscribers. It's also more expensive than Netflix's cheapest option and provides far less content.
The possibility of
Google
(GOOG) - Get Alphabet Inc. Class C Report
and
Apple
(AAPL) - Get Apple Inc. Report
entering the fray also have raised some fears, but neither have done much in the way of entering the streaming space.
Coinstar's
(CSTR) - Get CapStar Financial Holdings, Inc. Report
Redbox Kiosks may steal some market share from Netflix's DVD business, but it doesn't have a streaming option and there's been no indication one will come in the near future.
Then there are the constant threat of smaller players, like Vdio, a project from the founders of Skype and Rdio, but it would take time for any of these to grow to Netflix's reach.
-Reported by Jeanine Poggi in New York.
Follow TheStreet.com on
and become a fan on